Since losing at St. James' Park last Tuesday, City have bounced back spectacularly, with wins against Arsenal, Everton and Chelsea all in the space of seven days. If the Blues manage to win the league this year, this week may prove to have been the most important. A week ago, City were four points behind Liverpool and now they are back on top.
Here are some of the talking points from Sunday's 6-0 win over Chelsea.
Six of the best and Sarri under pressure
City's goals came from a Gundogan strike, a Sterling brace and a Sergio treble. It was City at their clinical best as they once again seem to be punishing sides by huge margins.
Maurizio Sarri claimed in the build up to the match that City are the best team in Europe, on form. Ironically, he was proved right as his side were knocked for six at the Etihad this afternoon. After such a pathetic capitulation by this Chelsea team who showed little-to-no response, the Italian's job may be in danger. Owner Roman Abramovich will be growing unhappy with the recent performances which have come after Sarri criticised his own players.
Aguero Hat-Trick
It is the sign of a top-class player when they refuse to let a costly mistake affect their performance. Aguero missed the easiest chance he'll ever have when he sidefooted the ball wide from 5 yards from goal in front of the South Stand. A few minutes later he picked the ball up from Aleks Zinchenko outside the box and smashed it home in anger. The same fans behind the goal must have had a perfect view of the 25-yard rocket that flew past Kepa Arrizabalaga's fingers into the top corner.
It was a truly world-class strike and the Argentine went on to score a hat-trick with a poacher's finish later in the first half followed by a second half penalty. It was a complete performance from Aguero who was also tirelessly chasing down Chelsea players and dropping into midfield to link up play.
He is now level with Alan Shearer on 11 Premier League hat-tricks and his 3 goals against Arsenal last Sunday show he's in incredible form. He's also joint top scorer with Mo Salah on 17 goals. Will he get into the PFA team of the year, or dare I say, Player of the Year contention?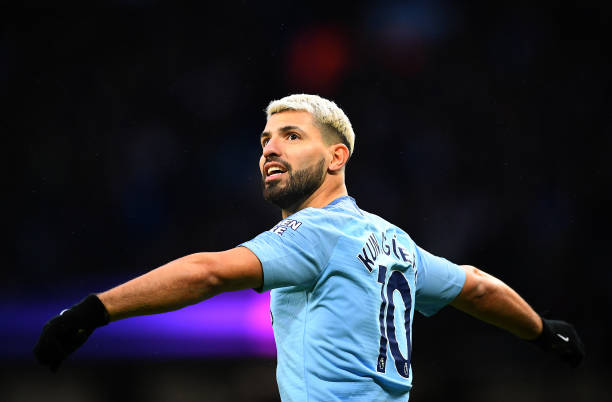 The Midfield battle
Kevin De Bruyne ran the show today, exploiting the space either side of Jorginho who was seemingly up against the City's midfield on his own.
It was a torrid afternoon for the Italian midfielder who was close to signing for City last summer and might be wishing he had. He could have been playing alongside the likes of Fernandinho, Gundogan, De Bruyne and Bernardo Silva in the City engine room. Today they completely overwhelmed him.
Jorginho had no help from N'Golo Kante, who was still occupying his strange role on the right of midfield. Kante's role in Chelsea's system is supposedly part of the 'Sarri-ball' system but the little Frenchman is clearly a square peg in a round hole at the moment.
Guardiola nullified Kante by playing Zinchenko in the left-back/midfield sweeper role that he and Fabian Delph occupy so well. Playing as a flat back four when out of possession, City transition by moving their full backs either side of Fernandinho to offer the kind of cover that Kante really need to provide Jorginho.
Instead, whenever Kante got the ball he was up against an inspired Zinchenko who pushed up to block him whenever Chelsea turned on the counter attack. Sarri seemed to ignore the plight of his midfielders by refusing to change tactics and so City exploited the acres of space they were afforded by ruthlessly cutting Chelsea to pieces.
Squad goals
City showed today that they do have the best squad in the Premier League. Pep was afforded the chance to change his back line again, flying in the face of 'the pundits' who say that you should never change the back four. Guardiola has compensated for his team's sole weakness, the left -back position, by shifting Laporte over to the left side in tough games, especially away from home, while playing the likes of Zinchenko and Delph in games which require less defensive discipline.
City's next two fixtures are both away; Newport in the FA Cup and Schalke in the Champions League. Guardiola is not one for clichés and will change a winning team. We can expect Otamendi, Delph, Danilo, Jesus, Sané and David Silva to return to action against Newport; maybe with Vinny and Mendy coming back and hopefully an appearance by a baby shark (Phil Foden).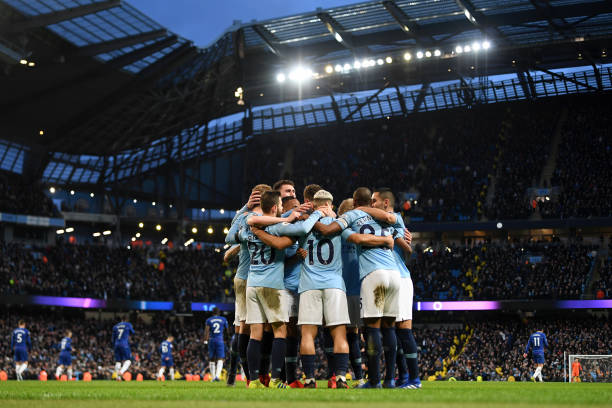 Mike Dean at it again
Mike Dean was up to some of his usual tricks today. Not one to be upstaged by City's colossal performance, the ref decided to entertain himself in front of the camera. He awarded the second half penalty with a move straight out of Saturday Night Fever and then played the joker when he hid Aguero's match ball at full time.
😂😂😂

💙 6-0 🔵 #MCICHE #mancity pic.twitter.com/P94ScpvTcw

— Manchester City (@ManCity) February 10, 2019
Sarri takes his ball and goes home
After the final whistle was blown the Chelsea boss made his way down the tunnel without shaking hands with Guardiola. A confused Pep was subsequently consoled by Gianfranco Zola in an awkward series of events.
Speaking to Sky Sports, Guardiola said: "I just spoke with Zola, Sarri didn't see me. I have a great relationship with him, no problem."
Over to you, Ole
City fans will be in a strange position in a fortnight when Liverpool travel to Old Trafford. Do we support our title rivals over our sworn enemies? It's tough but I would be happy to see Solskjaer give us a hand in the title race.