Manchester City have played at Anfield and are still unbeaten in the league – it looks like we might have a chance at an invincible season after all. City played a tactical and almost chess-like 0-0 draw away to Liverpool and are at the top of the league on goal difference going into the international breaks. Here are some of the big talking points from the game.
Pragmatic Pep
Pragmatism is defined as dealing with things sensibly and realistically in a way that is based on practical rather than theoretical considerations. After a lot of criticism going back to his time at Bayern Munich, Guardiola has often been called egotistical for not taking the opposition into consideration and sticking to his tactics regardless of the threat he faces. But he changed it up today and City were notably less eager to burst forward and did not let Liverpool get the midfield superiority and the early goal that could've put them in the driving seat. They coped with the suffocating press, giving up possession, which was as low as 36% at the 15 minute mark. They slowly grew into the game and even then, stuck to their shape and game plan and bringing on Sané as an effective impact substitute worked right down to a T as he got Van Dijk to concede a penalty that was unfortunately missed by Mahrez. He changed his tactics for the opposition and it worked out largely in his favor.
Mahrez's miss
Speaking of the penalty, there was a lot of criticism from City fans and understandably so. City haven't won at Anfield in 15 years and this was the perfect chance to end the hoodoo. However, this does not mean that we should criticize a player who was so important all game in helping us keep possession with his excellent touches and passing range. He was pivotal in tiring out Liverpool which was a factor in why we got the penalty after all. And penalties can be missed by any player. We have seen Aguero do it many times, Messi is known for it and even Jesus has missed his last two. We need to get behind him and trust that he will come good and he did after show his importance because of the unique ability to aid in possession that he has.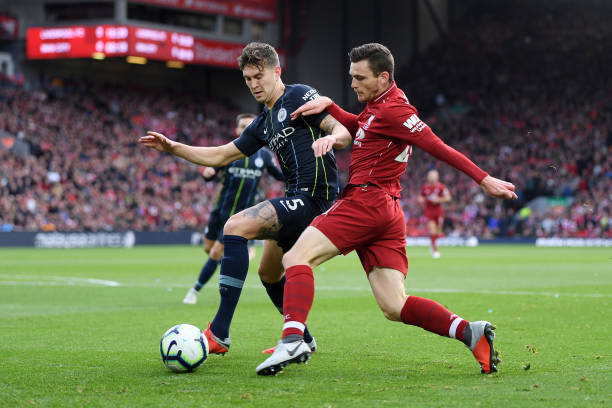 Laporte and Stones, a better love story than Mendy and sharks
Four clean sheets in a row and we have conceded only 3 goals after 8 matches. After years of inconsistency and trouble in finding a good centre back to partner Kompany, it looks like we have ourselves a pair of them. Born a day apart and aged 24, both of them have been excellent this season and were today too. They coped with everything that came their way, Laporte showing off his physicality in dealing with Salah and Stones being calm as ever in keeping possession. They could lead City from the back for years to come and have suddenly become one of the strongest and reliable parts of the team. They gave an excellent display and certainly would've given the fans who champion Van Dijk as the best centre back in the league, who was poor for the penalty, something to think about.
Onwards and upwards
City fans have a lot of positives to take from the game, despite the fact that we did not get all 3 points. Liverpool are starting to look out of ideas and certainly a template to counter their pressing and stifle their front 3 has been made for the other teams in the league to follow. Kevin De Bruyne will be back post the international break and take upon himself to increase the average of 2.6 goals that we score every match. If someone told me in August that we'd be top of the league even after his enforced absence, I'd have bitten their hand off for it. Mendy is back too and looked a lot more responsible defensively, answering doubters who thought he was only good at crossing. As the season snowballs into a busy period after the international break, this City team will gain momentum and now we have more options and variety available to us than last season and that should be really interesting to look forward to.