Manchester City remain unbeaten in the Premier League after a goalless draw at Anfield ensured they were top of the table heading into the international break.
Who stood out and who could've done better? Here's how I rated the players…
Ederson – 7
Bar one shaky moment, Ederson's passing was so intelligent and that was one of the key reasons why we were able to soak up Liverpool's pressure so effectively for most of the game. To everyone's surprise, our Brazilian goalkeeper didn't have many shots to deal with, and in that regard it was a lot like a normal day at the office for him. No matter the opposition pressing Ederson, he looks utterly unfazeable.
Kyle Walker – 7
Kyle was solid defensively today and was one of the players who improved most from recent Anfield visits, but one moment stands out from his performance. After a stunning run from his own defence to the Liverpool half, outpacing half of Klopp's team, he decided to try and chop inside rather than push on. This was another example of the attacking areas he needs to improve on.
John Stones – 8.5
I almost want to mark both centre-backs together today but I think they're each deserving of their own recognition. Stones reiterated today that he is nowhere near the nervy youngster we signed and is instead worthy of categorising in the same class as Kompany and Otamendi. He was a monster today, dealing with everything Liverpool threw at him – this is a player who will be world class and needs to be starting most games, even if that means pushing two centre-backs I love to the sidelines.
Aymeric Laporte – 9 (Man of the Match)
Just edging out Stones is the Colossus, La Bête, Aymeric Laporte. Bloody hell. What a player we have here. Laporte has been looking menacingly good for most of his time at the club and tonight he peaked with a dominant performance at a ground where clean sheets have been near-impossible for City in recent decades. He headed away every arial ball, cleared every pass and kept his passing accurate and cool. If Van Dijk goes for £75 million then 'Laporte' must be French for 'bargain'. He'll be special one day.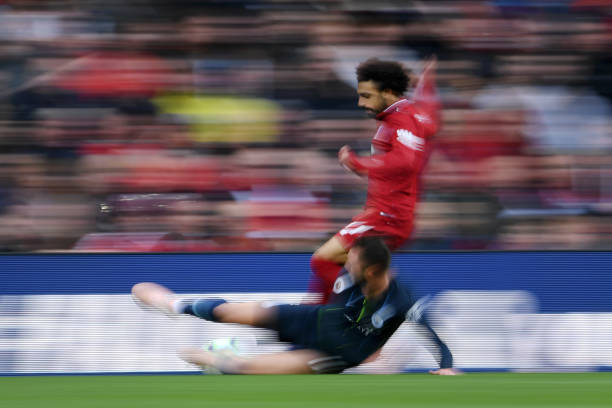 Benjamin Mendy – 6
Benjamin Mendy cannot defend. In fact, he's rarely even in the right position to try and defend. The marauding wingback has always been 90% wing and 10% back, but this isn't new information. At this point, I'd be inclined to ask more questions of someone who expects him to play like Delph, and surely Pep must know this. So I find it hard to criticise Mendy for being open at the back, but today he didn't redeem himself with his attacking threat like he normally does. Benjamin was understandably rusty and it showed.
Fernandinho – 6
Don't get me wrong, I've seen worse Fernandinho performances at Anfield. But from a player of his quality, I'd expect a bit better. His passing was hit-and-miss and he didn't get involved as much as usual, but I expect things to be back to normal very soon for Ferna.
David Silva – 8
It feels a bit weird giving this high a rating to an attacking midfielder who didn't score or assist, but Silva was so crucial to everything we did today. People often compare him to Mesut Ozil and today I put my finger on the key difference between them: Ozil goes missing when he's marked and pressured but Silva thrives. The Spanish Magician just kept going, distributing the ball with ease no matter how hard they tackled him.
Bernardo Silva – 8.5
Again, it's not often I'd give an 8.5 to an attacker in a 0-0 but Bernardo Silva showed again how high his ceiling is. He worked as hard as anyone on the pitch, some feat against a team based on hard work. The Portuguese star delighted with his silky technique and tenacious tackling in equal measure.
Raheem Sterling – 6
Raheem wasn't bad tonight. He worked hard and kept his turnover of the ball to a minimum, a far cry from the disasterclasses we've seen from him at Anfield in the past. I don't have a bad word to say about his performance today and I can understand why he struggles to show up when there's 50,000 people booing him every time he touches the ball.
Riyad Mahrez – 4
The Algerian had a quiet first half and it looked like Pep had told him to prioritise keeping hold of the ball, which he did succeed in for the most part. After the break he came alive, coming close with the first two shots of the game, and looked hungry to inflict some damage on the scoreline.
And then he threw it all away. Mahrez pushed away Jesus and took the late penalty himself, despite an embarrassing personal record from the spot, before blazing it horrendously over the bar. I'm trying very hard to like Riyad and have defended him but for me that is unforgivable.
Sergio Aguero – 7
Kun was the lucky winner of the annual Anfield penalty denial lottery as he was bundled over by Lovren in the first half. Aguero got right back up and tried to score but that's no excuse for Martin Atkinson's terrible decision not to blow the whistle. He worked hard and was usually productive when he got the ball; it was clear Pep instructed him to hold it up as well as possible and he did this bravely. Still no goal at the stadium but it's not like he had any chances to finish.
Subs:
Gabriel Jesus – 7
Jesus initially lit our attack up with some really impressive dribbling runs and optimistic play. He came on believing that we could win and that he would be the difference maker. However, wastefulness crept into his performance and maybe he could've created a bit more late on.
Leroy Sané – 7
For perfectly good reasons I can totally understand, Sané was left out of the XI today. But I still feel he should've started. He came on and caused absolute havoc, winning the penalty from which we should've won the game.