Change is neither good nor bad. It simply is.
It has always been inevitable. Good things come to an end, but the end doesn't always have to be solely upsetting, endings can breed new beginnings – that's certainly the case at Manchester City this season.
Now although it may sound like it, nobody's going to die. However, come sometime around May 2020, David Silva is going to play his last game for Manchester City, and for the fans who've watched him for the past ten years, it'll feel as close as.
That said, by the time the fateful day arrives, the grieving process may already be over. That's thanks to a weird quirk of fate that's gifted us with another Silva; one who's status as a world class midfielder is impending. It's as if the footballing gods weren't ready to let go of David's proficiency so they stuck a moustache on him, reduced his age by eight years and renamed him Bernardo – judging by his recent performances, it's becoming a compelling theory.
Against Fulham he was nothing short of majestic; taking the ball out of the sky as frequently as Pep takes Sané out the team and threading through balls that De Bruyne would be proud of, his laudable display earned him man of the match and rightly so.
Alongside him against Fulham was none other than his Spanish counterpart David Silva, who, as always, put in a David Silva performance. Accustomed to his brilliance, the City fans were content with his display.
It was the following two games that raised alarm bells that a changing of the guard might be in the offing. Against Lyon David was poor, as was the rest of the team. However, the next game against Cardiff which warranted a huge reaction to the midweek defeat didn't feature David, now this might've been a reactionary decision to drop him by Pep but I seriously doubt it – I'm not sure Pep thinks he's cut out to be playing two games a week consistently anymore. The fact he played the Oxford game on Tuesday leaves his position for the Brighton game hanging in the balance, I personally don't think he'll start for two reasons – Gundogan (yes Gundogan) and Bernardo were both outstanding at Cardiff, so much so that it's difficult to drop either, and David will be needed for the crucial Champions League game with Hoffenheim.
I'm also starting to think (and I'll say it quietly), that Bernardo could not only fill the boots of David, but exceed them. He's a carbon copy of Dave, perhaps not with the same level of footballing IQ (which comes with experience), but with a marginally better first touch and a vastly superior eye for goal.
Now, before I carry on, I'd just like to clarify that in no way is Silva in decline, in fact I think the way he plays football, with such sophisticated simplicity, means that by the time he does leave he'll still be world class. His body just isn't what it was two or three years ago, and a manager of Pep's nous is well aware of that; select him in moderation to get the best results.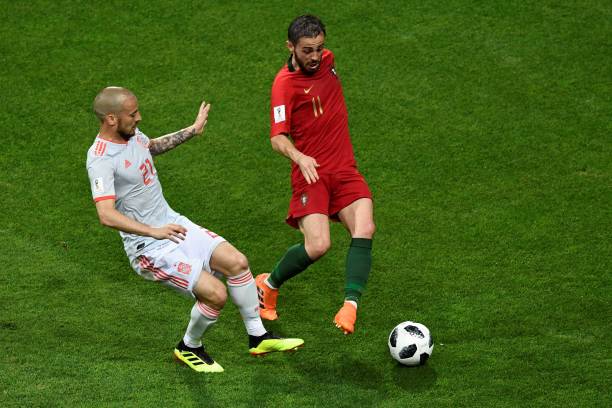 In addition to the virtuosity of Bernardo, the emergence of Phil Foden is another reason why it's time to start phasing out El Mago. It's simply an opportunity we can't afford to miss, the importance Foden could have, not only from a footballing perspective but a traditional one too could be priceless. Born in Stockport, lifelong City fan, gifted with a level of technical ability that belongs nowhere near the North West, Phil Foden could be (and excuse my cynicism) one of the only things connecting the club and the fans in a few years' time; that's a topic for another day though.
His performance on Tuesday night felt special, yes it was only Oxford, but to turn three fully grown men as if he's a year 11 with a year 7's ball, to pick out two fifty-yard passes – both of which contributed to goals, to score like he did with such ease; it felt like he'd arrived to some extent.
The one thing City can't afford to do with Foden is jump the gun, as remarkable as he may well be he's still only eighteen. He needs to be eased in at almost the same pace Silva needs to be eased out; two years of cameos from the bench and the odd starts should be enough to help him mature whilst keeping the infatuated pressures of the media well away from him.
Albeit upsetting, we still have at least two more years of David Silva, there's clubs out there who'd kill for two weeks of him. Soon De Bruyne should make his return to the pitch, when that time comes rotation in midfield areas should become more varying to coincide with the tougher fixture schedule. When those big Christmas games arrive, we'll need Kev and Dave back to their biblical best together. If so – with the supplement of Gundogan, Bernardo and Foden; we should be in for another successful year.
Maybe it's because the presence of Jesus is at City, but the eminent name that is Silva has been reincarnated and it's going nowhere, an artist in his craft, a genuinely good guy that fans from all clubs cannot help but like – and perhaps one day, bald too – who knows. Just enjoy David whilst you can, and when he does leave, just know we're in safe hands.