Oxford United manager Karl Robinson watched as 18-year-old Manchester City sensation Phil Foden helped pick apart his team in last night's Carabao Cup game, and couldn't help but praise the youngster.
Foden's long diagonal ball led to the opening goal, before he led a counter attack and took out the Oxford defence with a sweet pass for Riyad Mahrez to score the second.
And of course, the moment he and many City fans will never forget, as Foden scored the third and final goal of the night in added time, his first goal for the club he has grown up supporting.
Pep Guardiola was complimentary of his young protégé, but so was his counterpart Robinson, whose Oxford side put up admirable resistence for half an hour before Jesus' opener.
Robinson said of Foden: "His feet are to die for. His ability and his orientation of himself on the pitch is genius.
"There is a naturalness to his game and something we have not seen for a long time. It reminded me of watching Barcelona and seeing Iniesta in those positions."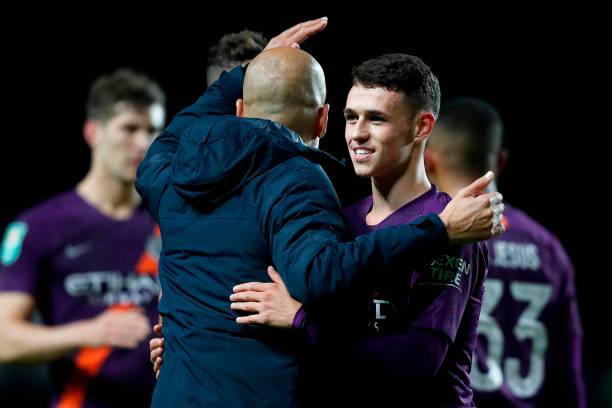 Guardiola responded to the comparisons, but believes such tags add pressure on Foden's young shoulders.
"Wow. These are big, big words. I have said many times we are delighted with Phil," Guardiola said of Robinson's comparison.
"I am not going to say he is going to become Andres Iniesta because it puts pressure on him, Iniesta is by far one of the best players I ever saw in my life so we cannot put the pressure on Phil.
"But he has the quality to stay here for 10 years because I think he wants to stay, I think the club wants him to. But step by step, he needs to play regularly, but I think he has all the skills to play with us."
Foden has been nicknamed the 'Stockport Iniesta' since his days in the Man City academy, so it should come as no surprise that the Spain legend is the player Robinson chose to compare Foden to.
Phil still has a long way to go to reach Iniesta's heights, but at the age of 18, the world is at his feet and it is a testament to his potential that he has broken through and become a member of one of English football's most talented teams in recent memory.
—

Inspired by the past and present… Manchester City's 2018/19 third kit!

Pick up the striking purple and orange kit at the City Store!