Ten years ago, Sheikh Mansour purchased Manchester City Football Club and in doing so caused a seismic shift in the English footballing landscape. Whilst other English sides, including City, had been taken over by foreign investors in the past that had ended in tears, something seemed different this time, it wasn't going to be another false dawn where the fans are promised the world only to have it fall apart in front of them. No, there seemed a plan here – a vision of something bigger.
Just hours after the takeover a plane, that was set for London, touched down at Manchester airport. It wasn't a really a plane, more a private jet with one important passenger. Off the jet stepped a 24-year-old Brazilian, from Real Madrid, ready to spearhead a revolution on Moss Side, his footwork and seamless potential his chosen weapons of destruction. The boy wonder entering the terminal hadn't been City's first choice that day. Instead, Bulgaria's Dimitar Berbatov was the big name chosen to make a statement of intent. But when he was spotted entering Old Trafford it seemed old typical City would be outdone by United again. Until a couple of phone calls were made and a deal was agreed under Chelsea's nose inside the eleventh hour, Robinho was a City player.
Robinho was the first in a plethora of attacking talent from across the globe to call City home, they're one of the main reason why City have become synonymous with easy-on-the-eye football. Each of these signings has helped to regularly put five or six goals past the opposition – a good job because since the arrival of Mansour, City have been plagued by defensive mishaps.
One week before the takeover Vincent Kompany arrived at Carrington from Hamburg, the young Belgian centre-back had impressed in Germany and was ready to make the step up to the Premier League. Captain Fantastic, as he would become known, has since been the glue that holds the City back line together.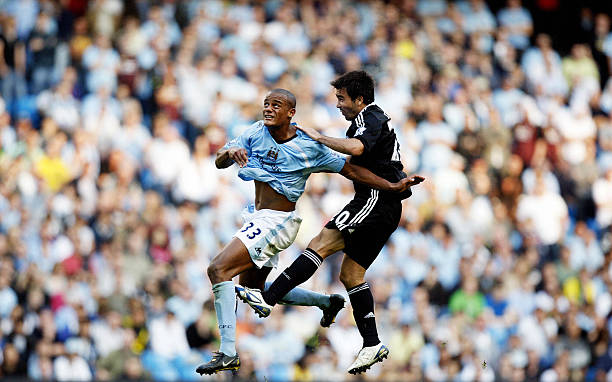 As a result, in the past ten years, a lot of the time City's transfer strategy has at times seems like a roll of the dice to purchase a centre-back who won't look a complete donkey next to Kompany. Over the years Joleon Lescott, Stefan Savic, Nicolas Otamendi, Matija Nastasić, Eliaquim Mangala and Kolo Touré have all pulled on the sky blue shirt, none of whom have been able to create that solid partnership that all dynasties are built around. Attack wins you games, defence wins you championships.
However, in recent years Kompany's injuries have held a constant dampener over City's campaign, losing Kompany effectively lost all solidity in defence. I'm going to take you back to City's 2013/14 title-winning campaign, Chelsea had started well and the game at Stamford Bridge would decide who were the early-season pacesetters. Whilst Chelsea had been impressive, City had been grinding out results and their defence, in particular Martin Demichelis, had fallen under the full force of the British media. The starting line-ups were revealed and Demichelis was among them. Lined-up alongside the Argentinian was Nastasić, the young Serb was entering his second season at City and after having a promising start he had fallen off significantly. The defensive cover in the midfield wasn't great either. Javi Garcia, who was one of the five signings City made on THAT deadline day, was deployed at the anchorman to aid the floundering centre-back partnership.
Garcia is remembered as one of City's worst signings during the Mansour era, saving Demichelis' blushes. Demichelis start at Man City, however, outshone Garcia for all the wrong reasons, week after week it seemed the Argentinian would commit a defensive howler. Unfortunately, for Demichelis that would be his legacy and it's often forgotten that his defensive solidity in the latter stages of the 13/14 campaign helped City to the title.
When Pep Guardiola took the reigns in 2016, he arrived to find an ageing defence on its last legs. Under Manuel Pellegrini City's starting centre-backs had been Otamendi and Kompany, pending the latter's fitness. More commonly Otamendi had been partnered by Mangala, who had yet to find his feet in Manchester. The two had played together at Porto, a fact most City fans found hard to believe with the two barely looking in the same book, let alone on the same page. With three first-team centre-backs available, Guardiola had to dip into the market.
Guardiola found his target on Merseyside. A young John Stones, nonchalant and beyond his years, had been sending shockwaves through the Premier League. The English defender played like a libero of old, stepping out of defence with the ball, confidently taking on two men whilst keeping his head up looking for a pass to break some lines. Stones seemed to have Guardiola written all over him, not just in the way he played but how he held himself, how he conducted himself as a professional.
Stones doesn't have Spanish blood coursing through his veins, instead, he has more humble beginnings. Barnsley, an old mining town in South Yorkshire, may not have the scorching sun of Barcelona and the talent hotbed of La Masia, but it had two men with a vision. When a young Stones arrived at Oakwell he was met by two ambitious coaches, Ronnie Branson and Mark Burton. The pair were huge Barcelona fans and dreamed of bringing Guardiola's relentless passing, that has become known as tiki-taka despite Guardiola's disdain for the term, to South Yorkshire. They had their chance to create the passing revolution in the clubs youth academy. Stones told The Guardian about how the pair would encourage the centre-backs to split from a goal-kick and demand the ball before building from the back, keeping the ball on the deck.
Shortly after he graduated to the first team he was spotted for his ball playing abilities by Everton manager Roberto Martinez. Martinez entrusted Stones in the first team, where the young centre-back thrived. His performances at Everton soon earned him a national team call-up. Before he became a national hero in Russia, Gareth Southgate was the boss of the England U21 side. Stones was central to Southgate's philosophy and became central in his system, almost a prelude to Russia.
So now, with experience beyond his years, Stones was ready for his biggest challenge yet. Stones' life at City started comically, the Yorkshireman hadn't been announced as a Man City player when he was placed in the Champions League squad for the upcoming match-day. Questions were asked straight away upon Stones arrival, was he good enough to be a starting centre-back. On paper, it looked a tall order to remove City's current starters, Kompany and Otamendi, but with the formers injury problems, it seemed Stones would get a decent amount of game time.
That's exactly what happened – although he was slight unconvincing at first his performances became silently brilliant, playing the basics of Guardiola's system to perfection. However, it was his second season Stones really came into his own. Aided by the addition of Kyle Walker and Benjamin Mendy at wing-back, and the revelation of Fabian Delph in defence, City's back line looked the strongest it had been since the Mancini era. The first half of the campaign saw Stones play at his best, confident with, and without, the ball, commanding and strong, he had been a standout player in a star-studded lineup.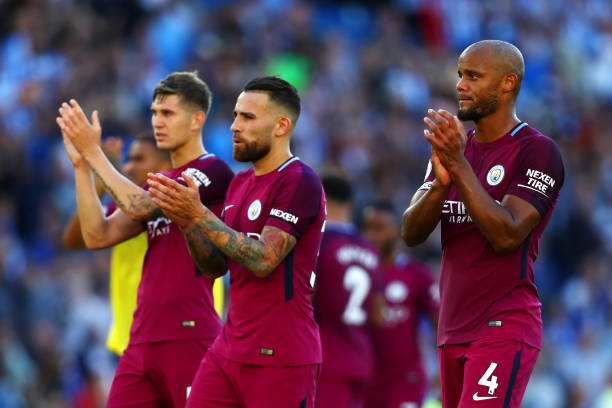 Stones developed a stellar partnership with Otamendi, who seemed to feed off the coolness of Stones with those mad lunging slide tackles becoming a thing of the past. When Stones picked up a long-term injury in December options at centre-back looked weak. Otamendi resorted back to his world-class one week league two quality the next form when he was partnered alongside Mangala.
Recognising a change had to made to maintain the title push, Txiki Begiristain went out looking for his next signing – he found Aymeric Laporte, a Frenchman in Spain. Laporte was born in Agen, French-Basque country, and had Spanish grandparents who were from the Basque country which made him eligible to join Athletic Club. When Laporte graduated to the first team he became only the second non-Spaniard to play for Los Leones, the first being Bixente Lizarazu. At Bilbao, Laporte learned to build from the back, in typical Spanish fashion. A blueprint that Guardiola had left there following his Barcelona days. Whilst Bilbao play the beautiful game with short passing they have English roots, they were created by English travellers and Basque students returning from England. As a result, Bilbao are more of a physical outfit than the generic Spanish side, they are more British so to speak.
Laporte arrived in Manchester as the second most expensive defender in history, and a club record fee. One day later, he was making his debut against West Brom. Despite an impressive debut, Laporte found opportunities at centre-back few and far between. Instead, the Frenchman found himself filling in at left-back during Delph and Mendy's injury layoffs.
Stones too struggled to reestablish himself in the side and City resorted back to the status quo of Kompany and Otamendi.
The pair made sporadic appearances in the embers of the season as City went on to become the Centurions, but that was only the start for City. To constantly be on top you have to constantly evolve, that's where Laporte and Stones enter the fray. Towards the end of last season, Kompany and Otamendi formed a defensive rock where they would play short incisive passes to Fernandinho or De Bruyne, who had dropped deep, to start the attacking phase following the transition. This season we have seen a more iconic Guardiola type of structure with the centre-backs not just being utilised in the transitional period but breaking lines in the attacking phase.
The pair started beside each other for the Community Shield at Wembley in August. Just three weeks after the conclusion of the World Cup, which unlike Laporte Stones had been a part of, the traditional season curtain-raiser was about to kick off. Tactically it was a whole new look defence for City, with the pace of Laporte and Stones the wing-backs could afford to push up high and wide allowing the inside forwards room to work in the half-space. As a result, the defensive structure resembled a W. It was a new look, but not revolutionary. The actual shape is borrowed from Herbert Chapman and his Arsenal side of the 1930s, a team that became the original invincibles. Guardiola's defensive structure is inverted from the one deployed by Chapman almost a century ago. Chapman preferred to use three out and out defenders – two full-backs and a centre-back. It's a more robust defensive shape than Guardiola's, but Chapman didn't have the two centre-backs that Guardiola has at his disposal.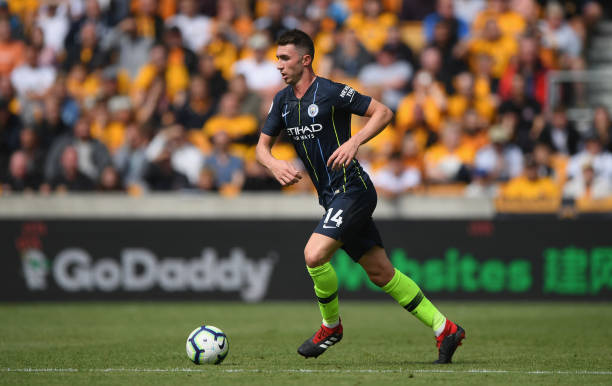 The key to this defensive structure are the centre-backs. Often times the line between a maniac and innovator are blurred – more so with Guardiola, on paper this structure borders being an outright deathwish. However, in practice, it isn't. Stones and Laporte have the footballing IQ and technical skills to pull it off.
City kept a clean sheet on the way to their first silverware of the season. One week later Guardiola's men were back in the capital, however, their destination was the Emirates. Stones and Laporte got the nod once more and again kept a clean-sheet. The two games couldn't have been more different. Whilst Chelsea had somewhat offered an attacking challenge that had been vastly outclassed by City and they never really looked at their best. Arsenal, on the other hand, were woeful, the Gunners created next to nothing. As a result, the pair's main contribution to the game came in the attacking phase – their presence allowed build up like we knew we'd see under Guardiola but never achieved last season.
Obviously, last season City did play out from the back, the key difference is where the passes were going. When the ball was in defence last season City would draw out the opposition with short quick passing and the creativity came from the middle of the park. This season City's build-up play has changed, the passes are more direct, each pass looks to break a line. As Guardiola's mentor, Johan Cruyff, believed a pass is only a pass if it breaks a line or goes forward. We are almost witnessing the birth of a new role, an architectural quarter-back, from a duo of modern-day liberos. After six long years, it seems City may have finally managed to fix their centre-back woes.