After a result to forget mid-week, Manchester City got the show on the road again as they returned to their dominant best in a 5-0 victory away at Cardiff, reminding Blues fans and a humbled Neil Warnock just what Centurions are made of.
In fact with goals from Sergio Agüero, Bernardo Silva, Ilkay Gündogan and record signing Riyad Mahrez, Pep Guardiola's men may have looked like the team of last season insofar their confidence and dominance, yet alterations both old and new did well to prove that, unbelievably, this team is still not the finished article.
Here's what we saw as the key talking points as City made up for past mistakes as they took the game to those awaiting them in the Welsh capital…
EVERGREEN AGÜERO SPEARHEADS THE FEEL GOOD FACTOR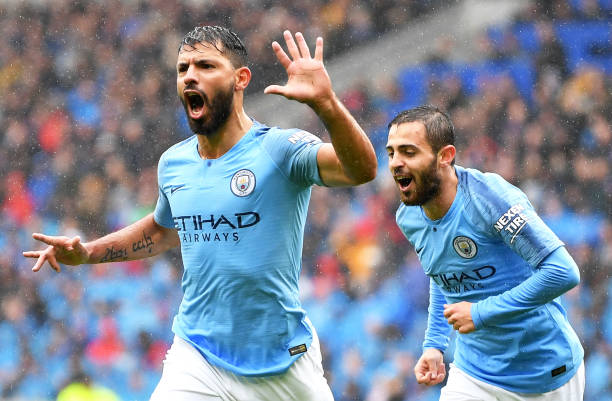 Since Guardiola made a call to South America and Gabriel Jesus arrived for £27 million in January 2017, there has been an increasing debate about just when the young Brazilian would take over the baton from Manchester City club legend Sergio Agüero. Rumours have long swirled from that point that the Argentinian and his Catalonian manager have not always seen eye to eye, whilst Jesus continued to make an impression for City in the meantime.
However, last Wednesday proved a decisive point in the narrative of City's striker situation as Jesus, entrusted with sole goalscoring duties against Lyon, failed to find the net and posted a disappointing game in the process. It seemed to be all many fans needed to launch enquiry as to whether the Brazilian wonder kid was all he was cracked up to be, casting doubt over his ability to eventually fill the boots of Agüero and make Manchester his own.
In truth, Jesus is still young and any talk of such a like-for-like replacement is as premature as it is misinformed. What is also true though is that his job to compete with Agüero will have become even harder after the Argentinian's display against Cardiff, seizing the bull by the horns to return to the starting line-up and the score sheet in one fell swoop.
Taking to the pitch on his 300th appearance for City, Agüero not only got the team off the mark with his superbly taken opening goal, but proved exactly why he still remains the club's preeminent attacking force on the front line. Now tallying at 205 goals in 300 games, Agüero has evidently taken his newfound status as record City goalscorer in his stride, reinventing himself under Guardiola to be far more industrious in recovering the ball and involving his teammates in the build-up.
It's concerning stuff for Jesus, whose own incredible work rate gave him an early leg up on Agüero when he arrived in England. With Agüero now on more level terms, the Argentine has crucially retained his bullish aggression that makes him so potent in front of goal. It was that fighting spirit that proved the early difference on Saturday, Agüero making an impression from the off that would prove to ignite a performance from the Blues as he was finally rewarded with a neat opportunity to open proceedings.
Perhaps most worrying for Jesus though, his fellow South American looks possibly happier than ever before, having found a new lease on life following knee surgery from the esteemed Doctor Ramon Cugat and now signing an extended contract to keep him at the Etihad until 2021, following in the footsteps of David Silva and Vincent Kompany in aiming for 10 years at the club. Agüero will surely be hoping to follow in the vein of the former then as he continues into his thirties; just as David Silva has refined like a fine Spanish wine, Agüero will help his natural game, not overly reliant on pace or peak physicality, will be able to be sustained at the top level.
One thing is for certain — if Agüero continues on at his brilliant best, narrowing down on the top Premier League scorers of all time, then he will leave boots that any forward would struggle to fill. For now at least, he remains the dynamo of Manchester City's dynamite attacking force. Long may he reign.
GÜNDOGAN RETURNS WITH A RECKONING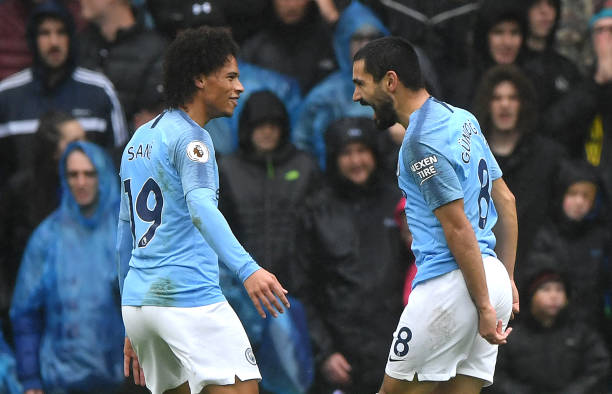 Ilkay Gündogan is a man who knows what it's like to be written off. Despite having braved career-threatening injuries and conflicted political controversy, the former Borussia Dortmund midfielder has remained caught in a topsy-turvy relationship with Manchester City fans since he became Pep Guardiola's first signing in the summer of 2016. Handed the number 8 shirt and starting in fine form during his first months in Manchester, a knee cruciate ligament injury against Watford kept tore up the script of Gündogan's rise to power, forcing him to sit out the rest of the 2016/17 season.
It was the 16th of September 2017 when the German finally returned to action, taking a haunting trip down memory lane as he came on as a substitute against none other than Watford. There was to be no bad luck charm on his City return as Guardiola's men comfortably saw off the Hornets 6-0 that day, but it was a more friendly face that was to be the undoing of Gündogan's return to the fold. Moved into a more traditional '8' role, the Belgian Da Vinci, Kevin De Bruyne, now stood where Gündogan once stood, even taking Manchester City's midfield to new heights as he went on to be crowned 'Playmaker of the Season' with a series of unbelievable passes and tremendous through balls.
Such has been De Bruyne's quality and the endurance of 'El Mago' David Silva, Gündogan's only crime has been to not wear the numbers 17 or 21, unable to secure any sort of run of games to truly rediscover his form prior to that horrific knee injury. There of course been justified criticism to his cameo appearances in the meantime, most notably on Wednesday night, where those claiming to be Manchester City fans called for the German to be benched or even sold as a result of his indifferent performance against Lyon.
Against Cardiff though, it was to be Gündogan who proved his critics wrong, turning in a Man of the Match performance as he truly ran the game. The statistics may make for great reading (1 goal, 1 assist, a 93.2% pass accuracy and 2 key passes can't be all that bad) but the German's contributions cannot be described with mere numbers and figures. In a department where De Bruyne ironically excels, Gündogan was often the 'pass before the pass', initiating key passages of play with tidy play. Similarly, it was understandable to see him grow into the game as the team did, confidence growing as he dropped in to make crucial recoveries and stave off physical challenges (though he was on the end of a possible red card offence late in the first half).
This is precisely the performance both player and fans will have been waiting for. With De Bruyne likely to be ruled out until the Manchester derby in mid-November, City's midfield remains slightly uncertain if they are to face Liverpool, Tottenham and the majority of the Champions League group stage in the meantime. However, if that emphatic display against Cardiff is enough to spark a reawakening, then it can only bode well for both Ilkay Gündogan and Manchester City. Those fixtures will all test the Blues as they hope to keep pace in all competitions, but it is a positive sign if a player like Gündogan, once one of Germany's most formidable talents, can get back up to speed.
NEW FACES SHOW BOLD PROMISE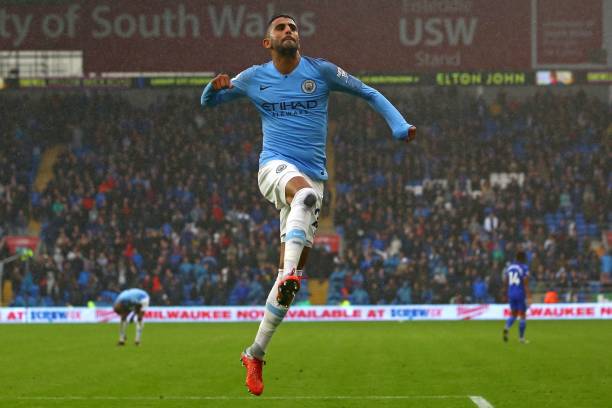 In Riyad Mahrez and Phil Foden, Manchester City have two players on rather opposite ends of the spectrum. Mahrez, former PFA Premier League Player of the Year and title winner with Leicester, became the club's record signing this summer when he arrived for £60 million. Foden meanwhile is a mere 18 year old, progressing through formative stages of his career as has emerged from the youth ranks of his boyhood club, yet to burst onto the scene of the English top flight.
What the two have in common though, is that they are both fresh faces to the Manchester City squad, yet to be regularly involved largely due to the wealth of talent that sits above them in the club's pecking order. As they look to firmly establish themselves in Pep Guardiola's plans, Saturday afternoon will have proved invaluable for the Algerian and the Englishman as the season draws on.
Such was the enormity of Mahrez's price tag, 7 appearances and no goals or assists had started to concern both City fans and onlookers as the Algerian looked in danger of losing the scintillating form he had accumulated for Leicester when he had regularly outperformed most players on the pitch. Blues faithful should have better than to have worried over the form of newly acquired wide men though; lessons must have been learned from the contrasting slow starts and explosive returns of both Leroy Sané and Bernardo Silva when arriving at Manchester City.
Just as those before him, Mahrez had bided his time to spring into action, and spring into action he did. Against early relegation candidates Cardiff, the Algerian was perhaps unlucky not to have a starting position against weaker opposition, but upon his appearance, repaid City's considerable investment with not one but two debut goals, making himself star of the show in the second half. If past experiences are to inform the new, then it might be just the spark that City's new addition needs to jumpstart his season and become an even better player under the watchful eye of Guardiola.
For Guardiola has quite the track record of developing players – simply look at the rest of City's squad for evidence. Indeed, look over the multitude of players that Guardiola has overseen in his illustrious career and it is not hard to see how the Catalan improves those he works with. Unfortunately however, whether it is the millions of pounds spent on players or the sheer quality of those already in the first team, there seems to be a misconception that Guardiola no longer cares for youth development. Phil Foden, certainly, will be hoping to disprove that theory, as he certainly has all of the tools to do so.
Possibly down to the fervour around English talent following the welcome surprise of England's World Cup, heavy scrutiny has been applied to Foden in the early weeks of the season, with those eager to see the 2017 U17 World Cup Golden Ball winner involved in club and national team proceeding likewise eager to criticise Pep Guardiola for not involving the 18 year old. It seemed that Guardiola had let the cat out of the bag even in stating that Foden was ready to play for England immediately ahead of last weekend's game against Fulham, only to leave him on the bench despite the Blues being 3-0 up.
There consequently seemed a bone of contention of Guardiola's own making, with Foden certain to be amongst those who wondered why he wasn't being granted minutes. Just like with Mahrez then, Saturday will have provided peace of mind, as the young Englishman secured just over 20 minutes playing time, even popping up with a delightful cross unlucky not to be made an assist if not for some poor finishing from Bernardo Silva. With Oxford United in the League Cup on Wednesday, this will have not just supplied solid foundations to Foden's 2018/19 Premier League season, but betrayed that Foden will have a greater involvement in the weeks to come. To take a leaf out of Mahrez's book, all he needs to do now is impress.