Manchester City haven't had the best start to the season and have struggled to replicate the kind of form they showed last season when they swept away every team in front of them. The injury to Kevin De Bruyne meant that there has been a need for other players in this team to step forward and make a difference.
One of these players is the current record signing and the only major addition to the squad this summer, Riyad Mahrez. He has been played in all six games up until now, starting two of them but failing to collect an assist or score a goal, and has often looked predictable cutting on to his favoured left foot from the right.
Against Lyon on Wednesday night, City needed some inspiration and when Mikel Arteta sent on Mahrez in the 76th minute, he must've been hoping that the right winger would influence the game that way Sané had done on the opposite side of the pitch by setting up Silva's goal. However, apart from one good cross that was not capitalised upon, he looked short of ideas and confidence and was not able to complete even a single dribble. This string of lacklustre displays has led to many fans wondering why City were so keen on him and what does he really bring to the squad.
However, it is important that we don't forget how good he was for Leicester, not just in their title winning season, but in their previous season as well.
In the 2017-18 Premier League, Mahrez scored more goals (11) than Leroy Sané and Sadio Mane, picked up more than twice as many assists (10) as Eden Hazard, made 1.45 key passes per 90 minutes and completed 2.52 successful take-ons every game. He has delivered and we have all seen that he can do it in this league.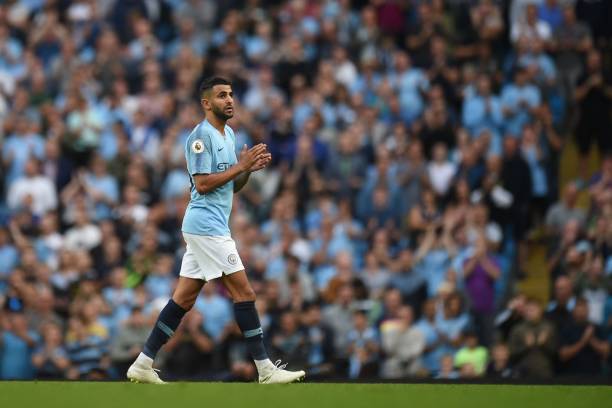 Moreover, we need to remember that fan favourites Sané and Bernardo Silva had slow starts under Guardiola as well. Sané didn't score his first goal until late December against Arsenal. Bernardo was making cameo appearances till injuries in the squad allowed him to make his mark after the busy festive period.
Mahrez is coming into a new system, very different from the counter attacking style that he was used to at Leicester. It will take him time to adapt to his new teammates, the gameplan that City have and the fact that he will have much lesser space to work with than before.
He is also used to being the main man, leading the attack in a largely uncreative team. He did not have the options to pass to or play off of in Leicester that he does now. This is why he often tends to spend more time on the ball than his City teammates. This trust and understanding does not come overnight and will only improve with time. Once the chemistry is built up, the one touch passes, quick interchanges, runs in behind and coordinated pressing that are so important will start to come off better.
Time is a scarce commodity at City. There is a lot of competition for places and Mahrez has only been afforded two starts in the first six matches. Naturally, being the record signing, it is possible that he feels that he is under pressure to deliver and has tended to go for the spectacular, trying to curl in shots from distance and trying to get the fans off their seats rather than focusing on doing the simple things right. This is something Pep needs to rectify and make sure that Mahrez feels relaxed and is comfortable every time he steps on to the pitch.
With a central role looking increasingly likely for Bernardo this season, Mahrez is the only depth on the wings after Sané and Sterling. He will get his game time and opportunity to shine.
For now, he needs the support and belief of every City fan when he gets on to the pitch. In time, he will deliver and dazzle us.