The brooding, forlorn face of Pep Guardiola has become a recurring sight for Manchester City fans ever since his appointment over two years ago. Despite this expression making an appearance in most routine victories last season, it becomes more desperate and irate when his team is on the losing side. It was most notably present during Wednesday night's shocking defeat to Lyon in the Champions League as the Catalan watched from the stands, becoming more exasperated and despairing as the night wore on.
The match marked City's fourth consecutive defeat in Europe – an English record. It, alongside last season's capitulation against Liverpool, is yet more proof of our substandard approach to Champions' League football. Guardiola, who hasn't surpassed the competition's semi-final since leaving Barcelona, has seemingly become victim to the same continental curse that plagued Mancini and Pellegrini. The question is, why has this fate befallen City? Considering the abundance of talent available to the team, why do they so often fall short of the expectations they have set for themselves in Europe?
One factor has been brought up by Guardiola in the past – attendance. Among the manager in the stands were just 40,111 City fans, as the Etihad fell far short of a weeknight sell-out once again. Social media and news websites alike were critical of Blues fans for failing to turn up in sufficient numbers, the poor attendance being labeled a root cause of the team's failure to beat Lyon.
On-the-night boss Mikel Arteta said after the game: "The ideal is to have a full stadium every time and being behind the team like crazy but we know sometimes it doesn't happen."
Despite consistently attracting strong crowds for domestic matches, factors such as work or school obligations as well as price and limited interest in so-called "weaker opposition" curtail Champions League viewing figures.
Frustratingly, the benefit of a large and enthusiastic Etihad audience has been exemplified in the past. Think Real Madrid and Barcelona, last season's second leg to Liverpool, and, back in 2009, Hamburg in the UEFA Cup. Step one to improving City's European title hopes is to draw crowds in with cheaper tickets and a better match-day experience.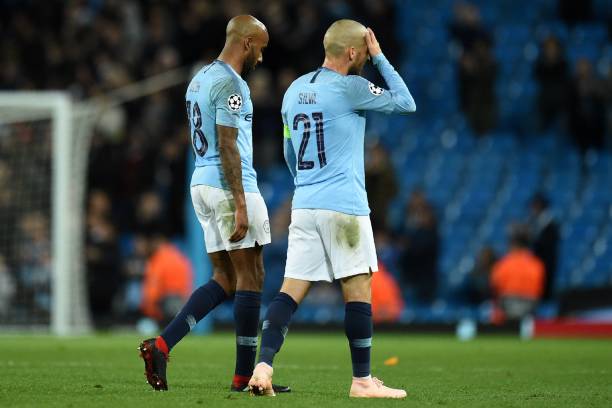 In addition, attention must be directed towards the club's relationship with Europe's most prestigious trophy. The prevailing attitude from City is one of bitterness towards a competition associated with giants such as United, Liverpool, and Chelsea, and as a result, the gravitas of the contest is subdued by the Etihad atmosphere. A club cannot have the enthusiasm required to win such a prestigious trophy while its fans boo and whistle the music that heralds its importance. When the Champions League anthem rings around Anfield or the Santiago Bernabeu, the overwhelming sense in the arena is one of reverence and anticipation, not derision and resentment.
This isn't to say that lackluster Champions League performances are solely the fault of the fans. The lack of a distinct European identity is troubling the team also. It's an unfair circumstance, but for young players such as Gabriel Jesus and John Stones, there is no sense of gravitas and history in their home stadium. In the Champions' League, the Etihad is no hallowed turf. The players can't claim to be inspired by historic moments that have played out on the grass beneath their feet, nor can they look to players in their squad that can be called European legends. Only Danilo, who isn't exactly a first-team star, has won the competition before.
Perhaps it can also be said that Guardiola himself has weaknesses. His style, maybe, isn't suited to European football – as was evident in is his first season and the crazy two legs against Monaco. If he perhaps was more lenient towards his mantra and approached the second leg at the Stade Louis II in a more defensive fashion, the end result would be different. Similarly, his attacking football was punished by both Liverpool and Lyon. Pep remains stubborn, however.
"You have to live and die for your own game. We can't change and we shouldn't change."
Winning the Champions' League requires flexibility in tactical approach. Now, although Pep is fantastic in regard to in-game adaptability, the core aspects of his footballing philosophy will not change and, without the likes of Xavi, Iniesta, and Messi, perhaps aren't suited to the upper echelons of European football anymore. Look at Juventus, a club that has appeared in 9 Champions League finals and one associated with a resolute and stubborn defense – they demonstrate that success lies in consistency and strength.
This may divide opinion – in Europe, should Pep stay loyal to his philosophy of all-out-attack, control of possession, and the endeavor of domination, or should he take a more pragmatic approach that might be seen as safer and easier?
Regardless of the verdict, his core ideals have been passed on to Mikel Arteta, who oversaw Wednesday's defeat. With Pep's tutelage, the assistant coach has a great foundation from which to build a managerial career. Unfortunately, his touchline debut ended in defeat – a continuation of City's poor form in Europe in a time where advancement is the priority.