VS
Venue: Etihad Stadium
Date: 19 September 2018
Referee: Daniele Orsato (Italy)
Kick off: 20:00
UK TV:
After brushing aside a fairly timid Fulham side on Saturday, all heads turn towards the start of Manchester City's 2018/19 Champions League campaign. Yes, that's right, once again we can all start booing in protest of UEFA, the corrupt organisation that has so scandalously drawn us in a group with… Lyon, Shakhtar and Hoffenheim? Alright, maybe put it on hold for a few months, but we still don't like them. First up is the outfit from East France, who, for City, may well be a journey into the unknown. Let's get into the talking points.
How far can City go this year?
As it stands City's best effort in the Champions League was a semi final exit to Real Madrid back in 2016, however, rather ironically, that was one of the worst City sides since the takeover. Now City are the best they've ever been, showcasing football that provides enough evidence to suggest they're capable of beating Europe's elite, consequently this makes us the bookies favourite to win it. But I don't want to look too much into that, what needs to be looked at is the clear mistakes we made in the competition last season and how they can be eradicated. Going into the Liverpool tie City fans were riding a momentous wave of footballing elation, truly believing they had what took to win the whole thing, and truth be told, on the pitch they probably did.
In my opinion what's stopping this team from achieving greatness is a distinct lack of belief, or maybe even arrogance. Having been to the Anfield tie last season I can say that, despite the embarrassing bravado created by the media and Liverpool fans alike about the "famous Anfield atmosphere", that night it really did feel intimidating and it clearly rubbed off on the players, failure to clear their lines or track their runners led to a thirty-minute capitulation that killed the tie before it even started. The addition of Benjamin Mendy should prevent something like this from happening again from a tactical perspective, but mentally, Pep needs to drill it into these players that they're good enough to win it. If you're asking me how far we can go, I'd certainly say we're capable of going all the way.
Team News
City are missing their main man, no not Kevin De Bruyne, but in fact Pep Guardiola, yes, he'll be able to select the team and give the team talk pre-match, but his presence on the touchline won't be felt. Filling the void is his potential successor Mikel Arteta, where tomorrow's game could prove to be some invaluable work experience for the young coach. He also took today's press conference where he refused to comment on the fitness of Benjamin Mendy and Sergio Aguero, both of whom are seemingly touch and go to play tomorrow. On the bright side however, Fabian Delph has recovered from his minor setback having trained with the squad since Monday so he should be available for selection.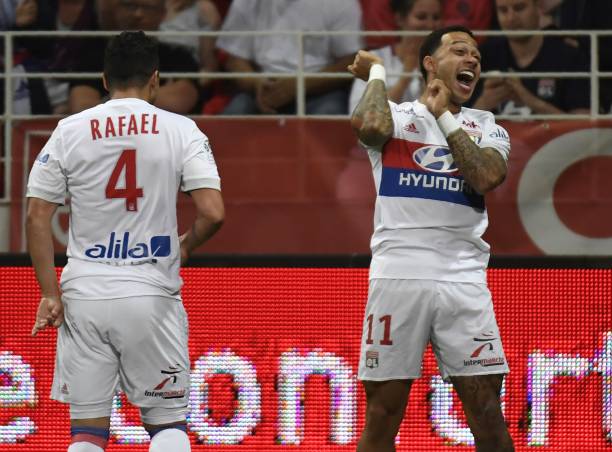 The Opposition
Lyon's side is an interesting one, containing players from City's past, and possible future. Instead of letting out one big boo for the Champions League anthem, City fans should save their lungs to instead boo Rafael and Memphis Depay throughout the match, their hugely successful Manchester United careers still leave a sour taste in the mouth so be sure to create a warm welcome for them both. In term of ex-Manchester City players, Lyon have one. Jason Denayer was never really good enough to play at the level we require, but the patience the club had with him saw him get this very respectable move, football has its quirks of fate, and it's given Denayer the chance to play against his former club where he'll be looking to show us what we're missing out on, that won't be easy for him though. Another player from City's past, rather one who haunts it, is former Celtic striker Moussa Dembele who joined the French team in the summer. Two years ago, he scored a scrappy brace against us in what was a frustrating evening at Celtic Park, and he's only kicked on from there, he's certainly one that City's defenders will have to keep tabs on.
Two years ago, it was Monaco that got us our first glimpse of Bernardo Silva and Benjamin Mendy, the year after it was Napoli where the exhibit was Jorginho who although pursued by City ended up joining Chelsea. This year it could be Lyon who posses a couple of hot prospects that will have Europe's top teams circling like Vultures. One of them is Tanguy Ndombele, to say France's production line of midfielders is successful would be an understatement, there's been Matuidi, Kante, Pogba and now this guy is knocking on the door to become a household footballing name. If his footballing ability alone isn't enough to keep an eye on him, the added incentive is that City are in hot pursuit of another holding midfielder, and this lad fits the bill, strong and athletic with ballerina feet, don't be surprised if a bid comes in from us in January.
If you're worried that there'll be a distinct lack of Mendy on Wednesday night then don't because Lyon have you covered. Ferland Mendy, who coincidentally plays left back, is fast becoming one of the most dangerous in his position, he shares a lot of the same qualities as Benjamin so don't be surprised to see him on the move in the summer as well.
Score Prediction
Lyon have struggled so far this season, and I can't see them managing to turn their fortune around against a City side that wasn't given Sunday off because of signs of complacency in a 3-0 win. I'm expecting a 4-0 win with a couple of goals for the stop start striker Gabriel Jesus.