Barcelona want to sign the rising star of Dutch football, Frenkie de Jong, as part of their 2019 transfer strategy, but will face competition from wealthy Manchester City and Paris Saint-Germain.
De Jong, 21, is considered one of the elite young midfielders of European football and his ability to also play as a central defender makes him even more appealing to leading clubs looking to replenish their squads in 2019.
And according to Mundo Deportivo, City, PSG and Barcelona are the three main clubs to have positioned themselves for a battle to sign De Jong, with Tottenham, Borussia Dortmund and Roma also keen. The three latter clubs are unlikely to compete for De Jong, who has just received his first call-up for Holland, for either economic or sporting reasons.
The competition for De Jong will mean that he will cost at least €50million (£45million) in the market, potentially much more after he has another year of game time and international caps under his belt.
Barcelona attempted to sign De Jong in the summer, but Ajax sporting director Marc Overmars resisted several approaches, determined to hold on to the club's young jewel for at least one more year. This has opened the door to City – who will be in urgent need of a midfielder come next year – and Paris Saint-Germain – who were saddled by Financial Fair Play this summer – to enter the bidding for De Jong.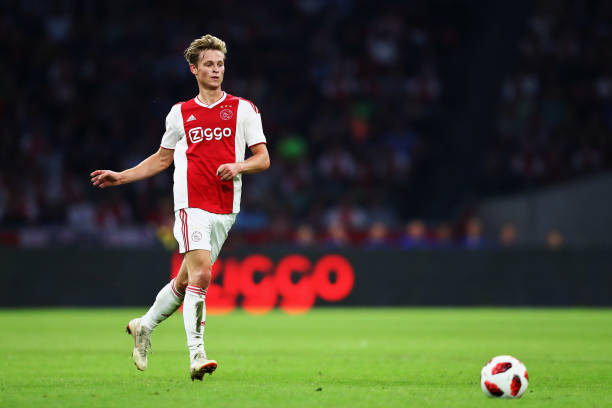 The La Liga champions believe they have one big advantage – De Jong's desire to play alongside Lionel Messi – and that has led to Barça getting 'good feelings' and a 'positive response' from the De Jong camp, which would appear to make them favourites to sign him.
However, Mundo Deportivo adds that the 'game has only just begun' with City and PSG's financial power set to lead to a fierce scrap to sign De Jong, a player City have been linked with as far back as November.
Indeed, De Jong was quizzed about a possible move to the eventual Premier League champions in December and seemed fascinated by the idea of lining up alongside Kevin De Bruyne.
"Me in midfield next to Kevin De Bruyne… that'd be something," De Jong told the Dutch press.
And though City are certain to have a list of names that could also feature Ruben Neves of Wolves and Lyon's rising star Tanguy Ndombele if you believe the latest reports, De Jong's technical ability and passing range could also make him the ideal Guardiola midfielder for next season.
—

Inspired by the past and present… Manchester City's 2018/19 third kit!

Pick up the striking purple and orange kit at the City Store!