During the afternoon of Thursday 15 August, Manchester City fans were hit with the devastating news that midfielder Kevin De Bruyne had suffered a knee injury and would be out for several months.
Twitter went into meltdown with various calls for Dr Cugat to work his surgical magic along with crying GIFs. However, a section of City fans was calm and realised there could in fact be some positives from a bad situation.
De Bruyne was a huge influence on City's record-breaking season and was involved in key moments in City's march to the title – perhaps the best example being his goal against Chelsea at Stamford Bridge. But we should remember that there is more to City's attacking force than De Bruyne.
Bernardo Silva, David Silva, Leroy Sané and Raheem Sterling are part of a devastating group of players which terrorised English football last season and now with a major piece missing from the Pep Guardiola puzzle for a few months, it is time for these attacking players to make sure his absence isn't felt.
De Bruyne was not a part of the City starting line-up for the games against Chelsea in the Community Shield or Arsenal on the opening day of the Premier League season. In both matches, even with De Bruyne not on the pitch, the Blues were pleasing to watch on the ball and were still causing all sorts of problems for the opposition.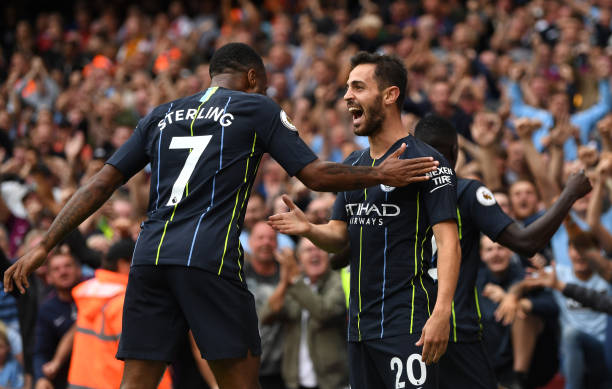 Bernardo Silva seems to have a found a new lease of life in this City team with his pin point passes, blistering runs and the ability to put in a defensive shift.
Raheem Sterling already silenced his critics on the first day of the season when he scored a goal from range to put City 1-0 up against Arsenal. Despite the regular question of 'Why couldn't he do that for England?', it looks like Sterling is going to have another strong season under Guardiola.
After being left out of the Germany World Cup squad, Leroy Sané managed to get a whole pre-season under his belt, abd it seemed like the German winger would feature heavily in the early stages of the season with some City players coming back late from the World Cup.
This has not been the case.
Sané has been on the bench for the two Premier League openers. While there does not seem to be any reasons as to why coming from Guardiola, it could be speculated that there are a few problems relating to Sané's attitude. This may not be the case, but there would seem to be no reason to have the PFA Young Player of the Year on the bench unless something has occurred behind the scenes.
Playing time for England youth prospect Phil Foden has also been a topic of conversation since the De Bruyne injury. While it will be great to see a product of City's academy have more time on the pitch, Foden needs to be nurtured and gradually eased into a starting place in the first team which may not happen for a few years.
De Bruyne's injury has come at a lucky time for City with the only difficult fixture – on paper at least – being the trip to Anfield to face title rivals Liverpool on October 7.
With the attacking options City have, there is no need for the fanbase to go into meltdown about the season and if the Blues come through the De Bruyne injury stint unscathed, he will return refreshed and ready to help City through the hectic festive period.