Manchester City, Champions and Centurions, returned to the Etihad Stadium for their first match of the new season and it was also their first match after the devastating news of Kevin De Bruyne's long term injury which is expected to keep him out of action for around 3 months.
The opponents were Huddersfield, who had provided City a stern challenge last season, holding us to a 0-0 draw at the Etihad and only losing at home to a late Raheem Sterling winner. Breaking down their tough defence was always going to be a task, especially without De Bruyne. Here are some of the talking points from the match.
City have options
When the line up for the match was announced, there was huge interest in how Pep would make the lads line up. It seemed a very lopsided team but as the match played out, it was a show of how comfortable the players have become. Excellent first touches, exquisite passes, never panicking, always having a plan in mind. Huddersfield were totally out of sorts and then in the second half Pep sent on Mahrez, Sané and Foden. Unreal depth.
Creativity all over the field
In the absence of De Bruyne, someone else had to step up and be the creator. And step up they all did. David Silva was excellent, often leaving multiple Huddersfield players on their backs and Mendy's crosses and runs were a constant menace down the left flank. Even Jesus and Aguero were brilliant, taking turns to get into the midfield and ducking and weaving around merrily. Ederson is not one to be left out and he was the creator for Aguero's opener with a beautifully hit goal kick that Huddersfield were not expecting at all.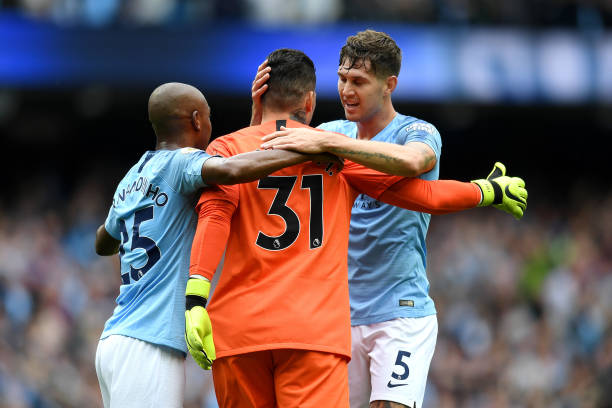 Teams parking the bus
Huddersfield were not the first and they will not be the last. City are not strangers to breaking down teams who play with ten men behind the ball and the way that Huddersfield approached the match was similar to how a lot of teams came to the Etihad last season, dialled up to ten. They were narrow and it often felt like they had six centre backs playing in their own box, trying to put their heads to every cross and body in front of every shot. For the first 25 minutes, it looked like City were going to have a long day. However, we now have enough weapons in our arsenal with the variety to change it up and break down any team.
Still room for improvement
I know I'm nitpicking here, but Guardiola will be doing the same. Stones was not alert enough for the Huddersfield goal and there were times when Gundogan's touch let him down. Mahrez doesn't look up to speed with the rest of his team and he needs to get down to doing the simple stuff well instead of always going for Hollywood shots and trying to do something spectacular. Foden looked really good when he came on and does seem better equipped for the physicality of the league this season. Sané looked really sharp and it was his running that led to the sixth goal. It's looking interesting Blues – this team is special.