In more ways than one, the normal narrative has resumed. Pep Guardiola, uncertain of fitness and commitment levels from his players, oversaw a competent victory over Arsenal on Sunday. Manchester City fans, notorious for their ingrained pessimism, will have been pleasantly surprised with the ease with which their team dispatched a potential title rival.
Yet from the wider football community, there has been, buy-and-large, a vacant resignation toward Sunday's result.
Whilst it might please some who support the Citizens to think the Premier League title has already been conceded, something lurks beneath the surface. A double-edged sword for City's opponents to be wary of. Many of the Arsenal supporters seen leaving the Emirates Stadium at the weekend would have told you the same line.
"What else did we expect? They're the champions."
As mentioned prior, the coded address of both champions-prior and champions-elect is likely welcomed in the blue half of Manchester. After all, it means the psychological battle is well underway, ensuring the screw has continued to turn from last season in a manner not too dissimilar to Arsenal's Invincibles.
Sure enough however, the media coverage following City's victory seemed more concerned with the fact that Unai Emery had not managed to miraculously beat last season's Centurions with the inherited inhibitions of Arsène Wenger's tenure at Arsenal. Of course, that would have been the better story, let alone mention it being Arsenal's first game without their former French manager in 22 years.
The approach taken by Guardiola and City warrants more attention though, as to say this was the team of last season is to diminish the tactical endeavours undertaken. For with a new season comes a new way to improve. A new way to innovate the impossible.
Rewind to last Tuesday. In the bowels of Manchester's Convention Centre, a wide-eyed huddle of David Jones, Jamie Carragher and Gary Neville welcome Pep Guardiola before their video analysis board, hoping to gleam any slight insight from a coach who has won so many.
The Catalan stands modestly as the expected questions fly his way.
"How do you see yourselves getting improvement this season?"
"Have you got new tactical ideas, or is it more of what you did last season, but doing it better?"
Guardiola shrugs, and responds:
"People ask 'can you improve on 100 points' and I say no because we are not here to do that. However, individually the players can improve. You can improve with your right and with your left. There are many, many examples. Where you can improve depends on the tactics and the quality of the players. […] But still, we believe we can do better and dominate more. We believe we can do it."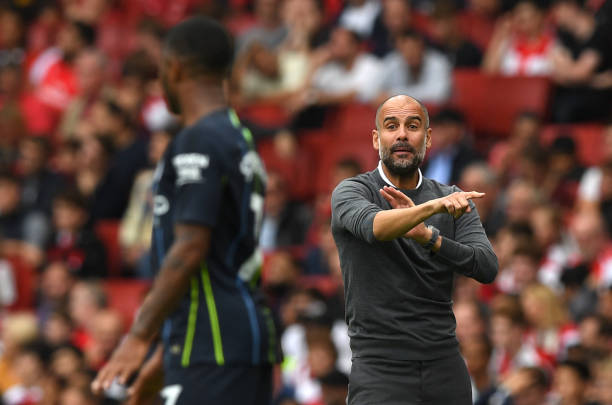 It is consequently that the result against Arsenal was a reflection of this philosophy two-fold. Not only did the nonchalant manner of victory impose the notion that the best is still yet to come from this Manchester City team, but the unfamiliarity to many of the tactical shapes and personnel utilised would have enforced that the beautiful football of last season was not a hammer to beat teams into submission. It was merely the first string to the tactical bow with which Guardiola hopes to inflict total domination.
You need look no further than the first goal to see a statement of intent. With the return of Benjamin Mendy, the wings have been been transformed. Unlike in the 4-3-3 formation so often employed last season where wingers inhabited their dominant side, City instead fielded the right-footed Raheem Sterling on the left flank, and left-footed Riyad Mahrez on the right. With their significant speed, the runs of Mendy and Walker on the overlap give more license for City's wingers to cut inside onto their preferred foot, an action which lead to Sterling breaking the initial deadlock with a thundering finish off his right outside the box.
Wheeling away in celebration, Sterling cupped his hand to his ear, listening out for the screams of journalists across the country so ready to pounce upon any sign of weakness. In doing so though, a wider answer sounded loud and clear. Just like their steely number seven, City are a team that want to silence their doubters.
To pardon the pun, the prospect of a record-breaking team broadening their attacking arsenal should be enough to place significant doubt into the minds of rival coaches and clubs. City's next game against a top six side comes against Liverpool on October 7th, which during the meantime sees the Citizens face all the promoted teams of both this season and the last. A trip to Anfield so early in the season may not have been what Guardiola and his team desired after the losses of last season, but the coming run of games, whilst tough in their own right, will provide the ideal proving ground for both players and tactics as City look to sharpen their swords.
As facet of Guardiola's obsessive personality, he and all those at City will be all too aware that two of these upcoming games represent points dropped last season. The first more forgivable, as the match against Huddersfield at the Etihad was somewhat undermined by the trophy presentation guaranteed immediately afterward. The second, away at Anfield, represents a long-standing psychological barrier only strengthened by last season's performances, the Liverpudlian cauldron now not having seen a City win for over 15 years after City where unable to claw back a three goal deficit as the away fixture finished a 4-3 loss.
Whilst both fixtures hold different challenges, it is worth bearing in mind that if the Blues gather more than a single point across the two games, it will be a greater total than last season. Should the other games in the meantime go to plan, City will actually have improved, and be one step closer to Guardiola's desires in their quest for domination.
It goes to show that even as a 100 point team, City can still be underestimated. Remember that double-edged sword I mentioned earlier? The mentality of facing the reigning champions can be punishing. Conceding defeat in the tunnel is tough enough, yet failing to acknowledge their continued evolution is what will truly see teams and spectators woefully underprepared in the coming season. For if the Arsenal game was anything to go by, then we should not expect the same old City of last season by any means, and neither should anyone else. To hope to play against the Centurions is a task of its own. Instead, teams will have even less idea as to what side will walk out of the tunnel with them, or equally how to counter-act a City team that hopes to conquer further still.
Ultimately, the objective from here on out is clear for Guardiola's men. Defending a title is not enough. In their minds, they will want no doubts of anything other than total domination. Game by game, Manchester City will look to see their hunger for tactical and physical authority feed their desire to ravish whatever falls before them. If a single player is not up to the task, he will be replaced with someone who is. Someone who wants it more. So whenever the opportunity does come, the boys in blue can strike to kill the game dead.
Just don't expect it to take the form you expect.