When this year's summer transfer window slammed shut at 5pm on 9th August, some Manchester City fans were left frustrated by the lack of signings made.
Premier League title rivals Liverpool had spent £200m in the window making notable additions such as goalkeeper Alisson and midfielder Fabinho who City had been previously linked with.
Meanwhile at the Etihad Stadium, City only made one notable signing, Leicester City midfielder Riyad Mahrez.
One position which needed strengthening was defensive midfield. This is due to Fernandinho's age and disciplinary record along with City fans not seeing a future with Ilkay Gundogan in midfield.
Fabian Delph is a player who made a name for himself in this position, but, with Benjamin Mendy hoping to stay fully fit, it is unlikely Delph will start on a regular basis in midfield, let alone left back.
While there was frustration, the lack of signings show that City and manager Pep Guardiola have a plan in place and City are now a club that knows how to operate in the transfer market.
When Sheikh Mansour became City owner in 2008, the spending by the club was unbelievable – £32.5m for Robinho was just one of many outrageous fees City would be paying to bring top footballing talent to the club.
As seasons went by and more players were being brought into the club, it was clear that City were a club going for quantity rather than quality. One example being centre backs Stefan Savic and Matija Nastasic. When these two players were brought into the club, they were being billed as the future of City's defence, however, it was clear that they were not ready for life in England. Savic was a player prone to making many mistakes while Nastasic had one good spell during 2012/13 season, until an injury forced him out of the team and the club.
Other players such as Javi Garcia, David Pizarro, Scott Sinclair and Jack Rodwell were also part of the mass incomings at the Etihad. However, the arrival of Guardiola changed the mentality of the club. One from big spenders who were often left with egg on their face to a club that picks its players with a fine toothcomb.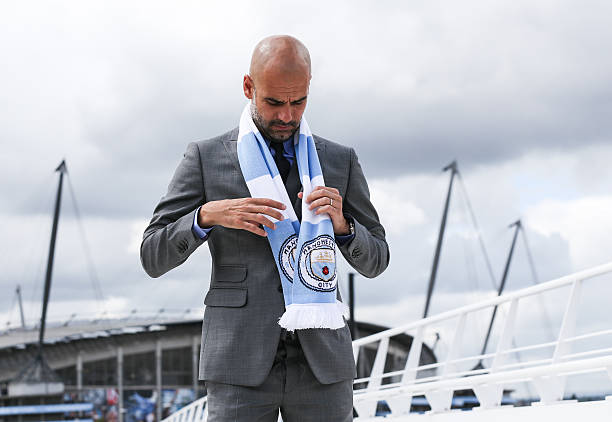 Having Txiki Begiristain and Ferran Soriano part of the hierarchy and their strong working relationship with Guardiola ensured that any spending was done wisely and only on players who had a long-term future at City.
At the start of 2016/17 season, Guardiola had acquired a lot of young talent such as England centre back John Stones, German winger Leroy Sané and Brazilian striker Gabriel Jesus who arrived at the club in January the following year.
The first season for these players was a mixed one, but after their performances in the title-winning side of 2017/18, they are now considered some of the best in the Premier League.
The fees of Stones and Sané do stand out both having arrived at great expense, but unlike previous players who moved to City, they have proved their worth and are now a crucial component to Guardiola's masterplan.
Guardiola's second season again saw big spending on the likes of Bernardo Silva, Kyle Walker, Benjamin Mendy, Aymeric Laporte and goalkeeper Ederson. Again, these players have been anything but disappointments at the club and have proved their huge transfer fees.
The early acquisition of record signing Riyad Mahrez during this summer's transfer window was a clear statement of intent from City to do the business early in an attempt to mount a title defence, and the fact that no other big names were brought in shows that Guardiola has all the pieces he needs for his jigsaw.
If he was desperate for another midfielder, the club would have signed one, but with the manager being satisfied with his squad, there would be no need to bring in more players.
Guardiola also mentioned that he might even perform one of his player position transformation tricks by moving Stones into a defensive midfield position!
Clearly, the Catalan and the City board are happy with the players.
A clear plan has also meant that the club is financially sustainable and functioning at a profit, meaning that the goals can purely focus on football rather than a balance with financial objectives.
Regardless of how many players City bring in during transfer windows, the club is now one that is stable with a board and manager who are doing their utmost to make City a footballing superpower.