The acquisition of Riyad Mahrez earlier this month made him the most expensive African player in Premier League history and was perhaps the main reason why so many Manchester City fans set an uncomfortable alarm for two o'clock on Saturday morning. The Algerian played 72 minutes of the defeat to Borussia Dortmund in Chicago, performing well despite the result and narrowly missing two free kick attempts.
"I feel very good," he commented. "It was a good game."
Guardiola, who shared Mahrez's view in his post-match press conference, has signed no other players to supplement his squad so far this summer. Evidently, the manager has high hopes for what Mahrez can achieve. Indeed, the player himself has made his intentions clear – he wants a Champions League trophy at City. "I made the decision to come here because I want to be a part of that," he said.
If the £60 million man continues to defy expectations as he has done repeatedly for Leicester, he will undoubtedly help carry his new club to the upper echelons of European football. With double figures for goals and assists in two of the last three seasons, he's a player to get excited about.
Firstly, he redefines the way Guardiola has utilised his wingers over the last 12 months. Last season, both wide players – typically Sterling and Sané – played on the wing that suited their preferred foot: Sterling on the right and Sane on the left. This mirrors Douglas Costa and Kingsley Coman providing for Muller and Lewandowski at Pep's Bayern. As a result, accurate low crosses were the key to City's plentiful goal tally. The 7-2 victory against Stoke at the Etihad showed this brilliantly.
However, the low blocks and packed defences that City will undoubtedly face in the coming season will hinder the opportunity for City's wide players to place accurate and effective crosses using their stronger foot. Mahrez, akin to Arjen Robben, cutting in on his left foot from the right-hand side can prove a major goal threat that can catch opposing defences off guard. See, for example, his curled effort against Spurs in November. Kevin De Bruyne is the only City player to have scored more outside the area than him last season.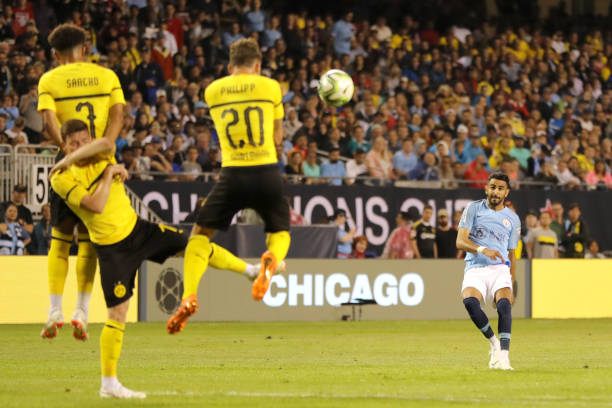 In addition to Pep's tactics strongly favouring wide players, the Catalan's man-management expertise also heightens Mahrez's chances of success. Critics in the past have noted the player's unsatisfactory attitude, namely his absence from training after Leicester rejected a £50 million bid from City in January. Despite these "assumptions" being labelled "completely untrue" by Mahrez, sceptics remain. Under the tutelage of Guardiola, however, worries regarding disciplinary issues can be forgotten. Pep, who slighted Ibrahimovic and dismissed Ronaldinho at Barcelona, will not hesitate to temper any detrimental attitude issues. He will, therefore, get the best out of a player that has talent in abundance.
This shouldn't suggest that Mahrez is lacking in determination. He was born in Sarcelles, a rocky Parisian suburb, and, when he was 15, a heart condition killed his father. The teenager responded by working and training harder in order to fulfil his father's wish to see his son in professional football. Without that experience, the Mahrez we see today in Manchester most likely wouldn't be here.
"[His death] maybe was the kickstart. I don't know if I started to be more serious but after the death of my dad, things started to go for me. Maybe in my head, I wanted it more."
As a slight and wiry player, the Algerian has refined his technical ability and has made it a large part of his game. He has been one of the top six most fouled players in the Premier League for the last three seasons running as a result – more than any other City player bar Sterling – highlighting the unease he creates within opposition defences.
To top it off, Mahrez's left foot is an added threat from set pieces. With David Silva perhaps not playing every game in future, the winger's dead-ball ability eases the burden on Kevin de Bruyne and allows for different tactics via free kicks and corners.
Hopefully, the next preseason fixture against Liverpool on Thursday morning allows City fans to see more of their new wide man. The 27-year-old has real talent to help the Blues and with such a mentally and physically tough season ahead, they will need everything he has to offer.