'Those who do not learn history are doomed to repeat it.'
Or so the phrase goes. The above, famously associated with philosopher George Santayana, would certainly not go amiss in the history books of Manchester City FC. It could in fact be almost ironically associated with the Blues by now given how much of a tradition it has become to capitulate from strong positions time and time again. Since even before Joe Mercer's title-winning team failed to strengthen their grasp on the league after the glory of 1968, City have found themselves floundering in the aftermath of success. Even in the revitalised era of Sheikh Mansour, both Roberto Mancini and Manuel Pellegrini learnt the hard way that the second coming of success fails to inhabit the forms of either Jack Rodwell or Wilfred Bony. So with Pep Guardiola not only seeking to buck yet another typical City trend to win the first back-to-back Premier League titles since 2009, but seemingly perfect the near-perfection of the Centurions season, we have to ask — how do City's centurions aim to soldier on?
Learning from history – the Guardiola way
To go back to Santayana, those who wonder whether Guardiola is versed in the historic missteps of the club, or if players like Raheem Sterling or Kevin De Bruyne might be crushed upon learning of a legacy of failed title defences, might take solace in learning that the earlier aphorism is actually paraphrased from the original words of "Those who cannot remember the past are condemned to repeat it."
To take this literally, whilst the present City camp might be vaguely familiar with the last failed title defence, only a handful of players in Vincent Kompany, Sergio Agüero, David Silva, and Fernandinho were actually around to suffer the 2014/15 season. Whilst this core group will undoubtedly wish to change their fortunes second time round, City fans are all too aware that things are different this time. They might even be able to sing it to you. "We've got… Guardiola", they chant. For with Guardiola comes a different memory of success, and a grander variety of ways to assure league dominance.
Barcelona '93-'94 — Samba strikers and prolific partnership
Whilst it is easy to measure Guardiola from his litany of managerial successes at his native Barcelona and then Bayern Munich, it is useful to consider his formative experiences in title defence spawned from his playing career under his tactical mentor, Johan Cruyff. Stepping into the first team in 1990, Guardiola would not only win La Liga in his debut season, but flourish as the midfield pivot for Cruyff's 'Dream Team' as they retained the title for three further years across the following 91-92, 92-93, and 93-94 seasons. This early taste for victory for Guardiola, of course, does not instantaneously merit City the same fortunes (as much as we might wish for it… especially given the 1992 European Cup win). Rather what does warrant further inspection are the similarity of tools at Guardiola's disposal to those at the culmination of Cruyff's league dominance in the 1993-1994 season.
Facing goal, an dynamic Brazilian forward. By his side, an indomitable 100 goal club legend. Whilst Blues would salivate at the prospective partnership of Gabriel Jesus and Sergio Agüero, to Pep Guardiola, this description fits more in practice to the lethal duo of Romário and Hristo Stoichkov at Barcelona. Having been in prime position to witness open play from his holding midfield role, Guardiola saw up close and personal the devastation that this ephemeral duo would wreak upon their opponents.
As Romário arrived from PSV in the summer of 1993, he and Stoichkov formed a truly destructive strike partnership, albeit off the pitch as much as on it. Indeed, both in the height of their footballing powers, the two men would score an incredible 56 league goals between them to emphatically snatch the La Liga title from the hands of Deportivo La Coruña on goal difference. Their individual dominance was only emphasised following the season, with Romário lifting the World Cup in USA '94, whilst Stoichkov was the joint top scorer and was the Ballon d'Or at the end of the year.
To a Blue, maybe the only detail that could surpass all this was that the pair would play judge, jury, and executioner against Manchester United in the Champions League the following season, humiliating them 4-0 as Stoichkov scored his 100th goal for the Catalan club and caused Sir Alex Ferguson to pause and admit that "In the end, it was a humbling experience for us."
To Guardiola then, the chance to recapture this roaring supremacy would be tantalising, perhaps going some way to explain the fascination that continues to circulate around the possibility of the smiling Gabriel Jesus in the same side as striking stalwart Sergio Agüero. For crucially, Guardiola likewise bore witness to how the often thunderous results of Romário and Stoichkov equally proved to be lightning in a bottle.
Despite spending a season and a half scoring goals for fun together, the volatility that had characterised Romário and Stoichkov's reign on the field similarly came to characterise them off it, as in the aftermath of global stardom, both men came to fall out with Cruyff. The Dutchman claimed Romário "no longer interests me" after the striker seemed to hold his native Brazil above his Blaugrana duties, whilst Stoichkov was seen to be "saturated with praise and prizes" after failing to shoulder the scoring responsibilities he had held prior.
In light of this, the stalling of Jesus's contract extension on the eve of the World Cup might appear to signal that he too is on the cusp of a different echelon of sporting fame. Certainly, the young number 9 will be hoping to attain new-found levels of glory with the Brazilian national team in Russia, yet it is the opinion of this writer (and I'm sure many others) that this is simply a negotiation strategy given the potential for a stellar rise in market value that would accompany a starring role in the tournament. If anything, this might alert Guardiola that Jesus is keen to progress beyond calling his mother, and instead begin calling for a more pivotal role at the club.
Whilst the overwhelming success of a sole striker in the dominant 4-3-3 formation of last season would suggest that there is only room for one front man in City's XI, it is sure to remain memorable to Guardiola just how effective the combination of South American innocence and club icon experience can be. The otherwise fortuitous return of Benjamin Mendy will as such be keen reminder not merely that the Blues have further options on the left flank, but that there exists sound evidence that both Jesus and Agüero are able to function in a 3-5-2 formation. Guardiola seemed to take no greater delight in the 5-0 defeat of Liverpool than witnessing a crucial display of a then-budding partnership as one South American squared to the other to score, noting "it means a lot in the way we want to create something special in the locker room."
It is worth noting that whilst Sergio Agüero remains as perhaps the definitive City goalscorer, unless he has been taking notes from good friend Lionel Messi, he does not boast the ability to play out on the wing like Stoichkov so commonly did to accommodate his Brazilian teammate. Conversely, it is Gabriel Jesus who has operated there more frequently of the two, most notably in rotation with Raheem Sterling and Leroy Sané in the 2-1 victory over United at Old Trafford. Indeed, it could be argued that the goals of Sterling and Sané already supply the desired attacking potency that Guardiola might desire in the coming season. After all, functioning in rotation with either Agüero or Jesus over the course saw City break the Premier League goal record, now standing at a grand total of 106.
The task does however remain at perfecting the almost perfect.
Whatever the formation or personnel, it is certain that with such an bright partnership as Romário and Stoichkov seared into his memory, Guardiola may feel that one possible path to repeated league glory might once again be harnessed through the formidable alliance of an exuberant Brazilian and proven goal machine.
Barcelona '08-'12 — Applying the curé for Touré
It is unavoidable to consider the definitive dynasty of Guardiola's career — his imperious managerial tenancy at Barcelona from 2008 to 2012. A Catalan man through and through, his rise with the B team, guiding them to promotion in his season in charge, saw him in prime stead to succeed Frank Rijkaard as first team manager, with his emblematising of the trophy-laden Cruyff era undoubtedly helping also. What followed of course, was arguably the most dominant era of club football. Out of a possible 19 trophies in all competitions, Barca tiki-taka'd their way to 14, and in the process, won 3 back-to-back league titles from 2008 to 2011.
As Blues will know well, with success comes accusations of worth, in more ways than one. In Guardiola's case, there seems to be a misconception that he inherited a team fit for his purposes. Whilst it did possess undeniable talent and stardom (including one blossoming Argentine), Rijkaard's squad had finished a woeful 18 points behind champions Real Madrid. Changes needed to be made, and to the benefit of Manchester City F.C., one such major shift occurred in the form of certain Ivorian — Yaya Touré. In a similar manner to his recent departure at City, the arrival of Guardiola saw Touré fall down the pecking order, his previous defensive midfield role instead allocated to a young Catalan who had accompanied Guardiola from the B team. His name? Sergio Busquets.
Where Touré was defined by his trademark physicality and barreling runs from deep, Busquets allowed Barcelona to elevate their game to a new standard. Replacing power with poise, the Catalan club utilised Busquets's eerie perception and serenity on the ball to exert a stranglehold as they drowned out the opposition. In a fell swoop, they evolved, from juggernauts to pernicious predators of possession.
The level to which Busquets became essential to Barcelona since his first team debut in 2008 cannot be underestimated, as he slotted into both Guardiola and Vicente Del Bosque's Spain team with tailor-made ease. Although not one to often earn the plaudits equal to the likes of illustrious teammates Lionel Messi or Andres Iniesta, his omnipresence on the field makes him integral in turning the cogs in the deadly attacking machine.
It is this selfless simplicity that makes him so essential to his teams. Without the flair or verve of players further forward, Busquets excels in his execution of the basics, ensuring the match runs as smoothly as possible. As former Spain head coach Del Bosque noted — "You watch the game, you don't see Busquets. You watch Busquets, you see the whole game."
With Touré having now made his exit at City, it is not unimaginable to assume that Guardiola might hope to replace the Ivorian's presence with a player similar to Busquets. Though Fernandinho has been imperious over the past 12 months, the hotly anticipated arrival of the Brazilian-born Jorginho sees the incoming of a player much in that mould.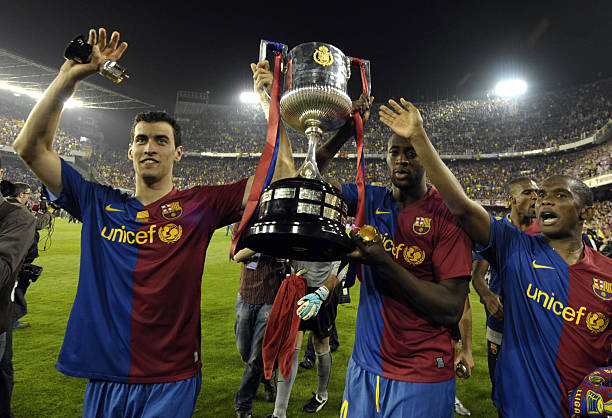 The midfield fulcrum of Maurizio Sarri's Napoli, Jorginho boasts a skill set few in Serie A can compete with. With a passing range that perfectly compliments his authoritative play, the Italian possesses a unique intelligence to run the game from his anchoring position, dictating the match in a way many have compared to his great compatriot Andrea Pirlo.
More importantly though, playing in a 4-3-3 formation has seen Jorginho blossom, something Guardiola will be licking his lips over. Remarkably, it is Jorginho who holds 9 of the top 10 positions in Serie A for touches and completed passes per game since 04'-05'. In touches, the only other name to appear is Pirlo himself.
Naturally, such a talented midfielder at Guardiola's disposal would be enough to make fans excited. Yet there would remain naysayers who would be keen to remind us that despite his impressive statistics, Jorginho would find the Premier League a far higher calibre than the competition in Italy, wherefore he might crumble under such high pressure. It is encouraging to learn from Roma's Radja Nainggolan then, that Jorginho has been the toughest opponent he has ever come up against. "He always plays in tight situations and passes very close to him" said the Belgian. "It's very hard to follow him and stop his plays. You get tired because he moves the ball very fast, but he didn't even move himself."
You can see why Guardiola might have caught wind of him. Not only will he hope Jorginho's arrival will ease the pressure on Fernandinho's defensive midfield duties, but that it will help to reinforce a dominant brand of football Guardiola (and more recently Manchester City) have become infatuated with. Just like Busquets before him, Jorginho will serve to bring and increased composure on the ball, and with vital Champions League experience, the benefits of adding poise and purpose to City's game could be second to none.
Ultimately, if the combination of Guardiola and Jorginho is to have the same success as the former found at Barcelona, then perhaps the only thing left to do is for the Italian to sign on the dotted line. In what has become a protracted transfer saga however, there remains a certainty that it is only a matter of time.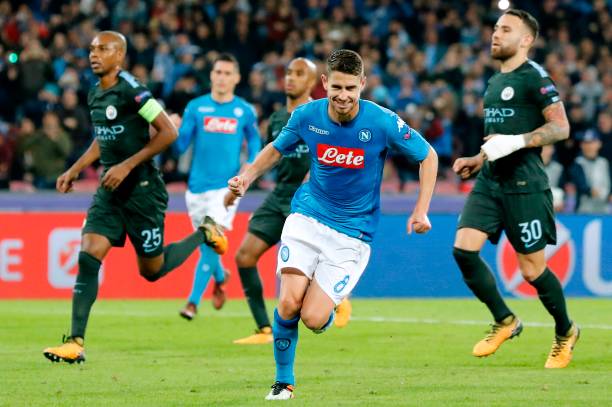 If and when the transfer does go through though, Guardiola will be all too familiar with the type of player at his disposal, and Jorginho, eager to complete the switch, will have all the tools to be the ideal No. 6 for Guardiola's style of play. As the player himself has said, he is ready to step up to the plate in England.
"I think that I could fit. It depends on who else is around me – I need players with the same characteristics that I have. There are English teams with this style of play, ball on the ground, quick transitions, high pressure. If one of those teams wanted me, I could fit and the other way round. My football way is not a usual one."
With their immense talent and now numerous records, neither is Manchester City's. But to that end, Blues have every right to be excited about the prospect of signing the Italian. Just like Sergio Busquets before him, Jorginho could be a welcome assurance for Guardiola that his team have the ability to keep composure in tight situations, and prevail like never before. For if being the ultimate Guardiola No. 6 is about enforcing calm, then it is surely the calm before the storm.
The lingering questions — Bayern Munich and the 'Mala Leche' spirit
What remains to be seen about Guardiola's domestic successes are the common denominators that allow his teams to dominate. For whilst many would point to the fabled tiki-taka or simply Guardiola himself, there are more abstract qualities at work that continue to define the football of Guardiola. Some might deem it a swagger or maybe sheer determination, but the Spanish have developed another term. 'Mala Leche', or bad milk.
That is not to say that Xavi or Robert Lewandowski were handed cartons of gone-off Cravendale to strut around the pitch with. Rather that wherever Pep has found his successes, it has in large part to do with a sustained attitude both from the players and the club. Whether it is Stoichkov being described by Jorge Valdarno as "a predator – a beast who is only satiated by the flesh of his victims"; Busquets being termed the "enforcer" of the mala leche by Xavi during their shared time at the Camp Nou; the "Mia san mia" ("We are who we are") motto of Bayern Munich and their legacy of historic success. By hook or by crook, wherever Guardiola has managed there exists a fundamental identity that domestic victory is assured. By any means necessary.
During his time at Bayern Munich from '13-'16 however, this winning identity came under scrutiny. Though the Bundesliga was swatted aside for all of Guardiola's 3 years at the club, the lack of cohesion between his ideas and those of the Bayern board under Karl-Heinz Rummenigge caused an identity crisis to form.
To Bayern, Guardiola's arrival had come in the immediate aftermath of Jupp Heynckes's total sweep of the Bundesliga, DFB-Pokal trophy, DFL-Supercup, and the Champions League, giving them the perfect foundation to seemingly go on to a greater European dominance like they had known in the wonder years of the mid 1970s. When failing to bring Bayern to that next level, the never-say-die attitude Guardiola had thrived upon quickly shifted toward the weight of expectation of a club built upon total success, that which could not be satiated with continued domestic titles.
The story goes that the pressures of the Bayern board played a large part in Guardiola's departure, and thus equally, his arrival at Manchester City. Free from the external politics of club identity and expectation, Guardiola is free at City to execute his philosophy however he sees fit.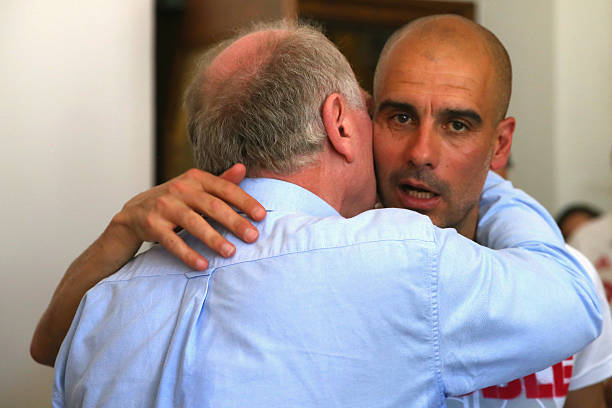 Now at home in the hustle and bustle of Manchester, Guardiola has only one job left to do — bring continued success. For as much as the weight of history may have felt a limitation before, he has an equally tough task in instilling a bit of mala leche in the heart of Manchester City, a club that despite recent victories, remains more grateful than expectant of success. In order to spark a run of consecutive trophies, perhaps it will be Guardiola's defining act to pass on his hunger for supremacy to a club that does not traditionally hold it within it's DNA.
As City fans, we know the good times from the bad. In many ways, our continued pessimism of the 'typical City' way is what reminds us of our own history, and where we've come from. Typically even, it would be our role as old underdogs to berate those who expect success, and laugh in good spirit when it doesn't go to plan. But gone are the days of the Bertie on the sideline, the own goals ,and the last gasp losses. Let's not forget where we've come from. Dickov. Agüero. And now Jesus. Sure, we make it hard for ourselves sometimes, but this is a club that has been slowly built for success. Now, we're glad all over. We've got Guardiola. A man who has learnt how to win. So now, it's our turn.