After weeks, months, years of waiting, the 2018 World Cup is finally here. As the football community gets ready for the greatest show on earth, we take a look at the record-equalling fleet of Manchester City players who'll be going for glory in Russia…
No club has ever had more representatives at a single World Cup finals than City do this year, with sixteen blues fighting for eight different countries across the sixty-four matches. Every nation will play between three and seven games between June 14 and July 15, meaning there could be anywhere between twenty-two and thirty-eight games involving our City players during the tournament. But who are these players and when are their group stage fixtures? In alphabetical order by country, here's the complete list…
All times GMT
Argentina (Group D)
As one of the favourites to go all the way, the Messi-powered Argentina will be looking to Nicolas Otamendi, as their most prodigious defender, to offer leadership and courage at the back. With five goals for Manchester City last season, you wouldn't bet against him chipping in at the other end too. Sergio Aguero, however, isn't quite so certain of his spot in the side – he's competing with the likes of Gonzalo Higuain and Paulo Dybala for a place in the starting XI. We may also see former City 'keeper and League Cup hero Willy Caballero starting for Argentina after first choice Sergio Romero picked up an injury.
Argentina vs Iceland – Saturday 16th June 14:00
Argentina vs Croatia – Thursday 21st June 19:00
Nigeria vs Argentina – Tuesday 26th June 19:00
Belgium (Group G)
They may not be dark horses anymore, but players like Hazard and Lukaku mean this Belgium side are certainly in the race. Their main man is Kevin De Bruyne, who'll be used in a deep-lying role by Roberto Martinez but will probably start every game. At the back, Vincent Kompany captains the Red Devils – assuming he can recover in time from a minor groin injury sustained earlier this month. City loanee Jason Denayer didn't make the cut but former defender Dedryck Boyata is in the squad.
Belgium vs Panama – Monday 18th June 16:00
Belgium vs Tunisia – Saturday 23rd June 13:00
England vs Belgium – Thursday 28th June 19:00
Brazil (Group E)
With the ghosts of their thrashing by Germany from four years ago firmly in the past, a new-look Brazil team will look to grab their sixth World Cup in Russia. Gabriel Jesus is the pick of four City players in the squad, having established himself as Tite's preferred central striker, and even has a genuine shot at the golden boot. Ederson is less likely to win any individual awards as he appears to be condemned to a tournament on the bench, playing back-up to Roma's Alisson. Fernandinho will also have to work hard to get a chance in Tite's starting XI, with Casemiero and Coutinho among those favoured in midfield. However, things might be looking up for Danilo as Dani Alves' injury leaves room for the ex-Real Madrid defender in his national side.
Brazil vs Switzerland – Sunday 17th June 19:00
Brazil vs Costa Rica – Friday 22nd June 13:00
Serbia vs Brazil – Wednesday 27th June 19:00
England (Group G)
The other nation with four City players in their squad, Gareth Southgate's England will be relying with an alarming regularity on Raheem Sterling to produce the goods. After having arguably the best season of anyone in the Three Lions' squad, scoring twenty-three goals and grabbing twelve assists for his club, Sterling will need to do his best to drag England behind him despite the constant media scrutiny. Kyle Walker and John Stones will both be mainstays in Southgate's defence, but Fabian Delph may have to work a little harder for his minutes as he goes into his first ever World Cup.
Tunisia vs England – Monday 18th June 19:00
England vs Panama – Sunday 24th June 13:00
England vs Belgium – Thursday 28th June 19:00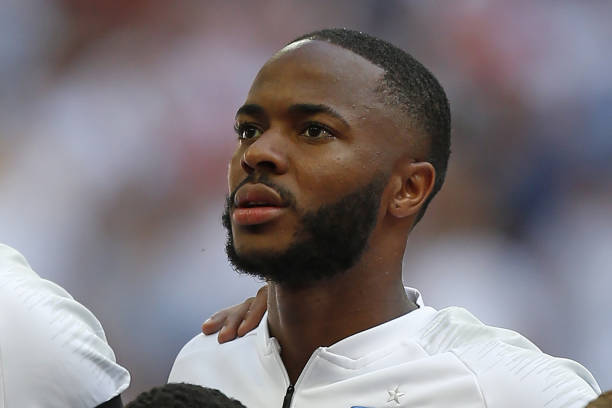 France (Group C)
After Aymeric Laporte's disappointing omission, Benjamin Mendy is the only Blue in the Les Bleus squad this summer. Mendy barely featured for City last season thanks to a dreadful knee injury suffered in September, but he's still France's best full-back by some distance and looks raring to go as a member of Didier Deschamps' starting team.
France vs Australia – Saturday 16th June 11:00
France vs Peru – Thursday 21st June 16:00
Denmark vs France – Tuesday 26th June 15:00
Germany (Group F)
The unthinkable has happened. For reasons known only to Joachim Low, Leroy Sané won't be going to the World Cup. But we have to try and look past it because Ilkay Gundogan will be representing his national side in Russia and he needs our support – he's certainly not getting much from some Germany fans at the moment after he was booed in their last friendly last week. Pep Guardiola will be following Germany with particular interest as five of his former players from Bayern Munich are in the squad.
Germany vs Mexico – Sunday 17th June 16:00
Germany vs Sweden – Saturday 23rd June 19:00
South Korea vs Germany – Wednesday 27th June 15:00
Portugal (Group B)
Just the one City player lining up for Portugal this tournament – Bernardo Silva will be one of the better players in the team and you can expect him to start regularly alongside Cristiano Ronaldo. Former City targets Gelson Martins and William Carvalho, both of whom recently terminated their contracts with Sporting, are also in the squad.
Portugal vs Spain – Friday 15th June 19:00
Portugal vs Morocco – Wednesday 20th June 13:00
Iran vs Portugal – Monday 25th June 19:00
Spain (Group B)
Last but not least is David Silva's Spain. El Mago will be one of his country's most important players in what will surely be his last ever World Cup. Silva averages a goal every 3.4 games for Spain, a stark contrast to his one every 5.7 games over the years for City. After a rocky year personally in which he's performed brilliantly, Silva could well be City's best shot at the Player of the Tournament.
Portugal vs Spain – Friday 15th June 19:00
Iran vs Spain – Wednesday 20th June 19:00
Spain vs Morocco – Monday 25th June 19:00