It's that time again – we are into single figures on the day tab of the countdown to the 2018 World Cup. Around the nation, wall-charts are being pinned up, arrangements are being made for parties or gatherings during the matches, offices are starting to jokingly plot where and how England will inevitably mess up and be on an early plane home.
Oh, and one more thing. The national press have chosen their scapegoat, or player to target for seemingly nothing. In Italia 1990, it was the manager Bobby Robson. Before becoming an admirable gentleman in the game, Sir Bobby fell victim to scaling attacks from the media branding him a traitor. Before England's 1970 World Cup defence, the papers centered around Bobby Moore allegedly stealing a bracelet, rather than wishing the players well in the tournament, an incident that later has become referred to as 'Bogotá Bracelet'.
Before any major tournament in fact, you could probably find stories scapegoating and vilifying before a ball has been kicked, with a few clicks of the mouse. This time it is the turn of Manchester City winger Raheem Sterling.
When the tournament comes around, sports news usually not only dominates the back pages, but also the front pages. That was the case this week and last, when without naming any names, the tabloid press attacked so-called 'footy idiot' Sterling for getting a tattoo of an assault rifle, later following up with stories of him being late to training due to a delayed flight out of his control.
I spoke to Henry Winter, chief football writer at The Times, to ask him his thoughts on the matter.
"On the eve of every tournament, the non-football media, especially the front end of the book in newspaper parlance, wakes up to football and looks for a story," Henry told City Watch.
"England footballers are largely well-behaved nowadays, the days of Vegas baby, kebab-eating, getting smashed in the Dentist's Chair are long gone so the focus is on anything, in this case tattoos."
It would be a lie to say that Raheem hasn't had his fair share of abuse ever since his controversial switch from Liverpool to Manchester City in 2015. Stories of him splashing the cash on a house for his mother or new cars have filled the papers. At the other end of the spectrum, Sterling shopping in Primark or buying a bottle of water from Poundworld have made the news. Evidently, you can easily see he has been criticised both for spending money, but also for saving money. Logical.
Within minutes of the headlines linking Sterling's tattoo to him supporting gun crime, the goal-scoring sensation responded on his social media channels, explaining the deeper reason for his tattoo – to commemorate his father who was fatally killed by a gunshot when Raheem was just two-years-old. For anyone to have to explain themselves on a national front with a sensitive story like that is disgusting. It is 2018, no one should be persecuted for exercising their right of free speech via decorating themselves. This is a right that is unquestionable in society.
I also asked Goal journalist Sam Lee for some of his thoughts. The City correspondent criticised the treatment of Sterling, and agrees that the tattoo stories were not the start, but a continuation of the ridiculous assassination of Sterling's character.
Sam said: "The treatment Sterling gets has always been disturbing, and it reached a crescendo with the tattoo. The whole situation is now completely skewed – and I include the reaction of some fans to incidents where Sterling has legitimately been in the wrong."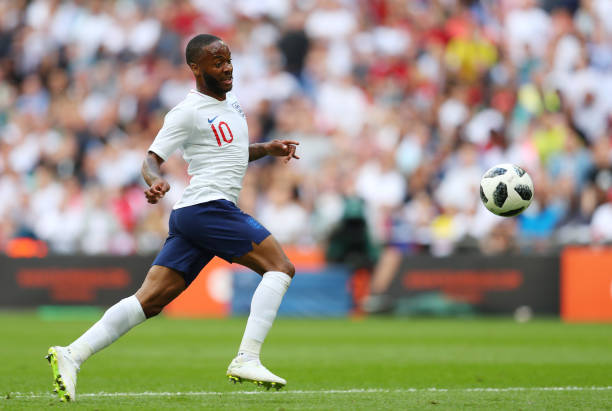 The constant bullying must stop. At the meager age of 23, Raheem Sterling is one of the most experienced players in the England side, with more caps than everyone in Saturday's side but Gary Cahill. Not only that, the winger was one of the best players of Pep Guardiola's record-breaking Centurions – statistically, the best team to ever grace the Premier League.
I could write a whole piece outlining how Raheem Sterling is arguably England's best player and biggest hope in Russia, second only to the 'goal machine' Harry Kane (who – you guessed it – has also received his fair share of unwarranted abuse from the press). I could tell you about his 23 goals from midfield in the season just gone, or how he boasted the best conversion rate in the league, or how his late goals at Bournemouth and Huddersfield, or Southampton at home, proved pivotal to City's title win.
The papers criticised him with 'Late Show' headlines when he arrived to training late, but I argue that we need to get behind the king of the late show, whose goals after 80 minutes gained City around 10 points in the league this season alone, not to mention a late winner against Feyenoord in the Champions League.
Raheem Sterling, perhaps alongside Harry Kane, represents England's best chance of success in Russia this summer. I'm not saying he will win England the World Cup on his own, but if they are to progress to at least a rare quarter final or unprecedented (in mine, and Raheem's lifetime) World Cup semi final, he will be key.
Henry Winter would agree with me.
"Support for Sterling from most of the football writers comes from a realisation that England have few really good players, so Sterling should be cherished even more," he said. "I did a Sunday Supplement at the end of the season and we all had to name who we thought England's most important player and we all said Raheem."
Look at other nations. The Spanish and German press hail their team as heroes as they wish them well in Russia and the South American giants are renowned for their brilliant support.
Since the stories have gone from the back pages to the front, the whole nation has responded. Not just City fans, not just football fans in some cases – people from around the country have taken to social media to back Raheem Sterling. Before a footballer, he is a human, with feelings that have undoubtedly been affected this week.
Despite his role as a City correspondent for Goal, Sam Lee is a United fan at heart, albeit watching Guardiola's team last season week in week out he may have developed a slight soft spot for the Blues.
He said: "I think one upside to the last week is that a lot of non-City fans have realised what's going on and have supported him maybe more than they would have done."
Sam echoes the cries that this article is centered around: get behind Raheem and the rest of the squad in Russia. He concludes: "This is a new-look England team and Sterling is going to have a big part in it, so fans should get behind him, like anybody else. After that it's back in the hands of the media."
So, with just over a week until Russia to go, I urge football fans around the country to get behind this youthful England side. Raheem Sterling is probably the most exciting talent in a pretty dull England side in fairness. It may not be the 'golden generation' littered with talent à la Euro 2004, but the togetherness and team spirit in the group that is evident on social media will go a long way.
Encourage and support Sterling and the team, not the opposite.