Yaya Touré's interview with France Football, dominated by a scathing attack on Pep Guardiola, has caused a major stir, causing many Manchester City fans to turn against a man who had been handed club legend status.
Suggestions that Pep Guardiola is a racist were the main talking point from the initial set of quotes released from the interview, but more of his comments have emerged that further show Touré has serious issues with the Catalan coach.
"I had a few difficulties with Pep in Barcelona," Touré told France Football (translated quotes via GFFN). "But he told me it was down to his agent, who had supposedly not spoken respectfully to him. Consequently, this became a sort of fixation for him.
"Like all players, I would joke with my coaches. With Banide, Boloni, Mancini, Pellegrini. But eventually, you reach a common ground and reconcile. With Pep, it's impossible because he's so rigid.
"The other players won't publicly say it, but some have grown to hate him. He's manipulative and messes with players' heads."
Yaya also suggested that Pep only asked him to stay last summer out of fear that he could otherwise lose the dressing room after an indifferent debut year at the Etihad.
"When he arrived to City, he told me right from the beginning that he needed someone to guide the younger ones.
"Even though there were chances for me to leave, I told myself that I could become a City legend. The same thing happened last summer when he asked me to stay.
"Maybe he was scared of losing the dressing room if I left, because he knew what I meant to the group. But after deadline day, I saw that he was not including me in the squad."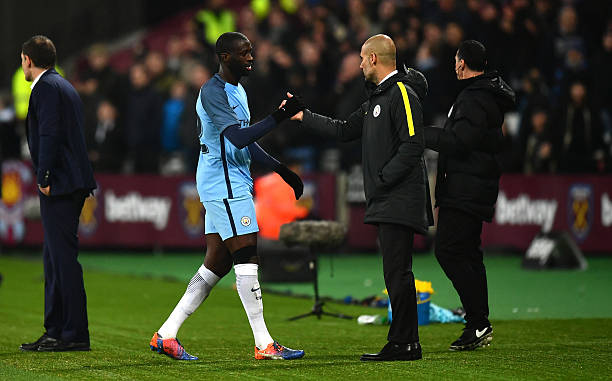 Yaya was asked specifically what Guardiola criticised him about – was it his physical decline for example?
"Nothing really…" he replied. "I think I was just faced with someone who wanted to take his revenge on me."
Could it really have been revenge?
"I don't know actually. Maybe he was jealous and thought I was his rival. That's probably it. We gave weird looks to each other. He would observe and gauge me without saying anything. I speak Catalan, Spanish and English. That should be enough to communicate with me. I guess not…
"Every time we ran into each other, he seemed uncomfortable. As if I blocked the light on him. As if he understood how to read me perfectly."
Touré's remarks have already caused backlash from many Blues on social media and these new comments are unlikely to improve the current feelings towards the outgoing City midfielder.
–

Manchester City have launched the 2018/19 home kit!

Pick up the Kit of Champions at the City Store!