The only thing that could have made Yaya Touré's Manchester City send-off any more perfect would have been him curling a textbook free kick into the Brighton net.
Wearing the captain's armband one last time before a vibrant Etihad crowd on 9 May, Yaya played his final match in the sky blue after a successful eight years at the club, featuring in a home win over Brighton.
A post-match celebration of his City career followed, including a cameo by his older brother Kolo. It was a feel-good moment in a feel-good end of season for Manchester City fans, appearing to wash away questionable comments made by Touré and his agent Dimitri Seluk in the past. Those transgressions had threatened to soil his legacy, but his final moments at the club appeared to ensure that everyone would remember Yaya Touré for the right reasons.
To go one better, chairman Khaldoon Al Mubarak unveiled a plaque at the City Football Academy.
In recognition of @YayaToure''s eight-year City career we have unveiled a special commemorative plaque at the CFA! 💙#mancity https://t.co/aytKugKjyI

— Manchester City (@ManCity) May 8, 2018
Nothing would be more pleasing than ending an article about Yaya Touré's career as a Manchester City player on that note.
Unfortunately, the Ivorian has had other ideas. In an explosive interview with France Football, Yaya Touré more or less called Pep Guardiola a racist. He didn't actually say the words "Pep Guardiola is a racist", but the implications were clear.
"He [Guardiola] was cruel to me," Touré said. "You really believe that Barcelona could have done that with Iniesta? I even got to myself ask if it was not because of my colour.
"I am not the first to talk about these differences in treatment. At Barça, I know that some people have also wondered.
"Maybe we Africans are not always treated by some in the same way as others … when we notice that he often has problems with Africans, wherever he is in the past, I'm wondering.
"The day he will line up a team in which we will find five Africans, not ones with citizenship, I promise I will send him a cake."
Touré's comments are not only lacking in substance, but risk the reputation he has built with the City fan base – one that is enamoured by Pep Guardiola and with good reason. The midfielder has risked his reputation before, often via his outspoken agent who has made some nasty remarks about people associated with the club, but fans have continued to sing Yaya's name and gave him an amazing send-off.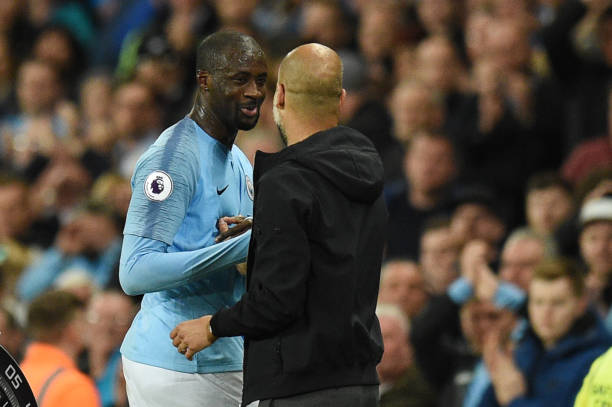 So why risk tarnishing all of that with an unnecessary interview? Does Touré really believe Pep Guardiola has something against African footballers? And does he mean African players or black players?
The same Pep Guardiola who has made Riyad Mahrez of Algeria, North Africa, his primary summer target?
The same Pep Guardiola under whom Mali international Seydou Keita averaged 47 appearances per season at Barcelona?
The same Pep Guardiola who Nigeria striker Kelechi Iheanacho gave a "massive thank you" to when he joined Leicester, calling him a "top coach" who he had been "happy working" with?
The same Pep Guardiola who Ghana-eligible Jérôme Boateng described as "brilliant" and "one of the best"?
Or how about the same Pep Guardiola who Yaya Touré was happy to sign a one-year contract extension to play under after his previous deal expired last summer? You know, after spending the entire 2016-17 season with Pep.
Pep Guardiola is the leader of a multicultural team of white players and black players, of Christians, Atheists and Muslims, a tight-knit unit where politics, religion and race appear to cause no problems whatsoever.
Perhaps it is the fact that Touré, such a crucial figure for years at the Etihad Stadium, was no longer a big dog under the reign of Pep that drove him to make these serious allegations against a man who has shown great character and class throughout the years.
Maybe the truth is simply that at 34, Touré's legs had gone and he looked like a player well past his sell-by date in almost every appearance last season. At times he was walking in a team that demands constant movement and pressing.
I, the writer of this piece, cannot speak for every City fan and how they will respond to his words, but my feeling is Yaya Touré may have done some damage to his Manchester City legacy with these remarks.
It would have been one thing to criticise Pep for not playing him much (and still wrong given Fernandinho's superiority), but to play the race card without providing any tangible evidence that Pep Guardiola is a racist? That's a dangerous game.
If Pep Guardiola is a racist (Pep Guardiola isn't a racist), then Yaya Touré should present some actual information besides his suspicions or quickly issue a public apology. But given that his PR department consists of Dimitri Seluk, don't hold your breath.