In August, I wrote that Raheem Sterling was on a trajectory for greatness. But I will hold my hands up and say I could have never seriously hoped for what was to come. Raheem has had a stunning season. Constantly written off, derided, degraded, Starboy has come through perhaps the worst communal abuse from the wider football community has seen in recent years to cement himself at the very heart of the greatest Premier League side of all time and earn himself a place in history.
Imminently before his move to City almost three years ago, Liverpool legend Steven Gerrard remarked that "It'll be a terrible shame if he goes somewhere and doesn't kick on as a player", before contrasting Sterling's professional levels with Jordan Henderson. These kind of quotes from former Liverpool players, each laced with a bitterness more sanguine than the last, were incredibly common. He was booed around the grounds of England, because of 'his poor Euros', which is apparently the fun new way of saying 'hatred rooted in racism'. They're quiet now.
In his first season, Raheem performed well. He was good in the Champions League, got a Premier League hat-trick, but did not set the world alight. In his second season, after a reassuring call from Pep following a poor European Championship, Sterling started with aplomb. Though this season would end on a fairly decent note for both Sterling and City as we scraped to third, Sterling scored my personal two favourite goals of the season against Swansea and Arsenal, both displaying that something special.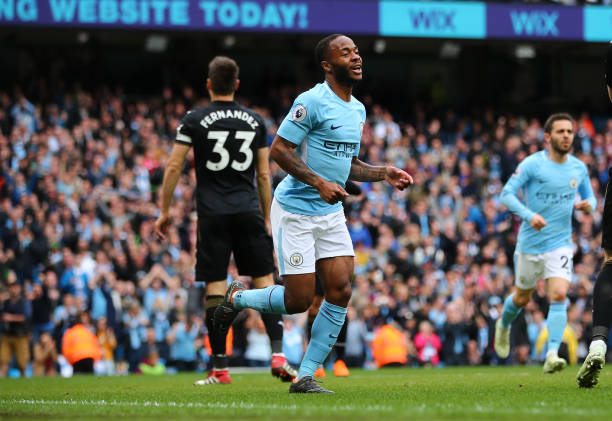 This year has seen an incredible rise. Finishing the season with 18 league goals and 11 assists, Raheem was the second player to provide 10+ goals and 10+ assists, after Leroy Sané. Despite this stunning season, let us deal with the negatives which still linger in the discourse of Raheem Sterling.
The thing people have always said about him is that he can't finish. This season, he's missed a few big chances – Burnley away and United at home come to mind immediately. Perhaps these are overplayed because City ended up throwing both games away. But the fact is, Raheem Sterling finished the season with 18 league goals, many of these being crucial goals.
Raheem's xG (expected goals) for the league season was 18.83. This means that Sterling, based on the chances he had, should've scored 0.83 more goals – or one – than he did. Not bad for a player who misses lots of chances. Though Sterling scored a large percentage of his goals inside the box, this is rather testament to Sterling's positional sense than him being anything like a 'tap-in merchant' – not that at this point we should care about what other people say about Raheem Sterling. Football analysts are defiant that goals are less about a definable finishing skill, and more about the types chances one gets. Sterling's goal tally indicates stunning movement and football intelligence.
This is exemplified in his second goal at home to Tottenham in December. Having missed a few chances, Sterling scored to make it 3-0 in the 80th minute. Yet, in the final minutes, Sterling is still going, this time playing a more central role as substitutes Jesus and Bernardo drop deep to the flanks. The following screenshot shows Sterling about to make a darting run between the centre-backs in Spurs' high line as soon as Bernardo receives the ball. Sterling takes a gamble that the Tottenham defender would botch a clearance – which he does – leaving Raheem to round the goalkeeper and score. I think this kind of tenacity and positioning is where he has improved more this season, which has led to him getting more goals.
I see this season as the progression of a player in the making who has stepped up to super stardom.
Games like Southampton, Bournemouth and Huddersfield jump out when people talk about Sterling. The reason for this is obvious. In each of the cases, Sterling was fairly absent for the duration of the game, but he stepped up right when City needed him. After years of City relying on Agüero and Toure for the big moments, and De Bruyne's emergence for such a role in recent years, we have found another big moment player. But there were other games where Sterling was casually brilliant. Watford away, Stoke at home, Napoli away, Tottenham at home, for instance. One of my personal favourite Raheem games, excluding the ones where he sent me and the rest of the Etihad into angelic raptures with a late goal, was West Ham away in April.
For a long time, Sterling has been derided as someone with no end product. We've dealt with this in regards to his goal tallies and his expected goals, but the West Ham game showed an interesting development in Sterling's game. This season he's begun to play in a more central position, showing his versatility as a player. He did this at the London Stadium, earning three assists. True, his first assist was a fairly fortunate one. His third was the result of a good run and composure.
But his second assist, to set up Gabriel Jesus, is one of my favourite assists since David Silva split the red sea and perhaps is unfortunate have taken place in the same season as Kevin De Bruyne's miraculous effort to set up Leroy Sané against Stoke. Jesus played a stunning the ball from deep, leaving Sterling to latch on to a ball. This is where Sterling first touched the ball.
By holding up the ball for a few seconds, Sterling has manufactured a great opportunity. The following screenshot is on the cusp of Sterling's pass. This shows two things to me. Firstly, Gabriel Jesus is an incredibly gifted when it comes to positioning. But secondly, and more pertinent here, it shows up those who insist Raheem Sterling has no footballing brain, seeing where Jesus's run ended. This goal is the purest testament to two of City's three young stars.
Sterling celebrated the assist with a little jump and a fist pump, as if he'd scored it himself. These are the actions of a player who is growing in confidence and stature in the game.
This brings me to the third of City's under-23 forwards. Leroy Sané and Raheem Sterling are ostensibly different players with different skill sets, but both offer Manchester City perhaps the most devastating wing combination we've ever seen at this club. This leads many to try and compare the two. For me, it is pointless to compare the two at this juncture. In many ways this kind of dichotomy necessitates that one is punched down to hold up the other. What matters is they both have had truly brilliant seasons, and both compliment the other. When Gabriel Jesus is placed at the heart of this triumvirate, truly special things happen. See the Old Trafford derby for evidence of that.
A more relevant question may be: why did Sterling blossom this year? I think it would be deterministic to say that City bought a player and Pep has created a star. Raheem clearly has a supreme amount of talent. Ever since he made his Liverpool debut, he has shone. In fact, even before being picked up by Liverpool, coaches tipped him for the top. At fourteen, City, Arsenal and Chelsea were interested in someone who Liverpool's youth scout Mark Anderson described as "the best thing he'd ever seen".
There is no doubt in my mind that Sterling would have continued to mature after his decent first season.
However, we must accept the role that one of the greatest managers of all time has had on Sterling. In a recent interview with the Daily Mail, Sterling stated that he has learned to be cool in front of goal. He admitted that at one time he would overthink the little things before going through, before Pep helped him realise the ways in which he could develop his game. Little things like opening up his body, not trapping the ball with the outside of his foot as Pep had pointed out it killed the momentum of attacking moves. This is both testament to the absolute meticulous genius that is Pep Guardiola, but Raheem's ability as a player to develop.
But Pep accepts that it is not just a player's technique that needs to improve but attempts to breed confidence in themselves. On the topic of post-training drills, Pep cites the fact that they're needed just as much to help Leroy and Raheem believe they can do it in a game situation. This method of development has clearly worked.
Pep on Sané and Sterling: "They work after training sessions and drills close to the box with situations that are going to happen in the game to make them comfortable and make them believe more in what they have to do."

— City Watch (@City_Watch) May 15, 2018
It was not only Pep to work with Sterling, though. According to Pep, much of Sterling and Sané's improvement in the final third is down to Mikel Arteta.
Pep on Sané and Sterling: "Mikel Arteta has helped them both to make a lot of actions near to the box. The qualities one against one, we say to the wingers when you receive the ball, if the control is good, the shape is good, go, go, it doesn't matter if you lose the ball – try."

— City Watch (@City_Watch) May 15, 2018
This effective hands on approach has clearly helped both Sterling and Sané, and it is for this reason it will be a huge loss for City should Arsenal pick Arteta to be Wenger's replacement.
This all begs the question of what future entails for Raheem. After his 23-goal season, which provided 12 assists, it will be a big task for Sterling to improve statistically. I think that the return of Mendy and the deployment of the 3-5-2 will necessitate that Sterling plays centrally more often, developing this aspect of his game and perhaps scoring more goals. We've seen it briefly towards the end of games, notably against Tottenham at Wembley where he despite missing chances he did well and came in clutch for City. A common theme.
These questions of the future are immaterial for now. We should bask in the glory of Raheem proving his doubters wrong for nth time. We are watching a star emerge before our eyes. Enjoy it.