A superstar. A titan. Our very own Galáctico. And once again, a Champion. Yaya Touré will be rightly remembered as one of the best players to ever pull on a Manchester City shirt.
He joined us at the start, carried us on his gargantuan shoulders through Mancini's extraordinary title win, before rampaging through English football under Manuel Pellegrini in one of the finest individual seasons the Premier League has ever seen. Now, after eight years of sensational service, Uncle Yaya is leaving the younger members of the City family, or, in his words, his "babies", his "little Sterling and little Sané", to carry on what he started. His 316 appearances, his 82 goals and his thousands of tackles, passes, runs, shots and crosses, have laid the foundations for Manchester City Football Club to push forwards and dominate.
Rewind back to 2010 though, when the big man put pen to paper on his move to Manchester, and you wouldn't have believed that Yaya would go on to become one of, if not THE most important player in the club's history. The 'experts', whoever they are, told us that it was quite the unspectacular signing. He was just "an average player" and "an OK holding midfield player", apparently.
Yet by the end of his first season in blue, the Ivorian was already a hero. The biggest game in the club's recent history, an FA Cup semi-final against United, was settled by the big man, after nicking the ball from Michael Carrick, powering past Nemanja Vidic and sliding it through Edwin van der Sar's legs. 1-0 City. Utter pandemonium.
But the best was still to come. A month later, in the final against Stoke, Yaya popped up again, smashing an absolute rocket with his left foot to seal the club's first major trophy for over 35 years. A moment that has gone down in Manchester City folklore.
Two goals that I will remember for the rest of my life. Celebrations that will never cease to put a smile on my face. Never mind the first trophy of the Mansour era – this was the first trophy of the Yaya era.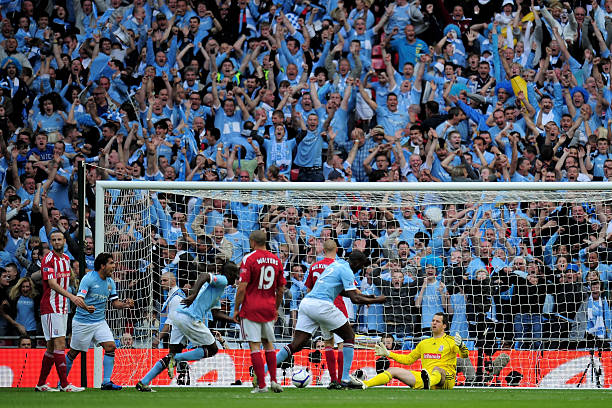 More records tumbled in the second season, as City won their first Premier League title, and their first top flight trophy for over 44 years, after that unforgettable Sergio Aguero winner against QPR. The limelight may have been taken away from the Ivorian after Sergio's sensational season, but this was arguably the year when Yaya started to establish himself as one of the best midfielders in the Premier League. His ability became clear for all to see – imperious strength and unrivalled power, a fierce long-range drive – yet surprising pace and fantastically quick feet, along with exceptional vision and a fantastic range of passing. Such a unique skill-set, I struggle to think of many other midfielders in world football who play the game quite like he does.
The vital goals kept on coming for him – the epitome of a big-game player. A brace at Newcastle, including a beautifully placed curling effort to break the deadlock in a tense encounter, meant that City went into the final day with the title in their hands. Without Yaya's stunner, the QPR miracle may never have even happened.
Touré became the first player ever to win African Player of the Year four times in a row, between 2011 and 2014. He also became the first player to have a chant to travel the world. From Manchester to Magaluf to Madrid, the song became a sensation. Roads were closed in Newcastle as thousands of club-goers started a mass rendition. It was belted out at the Darts every week without fail. An iconic song for an iconic player. A song that, if anything, helped to put Manchester City on the global football map.
Back on the pitch though, I don't think it's too outrageous to call Yaya's 2013/2014 campaign one of the greatest of the modern era. 20 Premier League goals and 9 assists in 35 games, all from a deep midfield role, he was simply unstoppable. City won the Premier League and Capital One Cup double that year, and I don't think there's any coincidence that City's most successful season of the modern era came when Yaya was at his peak.
Some of the goals he scored that year were simply stunning. He suddenly became one of the best free-kick takers in world football, to a point where the ball hitting the back of the net seemed inevitable, whipping in stunning set-pieces against Newcastle, Hull and Fulham to name a few. His penalty record was also top-notch – 100% in fact – dispatching all six he was handed. Fast-forward a few years, and it was Yaya who scored the decisive spot-kick in the 2016 Capital One Cup final against Liverpool – another trophy-sealing goal for the king of the big games. There were some incredible long-range efforts too – remember that one against Viktoria Plzen in the Champions League? 35 yards out, whip, bend and power, right into the top corner. Or how about the goal that sealed his hattrick against Fulham? Again, 30 yards out, the ball started about a yard wide of the post before curling beautifully beyond the outstretched arms of the keeper. Incredible.
And what about those lung-busting 50-yard runs? I can't imagine there are many more intimidating sights for a defender than Yaya Touré stomping towards you, full-pelt. He ran half the length of the pitch before slamming the ball home against West Ham at the Etihad. He played two one-twos, sending Palace defenders flying, before cutting inside and curling one into the far-corner away at Selhurst Park. And then there was THAT goal against Aston Villa. Surging forward from inside his own half, Yaya obliterated 5 defenders with exhilarating pace and power, before finishing perfectly over the keeper, sending the Etihad faithful into complete euphoria. Probably one of my favourite ever Yaya moments.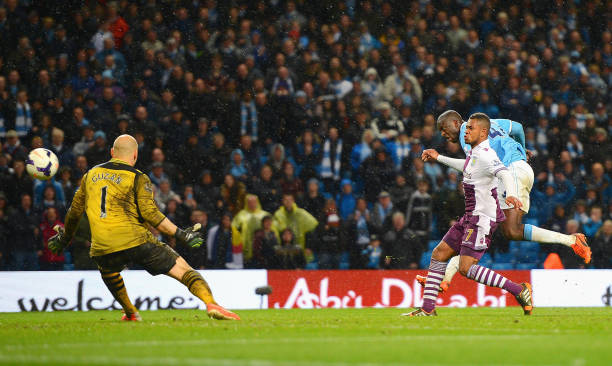 If not that, then it would be his greatest ever goal in City colours. We said he was a big-game player – so it was no surprise that he was the one to pick us up after going 1-0 down to Sunderland in the Capital One Cup final of 2014. The ball was squared to Yaya, MILES away from goal. Barely even breaking his stride, Yaya sent the ball hurling into the far corner. Sheer genius. City went on to win the game 3-1, to add yet another trophy to the Yaya collection – another trophy that we probably wouldn't have in our glistening cabinet without him.
There were also, let's not forget, a few discreditable moments along the way too. The less said about the birthday cake saga, the better – and even the war of words between his controversial agent Dimitri Seluk and Pep Guardiola. Luckily though, despite having been completely exiled from the squad for over three months due to the verbal bust-up, Yaya rose from the dead to score twice on his return, to seal three points at Crystal Palace. It could've been such an unceremonious exit for him. We're all so glad that he decided to stick it out and stay with us. Now, we can give him the proper send-off that he truly deserves.
There are so many other magical moments I haven't yet talked about. That sumptuous goal at the Emirates, a left-footed side-foot that looped gloriously over Petr Cech and into the far corner. That screamer at the Etihad that left West Ham keeper Jääskeläinen rooted to the spot as it flew into the top-left hand corner. That devastating smash from the edge of the box that nearly ripped the Etihad net off against Sunderland. The man has done so much for this club, it's impossible to squeeze everything into few hundred words. I hope I've done him justice, and I hope you've enjoyed reminiscing with me.
But all good things must come to an end. Yaya Touré has taken this club to new heights. He's scored some of the most crucial goals of the team's history. Our midfield powerhouse has helped to turn our club, little old City, into a footballing powerhouse. And while his involvement in the first team has dwindled in recent years as the new crop of City superstars comes through the ranks, it's absolutely essential that we remember Yaya's contribution. He was a founding member. A pioneer. A trailblazer.
I'm sure that I speak on behalf of everyone here at City Watch, and indeed, every single City fan across the globe when I say this:
Thank you Yaya Touré. You will forever be remembered as a Manchester City hero.