Warrior: A person who shows great vigour, courage or aggressiveness. Synonym: Vincent Kompany.
One of the last remaining titans of Manchester City's spine over the last decade, Kompany has been a pivotal part in the helping City to lift their third Premier League title and fifth League Cup and deserves all the plaudits he rightfully has earned.
Who would have thought it? 1106 days out. 43 injuries. Yet he returns each and every time with no signs of regression, as physically able as ever. To do the utmost for his side who he so proudly leads out.
The Belgian's presence in City's dominance for the 2017/18 season began well before the campaign started. Prior to returning to the side from a muscle injury in early April 2017 against Chelsea, City had only managed eight clean sheets from the 28 games Kompany was absent from. Defensive woes surfaced as Guardiola was yet to fully instil his philosophy into the players. Upon returning to the side against Chelsea, despite the loss, Kompany was back and yet again, he meant business.
After being on the bench in a 3-1 win against Hull, Kompany then started all of the remaining seven fixtures until the end of the season, playing 90 minutes in all but one and helping to keep four clean sheets during his starts. His importance was evident. Not only had City kept half of their total clean sheets racked up before his return within that time, he brought back a little something that was lacking. Despite John Stones and Nicolas Otamendi being more adept to Guardiola's ideology of playing out from the back, accurately finding acute spaces in between the lines and being more comfortable under pressure. Neither yet had the wealth of Premier League experience and know-how to deal with the league's best strikers very comfortably like Kompany could, using his stature of 6'3, brute strength and intelligent reading of the game to sniff out attacks before they could gain momentum.
Kompany's run in the side was a stark contrast to not playing a part in 25 out of the 28 preceding Premier League fixtures. Within this time the 32-year-old was at the heart of a somewhat makeshift backline which came out on top in the latter stages of the season, winning five and drawing two of the remaining fixtures. During those games, Kompany bagged three goals. The first, a thumping header away at Southampton in which his celebration was widely lauded for the raw passion embodied. He then went onto score a curling strike against Crystal Palace and another trademark header on the last day of the season.
Kompany then carried this form and new lease of life through to pre-season where he was the central man in an innovative back three predominantly featuring himself, Otamendi and Stones in a 3-1-4-2 formation, setting the foundations for the forthcoming campaign. This trio then started the first three games of the season, in which City were unbeaten, winning two out of the three. Kompany's problems with a calf injury haunted him again as his appearances, unfortunately, became inconsistent. He was missing seven games, playing four, missing two, playing two, missing five. After such a strenuous season prior, mentally and physically, he would have hoped this would be different.
Thankfully, it was to be different.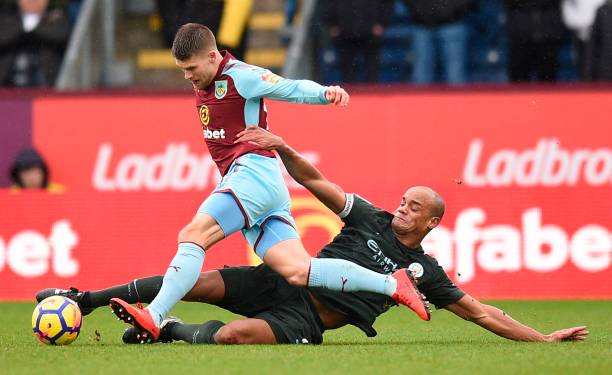 The turning point of Kompany's campaign came against Burnley when he was brought back into the starting line-up following another calf strain to deal with the striking partnership of Sam Vokes and Ashley Barnes which he did so competently in an unfortunate 1-1 draw at Turf Moor. Due to a plethora of options at the back after the of recruitment of Aymeric Laporte from Athletic Bilbao, Kompany had more leeway to be able to step out of the side to regain full fitness gradually.
He then played alternately in the league whilst spearheading the defence for the Carabao Cup final against Arsenal. What we saw that day was a complete, resolute and tenacious Kompany performance reminiscent of what some fans thought would never be seen again. He helped control the game well alongside Otamendi, despite the abundance of pressure from the Gunners' forwards. One of the most notable points of the game was a darting sprint to keep up with and dispossess the renowned speedster Pierre-Emerick Aubameryang. To cap off his display, Ilkay Gundogan's driven ball into the box found its way to captain fantastic to guide it home and put City out of sight, leading to another jubilant celebration encapsulating every emotion felt within Kompany's gruelling time spent on the sidelines.
From then on in, Kompany had started every Premier League game up until the recent dismantling against West Ham. Within the run of games, he performed yet again continuing the trend of pivotal goals, reminiscent of what we saw in the 2011/12 title run-in against United, Kompany rose highest to against the same opposition to replicate that header, despite City losing on the occasion.
Kompany lifted his third Premier League title at the weekend after raising his third League Cup at City earlier this year. We know he won't be around forever, but we must appreciate what an incredible servant we have been blessed with for coming up to ten years. He speaks intelligently on behalf of the fans for issues in the modern game that really do matter such as ticket pricing. He still continues to give his best every time he steps out in a sky-blue shirt, giving us an extra special gift in the games that matter most showing an unrivalled love for the club. Whatever his role may be in years to come; whether that be a more bit-part role in the squad; joining the coaching staff, or even going onto pastures new, one thing will remain certain:
Here's to you Vincent Kompany, City loves you more than you will know.