'It's unbelievable how much you don't know about the game you've been playing all your life' – Mickey Mantle
Gabriel Jesus is adored by a lot of people, but a small section of Manchester City fans and a large section of opposition Premier League fans who swear they are not bitter about our success, have labelled him with a strange tag. The term 'tap in merchant' is doing the rounds at the moment, and it is for this reason that I have decided to write this article, and take an in-depth look at what makes Gabriel Jesus such an enticing prospect, and a player who in my eyes is going to be an all-time great.
Firstly, if any of your close friends are using the term 'tap in merchant' as a negative, then it may be time to stop talking about football with them, find some new football friends, or if you're brave, try and convince them that the way they are discussing football is all wrong. Gabriel Jesus' emergence is proof of one thing, and that is that the majority within the sport of football are wrongly evaluating goal scorers, and goal scoring as a task.
Bobby Gardiner of The Ringer briefly touched on this when he wrote a piece about Raheem Sterling in January. Gardiner noted that football is lagging behind to other sports in analytics, but one of the early findings is that 'chance getting', is superior to finishing. Often you will see conversion rates fired around on Twitter, but you really should be looking at the number of chances that the player gets, because more chances will often lead to more goals.
All of Gabriel Jesus' goals this season have come inside the box, and eight of the 16 across all competitions have come inside the six yard box, which is an amazingly efficient ratio. Jesus also rarely takes long shots, and has only taken six in the entire Premier League season, which is further proof that this City team wants to, in the words of your dad, 'walk the ball into the net'.
The goal of any successful football team should be to create tap-ins, if your striker is having to line up and shoot from 25 yards for you to win games, your system is completely flawed. City are better when Jesus is starting up top because his movement is constant, and his combination play is to get closer to the six yard box, as opposed to trying to create a shot on the edge of the box.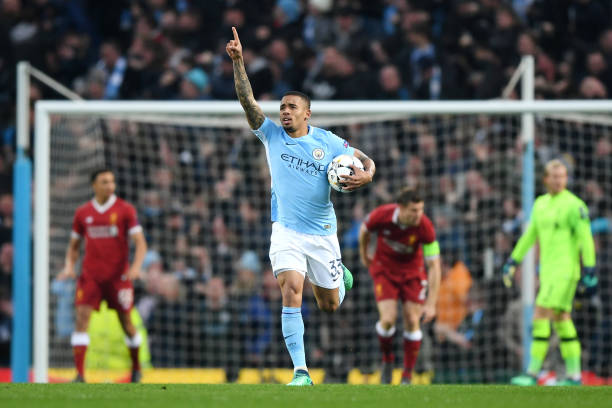 A polar opposite case study to Gabriel Jesus comes in the form of Harry Kane, who is much more trigger happy from the edge of the box, and will happily shoot from there if he is called upon. Kane has taken 60 shots from outside the box in this Premier League season, which is more than any other. Of those 60 shots, only three have gone in, which is not a great ratio. Many critics of Gabriel Jesus believe he should shoot more often, but I don't really understand this in the slightest. Personally, I feel it makes more sense for Jesus to roam around the edge of the box in order to help advance the ball further, not to spot up and shoot from 20 yards. Kane is not the only player who is suffering from inefficient distance shooting, Paul Pogba has had 39 shots from outside the box with only one finding the net, and Granit Xhaka has had 56 shots to one goal.
When writing articles, I often ask people to question my own gatherings, and one comment I received with regards to these long shots was this:
'What if a Harry Kane long shot gave you a one goal win'
This is a valid response, but if a long shot is already unlikely to find the back of the net, then it is even more unlikely to be the winning goal. It may have happened on occasion, but this is not really a justification for shooting from distance all the time.
One of the reasons Harry Kane likely feels he has to take these long shots, is that Spurs lack playmakers outside of Eriksen who are good at playing on the edge of the box and breaking down a packed defence. This is a reasonable line of argument, but Gabriel Jesus does not have this problem when he is being supplied by David Silva, Bernardo Silva and Kevin De Bruyne. This means that overall, Gabriel Jesus does not really need to adapt his game and pull the trigger more often, as statistics, and common sense, prove that this is not a reliable way to score goals.
Long shots do have their place, if teams are congesting the six yard box, then a shot from the edge of the area is essentially a free shot at times, but teams should be built to create tap ins.
Harry Kane is a world class striker who will go down as one of the best goal scorers of all time, he is probably also better at football than Gabriel Jesus, but his liberal attitude towards shooting from distance provides a good contrast with the Brazilian.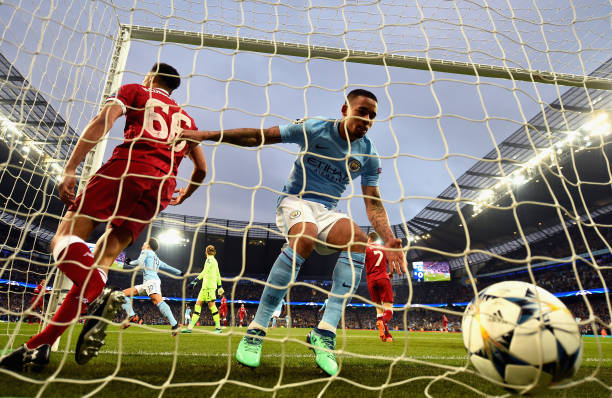 Another City player who values chance getting over chance taking is Raheem Sterling. People laugh at the way Raheem Sterling shoots, and he does have a tendency to miss some easy chances, but what interests me, is this is not something Pep has looked at. Instead, the majority of Pep's work with Sterling has come with off-the-ball movement and first touch, two things that are essential for poacher type players to thrive in the modern game.
Pep Guardiola knows that chance getting is more important than finishing ability, and this is proven by his work with Raheem Sterling. In February, Gary Neville of Sky Sports interviewed Sterling, and he asked Sterling what has changed in his game to allow for such a goal-scoring flurry. The two things he mainly pointed at were getting closer to the goal, and receiving the ball differently on the half turn in order to speed up transitions. Neither of these key changes involved him improving his finishing, instead, they involved Sterling getting into better positions and therefore creating more chances.
Proof of this is that Raheem Sterling has begun to get more touches inside the box under Pep Guardiola. Under Manuel Pellegrini, the England forward averaged 6.8 touches inside the opposition box. Under Pep, Sterling averaged 8.6 last season, and he has averaged over nine in this campaign. Again, Pep did not tell him to change his shooting action, and he probably does not run as many shooting drills as other coaches, he instead wants his players to focus on being in the right place.
The way Pep Guardiola looks at strikers isn't as finishers, but as off-the-ball movers. Sure, good finishing does give you an advantage, a chance inside the box for Lionel Messi is better than it is for Saido Berahino, but for the most part, getting into good positions is what creates the beautiful brand of team football that City fans are becoming used to seeing. Both Raheem Sterling and Gabriel Jesus fit this mold, and are examples that we need to look differently at how we evaluate strikers. Long shots are great when they go in and they often win goal-of-the-season awards, but goal-of-the-season awards don't win titles.
I have been guilty in the past of calling players tap in merchants, notably former Manchester United striker Ruud van Nistelrooy. A popular fact that may well be fake news, is that the Dutchman never scored from outside the box for United, but in honesty if that is true, it is something that should be praised rather than ridiculed.
Gabriel Jesus is far from the finished article, he needs to get into these positions more often than he does, and he needs to add more composure to his game when he receives the ball on the shoulder of the defender. But on the whole, his game is heading in the right direction, and like a lot of things in 2018, the term 'tap in merchant' needs to be fired into the fucking sea.