Kyle Walker was part of an expensive overhaul in Manchester City's full-back positions last summer, joining the Blues from Tottenham for an initial £45million.
And it is safe to say the 27-year-old has been a good investment, playing a key role down City's right this season and making 46 appearances in all competitions for his new club.
Walker has given some insight into his first year at City in an interview with Tubes from Soccer AM.
Speaking on winning a double in his first season at the Etihad Stadium, having never won a major trophy before, Walker was obviously delighted.
"It has been a fantastic season, to do the double in my first season, and hopefully there is a lot more to come.
"I think there has to be, with the team we have, the manager we've got, the foundations that the people behind the scenes and the owners put into the team. We have to go on and keep winning titles."
The England international spoke glowingly of Pep Guardiola, who identified Walker as the man to replace the outgoing club legend Pablo Zabaleta, as well as Bacary Sagna.
"I think he's made me a more intelligent player," Walker said about the Catalan.
"I think he's taught me how to read the game, when to go forward, when to come inside, and made me think about the game a little bit more, whereas at Tottenham I was basically a winger, my job was to control the right flank and get up and down.
"I'm not saying you don't need brains to play there but it was a simpler job than what I'm doing here at City."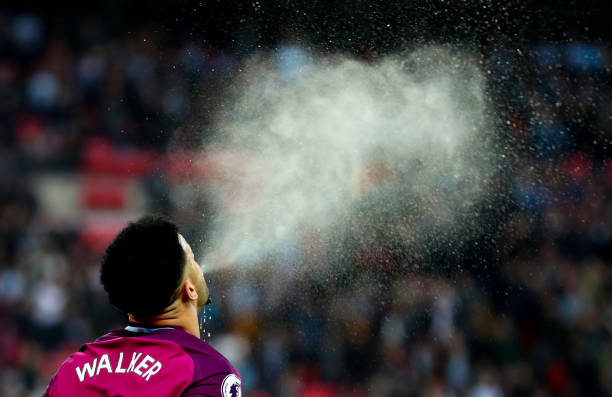 Walker, who named the win over Chelsea at Stamford Bridge as City's best performance of the season, was quizzed about Guardiola's relationship with the players – and it appears to be very healthy.
"I think there's a fine line between a mate and a gaffer, and I think he's got it down to a tee. When he speaks, everyone listens, because he's a gaffer first and foremost. He's won, and he's got knowledge. But if you want a little joke with him, he's happy to join in with the banter on occasions."
Some argue Walker may now be the best right-back in the world. The player himself doesn't think he is, but believes Pep can lift him to that level.
"I've said numerous times, [Guardiola] worked with two of my idols, Philipp Lahm and Dani Alves, so for him to pass on that information to me, to take little bits from their games and put into my game.
"I want to be the best in the world, everyone wants to be the best in the world and that's what I want to strive to do. With his knowledge, experience, hopefully he can get me to that.
"I think there's a way to go. You look at Joshua Kimmich, Dani Carvajal there, Antonio Valencia, who I rate highly for switching from midfield to right-back, I like to think I'm up there, but football is a strange game, one minute you're up, the next down. It's about being consistent, and those three are consistent."
–

Manchester City are the 2017/18 Premier League Champions!

Celebrate by picking up some official merchandise from the Champions range!