So we've done it. In emphatic fashion, Manchester City are Premier League champions of the 2017/18 season. And it must be said, it is well deserved. After such a fantastic season of fluid and elegant football, the Blues have shown what they are capable of. After suffering one terrible week, City fans everywhere are now jubilant at the fact that we have been officially confirmed as champions with five games to go, though we all knew that beforehand, didn't we?
So as we raise a glass to the City faithful, celebrate day in, day out and mock our close rivals that we won with such ease, we can also let out a sigh of relief that our future is in great hands, and here's why:
A youthful team
While we have fallen short at the hands of an ageing team in recent years, some shrewd signings have reinvigorated our team and we now boast one of the youngest teams in the league. Our squad now has an average age of 27.1 years. We must remember that this average age is raised by some of our senior leaders such as Kompany, David Silva and Fernandinho, who are over this age, yet essential to the solidity of our team. This young team of stars will be able to perform for years, as some of our key players such as Raheem Sterling (23) and Leroy Sané (22) have shown some fantastic form this year.
'So what, doesn't everybody have young players?' Well yes, they do, but not many like ours. At the age of 21, we have Brazilian 'wonderkid' Gabriel Jesus. Often labelled a 'tap-in merchant' by jealous rivals, Jesus clearly has an unbelievably strong knowledge of the game and the invaluable ability of making sure that he is in the right place at the right time. This has proven that he knows how to get in behind the defence from balls over the top, tap the ball in from the back post, or get in front of the defender and nod the ball home to showcase an array of talent that he has. Combining these talents with Leroy Sané, the PFA Young Player of the Year, on the left makes our attack even more potent, as he is a fantastic dribbler of the ball and has the ability score a fantastic goal when called upon (namely the sensational volley away to Everton in the second half of the season). Looking back at Pep's signings, almost all of them have been young. While Walker is slightly older, he was a necessary signing in that he has invaluable Premier League experience in defence at Tottenham. This blend of experience and youth will have us excited for years to come with such brilliant signings paying off already.
With an academy bustling with talent, City are starting to see the fruits of their coaching. We have two fantastic academy players that are showing their capabilities with the first team in fan favourite Phil Foden and Brahim Diaz. In our team, we have a local boy, City fan, and rated the fifth best teenager in world football. This is something that cannot be taken for granted, given how far we have come. Foden has already won the FIFA U-17 World Cup with England, with a man of the match performance in the final and being named player of the tournament. This is an unbelievable talent which can be nurtured by Pep and many of the senior players of the first team, most notably through his friendship with City hero Sergio Aguero. Phil has made four appearances in the league this season, most notably claiming an assist after providing Aguero with the ball which led to a sensational finish off the underside of the bar against Leicester. Another important thing to note is that all three of these games were wins. While we cannot necessarily say that Phil was the reason that we won these games as he has had limited minutes, it is essential that he is involved in the winning culture of our club and that he can experience these confidence boosters with the club.
Another youth player, Brahim Diaz, has also made three substitute appearances in the league this year. He has been able to show composure and maturity that you would not expect of many at the age of 18 in the Premier League. While he has also been limited to short periods of time, he has also displayed his impeccable ability to dribble the ball and has shown that, with more experience, he will be a player to look for in the future.
There must also be a special mention for Kevin De Bruyne. He is only 26 and has been involved with the senior players (Kompany, Silva, Aguero and Fernandinho) in being a leader for the team. Kevin has already spoken of the pride he felt when he was included in this group of leaders and has been given the armband on occasion and been captain of our team on the field. This is believed to have been a large part of De Bruyne wanting to sign an extension, and could bode well for City fans as we are keeping one of the best players in the league happy and he could one day be moulded into being the official club captain once Kompany hangs up his boots.
The curious case of Benjamin Mendy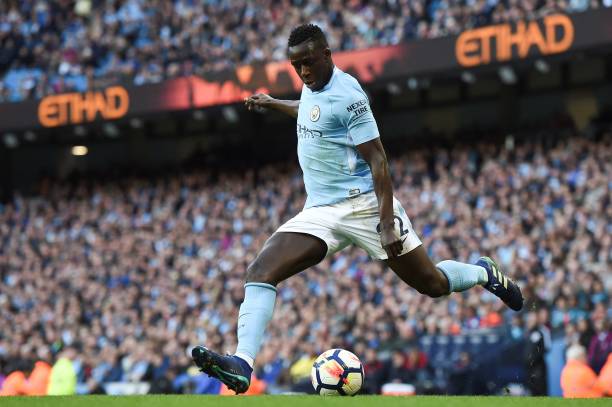 Benjamin Mendy has already become a fan favourite in the team – without even playing much. It is easy to see from the outside looking in that Mendy is a strong character in the dressing room and he seems like he is great for morale. Already good friends with Bernardo Silva, he has struck up a friendship with Kyle Walker. As we all know, it is important to have a dressing room of players that are friendly – that's what builds a team. Mendy is a fantastic personality to have in the team as he appears to be able to keep his head held high in every situation, particularly the ligament injury that has kept him out for the majority of the season. Not only is Mendy an amazing character to have in the team, he often engages with fans on social media. His comical nature has gone down well with fans as he helps to bridge the gap between fans and players by giving us regular insights into the players and the fun that they have in training. This kind of character is what can make a great player a hero and to have a player that wants to interact with the supporters this much is fantastic for the young fans who want to engage with the club. An example was at the Carabao Cup final where Mendy pushed through the security to let some fans in the stands get their hands on the trophy and celebrate with him. This is something that will long stay in the memory of those fans and must not be taken lightly in how he made their cup final even more of a special day.
Now that we've talked of Mendy's character, it is time to look at what we will look forward to when he is on the field. We have had glimpses of Mendy's blistering pace and ability to cross the ball. One instance of this that specifically stood out was his first time volley to deliver the ball into the box against Bournemouth. To remind ourselves of the Frenchman's quality, we only need to refer back to his appearances for Monaco in the Champions League. Mendy showed his ability against us and he put in some special performances against Tottenham earlier in the campaign as he was devastating down the left side. In just four games in the league he claimed two clean sheets and registered an assist. This is just a small sample size of what we have to look forward to next season as he hopefully plays the entire year. At the young age of 23, Mendy can become a driving force in City's defence for the future and can be a mainstay at left-back. Now he must focus on the remainder of the campaign where he may be able to see some more playing time and then hopefully push forward to represent France in the upcoming World Cup this summer in Russia.
Pep Can Do it in the Premier League – His Way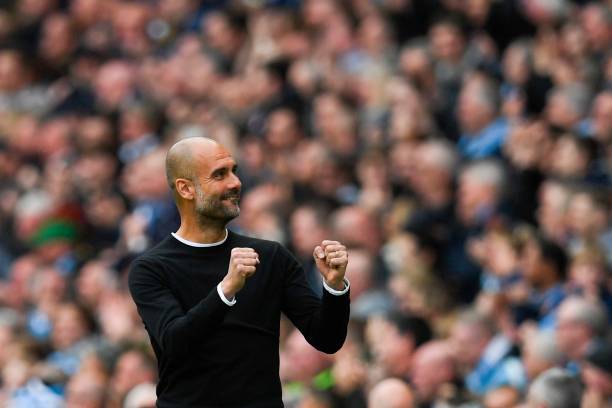 While us City fans have always had unwavering support for Pep, there were many critical pundits last year questioning whether we could succeed in the Premier League playing in Pep's style. Many stated that Pep's football was not suitable for England and that he was arrogant for not changing his tactics. This year, he proved them wrong. In almost every game this campaign, City have played for the majority of possession while always having a clear purpose for holding the ball. When losing, we win it back quickly, when we're with the ball, we change the pace of the game faster than you can blink. There have been many unbelievable moments in this season. We have managed to beat all of the 'top six' teams, showing that we can perform on the big stage, an eighteen game win streak which will go down in history, and now the possibility of finishing the season and breaking one hundred points. Being known as 'The Centurions' has a good ring to it, right?
While many of the players looked uncomfortable sometimes last season with our style of play, they have really clicked this year and shown that they have the capability of playing Pep's way and that we now have a core of players that clearly understand what needs to be done. Now we only need to compliment this team with signings that enhance us, rather than completely reshape the backbone of the side. Not only have we seen improvements in our players, particularly Raheem Sterling showing his full capability under Pep through his goals and assists this season, but we have regained the belief that we are going to be a true force for years to come and that Pep is the right man to lead us this way. There are already talks of Pep's love for the club, the fans and the city of Manchester, and this could play in the favour of him extending his stay at the club, while he is known to not want to stay at one club for too long. This feeling only reinforces just how special a club Manchester City is. With a growing fanbase due to the fantastic, beautiful and almost artistic way that we play, we are building on the fantastic set of fans that have seen the lows of the club over the last few decades and are now experiencing unprecedented success which will live with them forever.
Allies in Development – Girona FC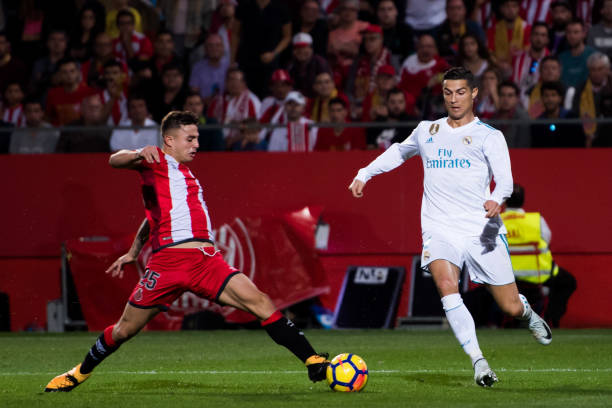 It is widely known that City Football Group part-own Girona, who are now in Spain's top-flight. While some have seen it as another team to send our promising players to, much like NAC Breda, it must be mentioned that Girona are already a strong competing team in La Liga this season, even though they were only recently promoted last season. While this is not a segment talking of the success that Girona are having, it is important to observe as this is somewhere that we can see our own youth flourish and develop in the future. Manchester City currently have three players on loan at Girona – Aleix Garcia, Pablo Maffeo and Douglas Luiz. While Luiz is a rather new signing, many may remember Maffeo and Garcia getting some playing time under Pellegrini.
Maffeo in particular has been a strong point in the right-back position for the Spanish side this season, and could potentially be a player that would return to the Manchester City side to rival Walker should Danilo decide to move on. The Spaniard has enjoyed 2455 minutes of playing time this season in 29 starts, showing a great maturity in his play and having a fantastic run out, despite being only 20 years old. This youngster could be a welcome addition to the side and could benefit from playing under Pep's coaching. This side could definitely help the development of City's youth, given that they can have time to be proven on a greater stage than in the development squad. The partnership can not only benefit Girona's acquisition of players, but that of City's standing as a side looking to raise quality players themselves.
The Players of the Future – Potential Signings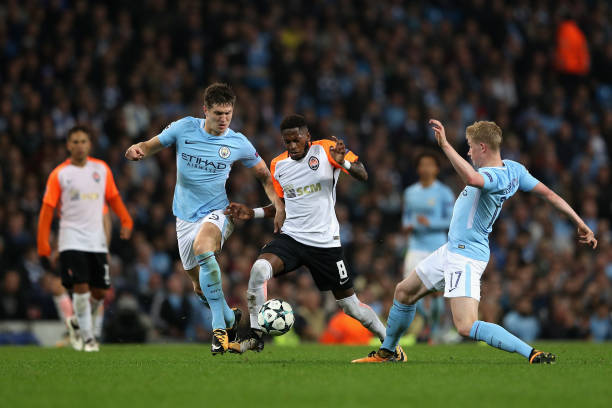 While our team have been fantastic this season, one reason that teams rarely manage to retain the title is because all of their competitors adapt and improve their own squads while the champions usually sit content with their team. However, we have Pep, and he knows that the team will need slightly refreshing, with the ageing Fernandinho, the possible need for another striker and the fact that Pep has already stated that the magician David Silva may not be able to play every game next season.
Some names have already begun to be mentioned in the news, particularly that of Fred, the midfielder for Shakhtar Donetsk, who has been frequently linked with City in the past window. Fred has come out and said that he would welcome a move to Manchester, given that he is already friends with the Brazilians in our side. One player who may be out of reach is Kylian Mbappé, who Paris Saint-Germain may reportedly need to sell in order to comply with Financial Fair Play rules. While this may be a long-shot, City are certainly beginning to target the right players in aiming for the cream of the crop, while focusing on young players that are proven but also have a very high ceiling of potential.
While we have certainly had a fantastic season that should long stick in the memories of Blues and the pundits that have lauded us countless times through the season, we have so many things to look forward to in the future. Just like Pep, we are so, so happy. The main question is, what are you looking forward to most, and who would you like City to sign?