Courage is defined as exhibiting "strength in the face of pain or grief." A trait that our very own David Silva has displayed in abundance this season, putting in one of his finest seasons in sky blue, whilst also going through one of the toughest challenges anyone could face.
After several absences in December, rumours and falsities were beginning to spread. With Silva left out of the squad to face Spurs, a game in which Kevin De Bruyne held up "21" during his celebration to indicate David Silva's number, the social media furor surrounding Silva's absenteeism reached unprecedented heights. However, at the start of the year, Merlin himself divulged the sad news of his partner's premature birth to son, Mateo. A disconcerting revelation coming from an individual with one of the most private lives within football.
COMUNICADO OFICIAL: pic.twitter.com/8Ooaef92ro

— David Silva (@21LVA) January 3, 2018
With his partner going through turmoil back home, and his newborn son fighting for his life, Silva faced the test of managing his personal issues whilst in the midst of a title-winning season, and in great form. Silva spent the following weeks travelling to and from Spain, visiting his partner and children at every opportunity afforded to him.
His absence was supported by everyone, with such a serious complication highlighting just how trivial, and insignificant, winning three points is in comparison. Guardiola backed his man, stating, "It doesn't matter if we drop a lot of points because he is not here. I will never push him. Some days he will be here, some he will be out, it depends how his family is."
However, in a period of time when family should be put before all else, when the majority of people could succumb to emotion and drop their work, Silva persisted.
With his family fighting a tough battle, the ever faultless professional unequivocally opted to do his fighting where he belonged. On the pitch. Not in cowardice, but in courage, pride, and for his unwavering love of his family. "I don't know. I think when I play football I forget everything, so it's good for me to play," Silva indicated.
Throughout all his struggles, David Silva remained indisputably professional. As he always has been. The ever-present Spaniard is a football fans dream. In a world of conceited, narcissistic, and superfluous individuals, from analysing Pogba's haircuts, to worrying about Hector Bellerin's fashion show pyjamas, El Mago has remained humble, respectable, and incredibly private.
In spite of his personal problems, Silva demonstrated his impeccable model professionalism, giving his all for his team, and in doing so, having one of the best seasons of his career. In his second-highest scoring seasons for the Blues, the little magician has provided a collection of displays worthy a double-winning season.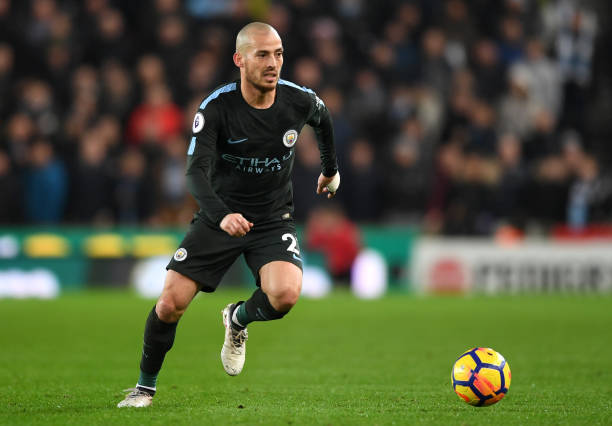 Silva overcame his troubles to put in some vintage displays in sky blue this season, notable standout performances including his goal in the Carabao Cup final against Arsenal, his goal-scoring double away at Stoke that edged City closer to the title, and sublime display away at Swansea in which he grabbed another two. Not to mention the vital run of games in City's title push in which he scored, and assisted, three against Arsenal, Chelsea, Stoke, Everton. His performances have rightly justified his nomination for PFA Player of the Year, whilst also included in the PFA Team of the Season.
Guardiola has praised the City stalwart all season long, not just for his courage and commitment to the side, but for his incredible performances in helping the Catalan boss to his first Premier League title. The 32-year-old's performances have belied his years, exuding an aura of class, grace, and romanticism about his play, indicative of the football City fans will be so anxious to lose when his decade-long stint at City eventually comes to a close.
With Silva's contract due to run until 2020, it is unrealistic to believe he can maintain this form, and energy, for much longer. Pep alluded to plans to bench Silva more frequently next season, with his personal absences reasoning for his ability to start most games.
"Next season, David maybe will not play every game, that's why the squad has to be big," the City boss said.
"He's played more due to his absence, more energy in the legs. The decisions are taken day by day and it is what it is."
David Silva is the best player City have ever had, and my favourite player of all-time. The thought of his ultimate departure already puts fear into me. His influence on the club, and his ability to control games is absolute. He will be sorely missed at the club, which provides even greater impetus for fans to enjoy, and appreciate, Silva as much as possible whilst we still have the chance.
No matter how you view David Silva's season, his commitment to the club has been nothing short of astounding and should not go unnoticed. In a moment in time in which most people struggle to continue as normal, Silva found a strength and courage to do his job to an extremely high-level, and rightfully rewarded so with two titles and numerous plaudits. His resolve and exceptional courage is an inspiration to everyone.
My 3rd league but this one is the most special.Thanks to everyone for supporting me in this tough year!🏆🏆🏆 pic.twitter.com/kKslE189uu

— David Silva (@21LVA) April 15, 2018
For David, I imagine, his greatest triumph this season was being able to share his third Premier League title with baby Mateo back home in Spain. A small moment in which everything came for Silva, who deserves it more than anyone this season.
Gracias, David.