Manchester City could lose one of two men who have been tipped to replace Pep Guardiola when he finally leaves, with Arsenal considering both of them after today's announcement that Arsene Wenger will leave at the end of the season.
According to Spanish newspaper Marca, Guardiola's assistant Mikel Arteta is one of the favourites to replace Wenger, after impressing during his two seasons as one of Guardiola's assistants.
Arteta is heavily involved in City's training and preparation, and learning from the master himself has undoubtedly acquired many coaching skills. And having worked so close to Pep, he has been touted as a potential replacement for the Catalan when the time comes.
The 36-year-old made 149 appearances for Arsenal between 2011 and 2016 before hanging up the boots and joining Guardiola's coaching staff when he arrived at Man City. Another factor that supports his candidacy for the Arsenal post is the strong relationship he has with the likes of Nacho Monreal, Hector Bellerín and Santi Cazorla.
Arsenal director Raül Sanllehí is a strong endorser of Arteta, with the two of them having links going back to when Arteta was in the Barcelona youth ranks.
Arteta has a contract for another year at City, just like Guardiola, but if Arsenal make an attractive offer, he may well be tempted into a switch to the Emirates.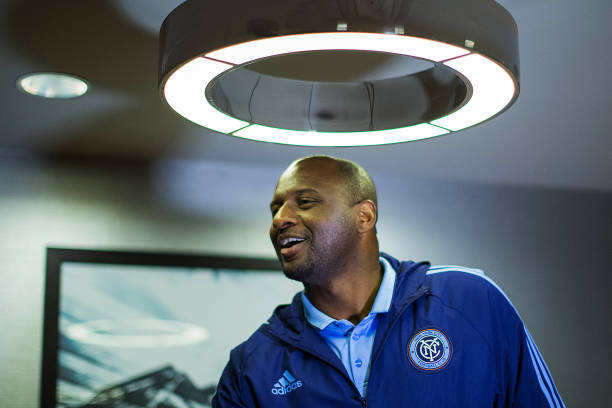 Another name under consideration according to Marca is former Manchester City EDS coach Patrick Vieira, who is now in charge of City Football Group side New York City FC.
Vieira, 41, has been coaching in the Big Apple since 2016 and may fancy a move to Europe soon, with the Gunners job undoubtedly of great appeal to him.
Wenger has commented on Vieira's suitability in the past day, suggesting it may still be too early for him to take the Arsenal job.
"I've followed his managerial career. I think he does very well but overall, this Premier League is special," said Wenger. "You have to come in and there are plenty of former players who played here who have potential, the intelligence and knowledge to do it."
Like Arteta, Vieira is a name commonly mentioned when discussing Pep Guardiola's eventual successor and it has often been reported that his time in New York is a test run for him taking over at Man City some day.
–

Manchester City are the 2017/18 Premier League Champions!

Celebrate by picking up some official merchandise from the Champions range!