In what has been an unforgettable season for Manchester City fans, whilst as supporters we look back on the key victories, last minute goals and refereeing decisions that stand out, it is surprising just how much you can forget come the end of a Premier League season. What was once the big story, the talk of the town if you like, suddenly becomes yesterday's news and can be often quickly forgotten once the initial reaction blows over.
Although the 2017/18 season will be largely remembered for wrapping up the league title so comfortably with an attractive style of football on a day when City weren't even playing, what are the forgotten sub-stories during such as scintillating season of success?
Kevin De Bruyne's '21' Celebration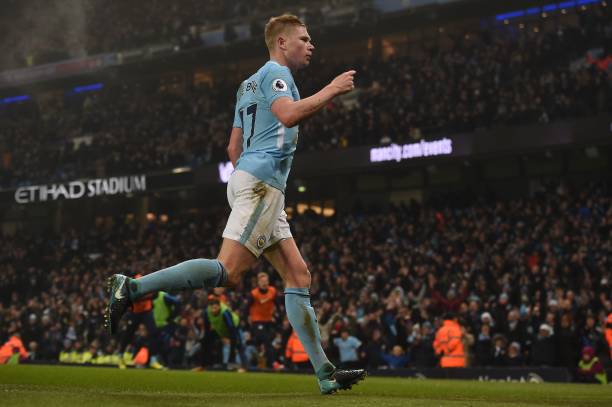 Given the consistency of David Silva's high-level performances once again throughout the 2017/18 season, it is often easy to forget that away from the pitch the Spaniard has faced problems in his personal life relating to the premature birth of his newborn child. Whilst I speak for many City supporters in that they would quickly give up the Premier League title if it meant the improving health and well-being of Silva's new-born baby, his performances throughout this season have again been exemplary, even with regular trips to and from Spain given his unfortunate circumstances. Kevin De Bruyne's subtle yet classy '21' celebration during City's 4-1 victory over Tottenham Hotspur alongside the team's tribute to David Silva holding the number 21 shirt aloft in the away dressing room at Wembley should therefore not be forgotten.
Ederson Penalty Save (Crystal Palace)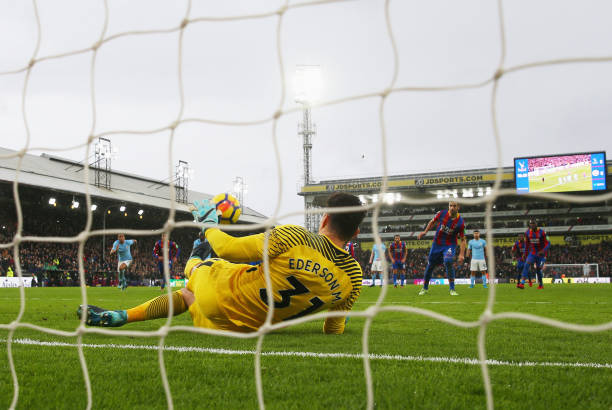 Unbeaten in the Premier League since 5 April 2018, during a slightly lethargic performance against a side renewed in confidence under Roy Hodgson, it soon seemed likely that if City were to lose their 18-game winning streak it would have been against Crystal Palace. In the midst of the congested Christmas fixture list, Palace started the brighter of the two sides and when City lost Gabriel Jesus and Kevin De Bruyne to what looked at the time like serious injuries – and it looked like it was going to be one of those days. Although City pushed for an all-important goal, it quite honestly never looked like coming and as disaster struck after Wilfried Zaha went down lightly following a nudge from Raheem Sterling in second half injury time, it was up to Ederson to prove his worth as a shot stopper as much as he is rated a ball-playing goalkeeper. Unlike last season where many supporters may have had their hearts in their mouths had Claudio Bravo been in net, Ederson stood tall and saved Luka Milivojevic's spot kick to maintain City's unbeaten streak and keep the momentum going into a new year.
Sergio Aguero giving Raheem Sterling a penalty vs. Watford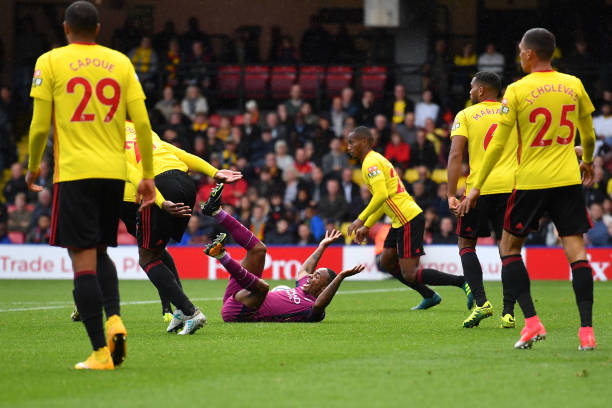 Sergio Aguero made history earlier this season by becoming City's all-time leading goalscorer, moving past former holder Eric Brook and breaking his 78-year-old record – in the process surpassing 177 goals. Whilst it was his goal against Napoli way back in November 2017 that helped the Argentine again etch his name into the history books, Aguero may have been close in on the feat faster four weeks earlier had he not graciously awarded Raheem Sterling an injury time penalty during City's 6-0 away thrashing of Watford. Although it was Sterling that was brought down by Kabasele in the game's closing stages, usual penalty taker Aguero allowed Sterling to get in on the action and take the resulting penalty which he dispatched. And in doing it's fair to say Aguero displayed humility and a willingness to share the goals with fellow forwards which many thought he might not have had.
Pep's Celebration after Carabao Cup quarters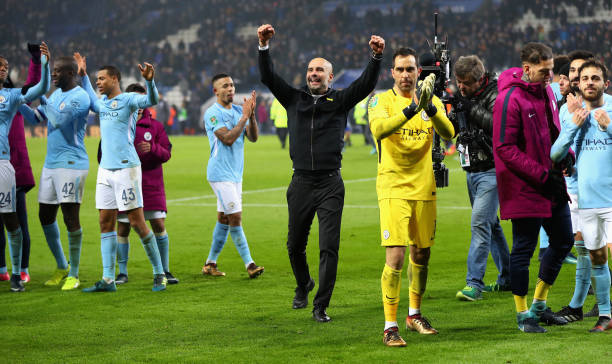 There have been plenty of last minute celebrations this season with late goals and drama against Bournemouth and Southampton perhaps standing out the most. A result however that is often forgotten in terms of its importance in bringing the squad together was City's victory on penalties over Leicester City in the Carabao Cup quarter-finals. In a game that went down to the wire, Pep's decision to give academy products an opportunity from the bench may at the time have been a questionable one but his bravery was soon rewarded after Claudio Bravo echoed his heroics against Wolves with another penalty shootout madness. Therefore, as his gamble well and truly paid off, you could sense that Guardiola deservedly revelled in his team's success with the now iconic video of him banging the drum to the supporters' chorus of 'We've got Guardiola', synonymous with a successful season at the top of English football.
Final Derby Day Moments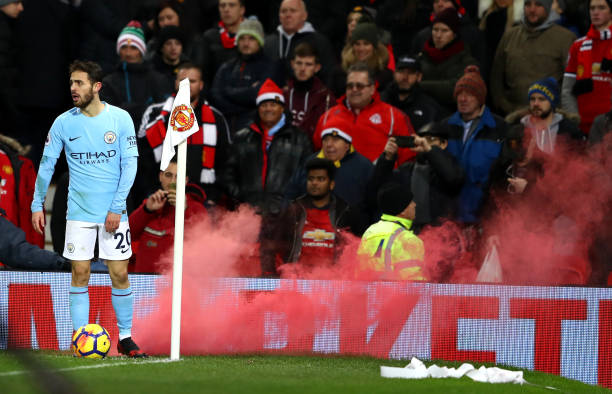 Victories at Old Trafford are always memorable but when City's 2-1 victory over Old Trafford just before Christmas ended in the way it did, those last unforgettable five minutes and chaos that ensued after will surely remain in the minds of City supporters for many seasons to come. Aside from the result, many will remember the derby for 'that' milk incident between Ederson and José Mourinho and the then-incensed Manchester United boss accusing City of showing 'disrespect' for playing their music too loud after increasing the gap further between both clubs. Yet on the pitch at least, how can we forget those iconic final minutes where Bernardo Silva, Raheem Sterling and Kevin De Bruyne took it in turns to toy with the likes of Anthony Martial and Ashley Young, allowing the clock to tick down by repeatedly taking the ball to and from the corner flag – a moment easily forgotten given the magnitude of such an important three points to end any chance of a title race so early on in the season.