Co-authored by David Hartley and Daniel Bower
So, it's official. We're the Premier League champions for the third time in seven seasons as Manchester City complete an extremely enjoyable double. We've been treated to a plethora of outstanding moments, goals, victories, and most importantly, memories this season. However, amongst the glitz and glamour of City's emphatic title win, we've selected our five unsung heroes of the season. Those names within the City side whose useful contribution were substantial, yet overlooked, when discussing the reasoning for such a successful season. So here we go…
Claudio Bravo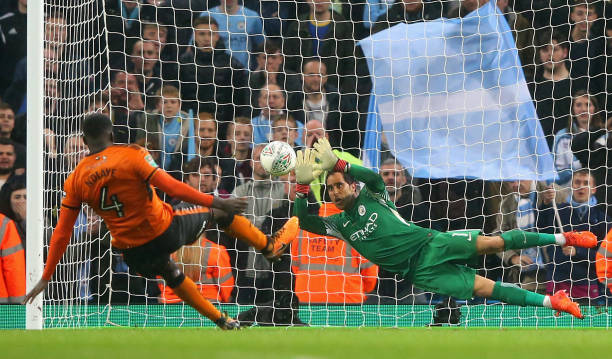 Life in Manchester hasn't been easy for Claudio Bravo. When he arrived at the club it felt as if he was immediately cast as the villain, the man who was responsible for Joe Hart being forced out of the club. In hindsight, his first season was doomed to fail almost as a result of this. With the fans almost immediately on his back and a more contemporary and liberal goalkeeping style to go along with that, it was as if Claudio was never truly welcomed. Of course, the mistakes and sub-par performances throughout the season didn't help him out either.
In the end his first season for the club was a toxic cycle of mistakes leading to angry fans and vice versa with a palpable feeling of anxiety around the ground whenever he was to be called upon during the game. This all culminated with him losing his place in the side to Willy Caballero for extended periods in the second half of the season.
This year however, much like Caballero himself, Bravo has somewhat salvaged his reputation through a remarkable string of performances during City's Carabao Cup run. The Chilean's penalty saving efforts are a massive reason that City even lifted the cup, with him bailing the side out of potentially embarrassing exits at the hands of Wolves and Leicester. Throughout the entire competition it would be hard to argue that he's put a foot wrong, with his work between the sticks finally living up to the value he provides with the ball at his feet.
With Ederson now at the club, it seems as if Bravo will be taking the reins as the designated "cup 'keeper" for the remainder of his tenure with City. His performances this season should hopefully remove the sense of the dread that many felt upon seeing his name on the team sheet prior to kick off and instead instill a sense of confidence that we now have two goalkeepers capable of performing exactly when we need them too.
Claudio may not go down as one of the best goalkeepers to have worn a City shirt but without him our trophy haul this season would have felt half empty.
Fabian Delph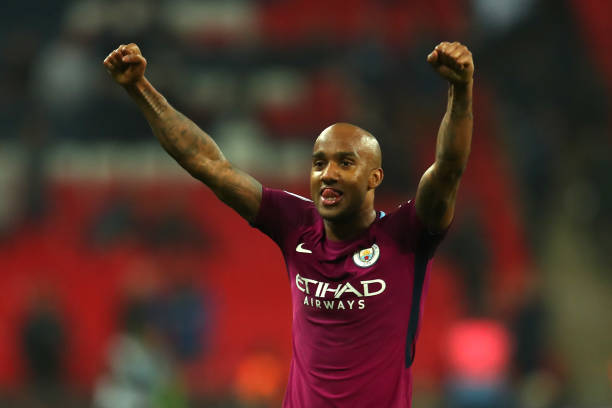 Before the season started, two left-backs were replaced by just the one – social media king Benjamin Mendy. However, when Mendy was ruled out for the majority of the season back in September, panic ensued. Without a recognised left-back in the squad, City were forced to improvise, and Yorkshire's finest stepped up the plate.
Having rejected offers in the summer for regular football elsewhere, Fabian Delph stayed at City, demonstrating his temerity to fight for his place. Delph's tenacity was rewarded, becoming a vital part of City's double-winning side, seizing his opportunity with both hands.
Delph seamlessly slotted into left-back, providing fantastic cover for Mendy and becoming a fan favourite in the process. Despite being thrown into the deep end, Delph was not fazed and his determination to succeed was evident to see, putting in fantastic displays throughout the season. His never-say-die attitude was clear, wearing his heart on his sleeve and giving his all in a position that is so crucial within a Guardiola XI.
Despite his inexperience, Delph's versatility was near-faultless. He was resolute in defence when called upon, whilst also demonstrating his midfield ability when inverted into the centre when in possession to create numerical and positional superiority, a recognisable trait of a Guardiola system.
Without a recognised deputy in such a vital area of the side, Delph stepped in and eased everyone's fears. His assured performances were vital to City's success this season and surely saves the club from looking for a back-up left-back in the summer. Delph deserves his medal as much as anyone else this season, and I hope he knows his worth to City fans this year.
Fernandinho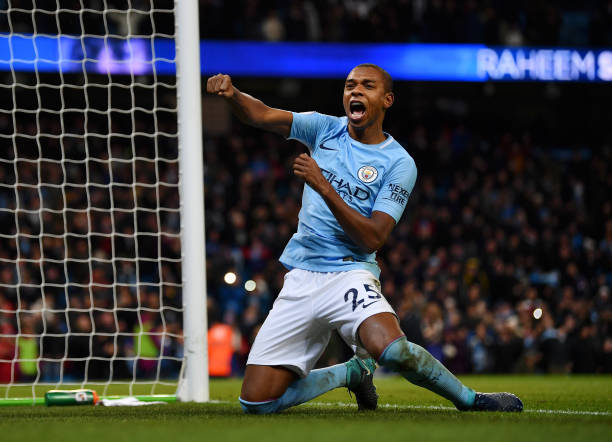 "Without him, none of this would be possible." The emphatic words of Pep Guardiola highlight just how vital the 32-year-old has been to City's success this season. Playing in the deep-lying midfield role that we've become accustomed to, the Brazilian enforcer has had, arguably, his best season in sky blue. As his midfield colleagues take the plaudits for their exceptional work going forward, his contribution to the side is unparalleled. As the only defensive-minded player in front of the defence, Fernandinho expertly provides the muscle, tenacity, and energy in City's midfield to allow others to flourish.
Along with his work-rate and dogged determination, Fernandinho's ability on the ball is also often overlooked. The pivot role, immortalised by Sergio Busquets in Guardiola's famous Barcelona side, is often the regarded as one of the hardest positions to play. However, Fernandinho has demonstrated his deft ability, becoming pivotal (no pun intended!) in allowing the side to play the ball out from the back, and beat an opposition press. His ability to keep the ball under pressure and find a correct pass is remarkable, displaying his ability in a complex and pressurised system to a high level.
I often visualise Fernandinho as an old-school player with a contemporary understanding of the game. He does the simple things, but he does them exceptionally well. He gives 100% in every performance, with his energy and commitment to the side belying his age considerably. Relied upon heavily by Guardiola, his lack of presence is noticeable when not on the pitch, with a replacement being highly sought after this summer in order to supplement his high energy performances.
As a central midfielder myself, I admire Fernandinho massively, holding him in such high-esteem that he was lucky enough to grace the back of my seasoncard last season. With City's attacking flair taking all the praise this season, it is important to remember the individual who allows them to play so freely. With replacements being touted around as the transfer windows approaches, I struggle to find many footballers in the world that have the all-rounder capability that Fernandinho possesses. As Guardiola described, none of this would have been possible without Fernandinho, a resounding declaration from the boss himself, that Fernandinho is, in fact, an unsung hero of our season, and one that will be very difficult to replace.
Ilkay Gündogan
Coming into this season Gündogan found himself in a difficult position. The German international was coming back from yet another injury and found himself definitively behind De Bruyne, Silva and Fernandinho in the City midfield pecking order. Despite many promising performances in his first season many had begun to question whether Gündogan could be relied upon and some even questioned his talent as a player. In the face of these questions he proved himself time and time again. Regularly deputising for David Silva when he returned to Spain, Gündogan ensured the City midfield never skipped a beat.
Ilkay was the definition of underappreciated this season. Whenever the team was playing well and demolishing opponents it was others grabbing the headlines and his exceptional work for the team was often overlooked. Whenever the team played poorly or struggled, he often bore the brunt of the complaints. That was never more evident than after City's defeat at Anfield in the Champions League when many bemoaned his performance and slated Pep for deciding to play him in such a big match. I would argue that he often becomes the scapegoat for poor performances because he's often replacing David Silva or De Bruyne, which makes him an easy target.
The fact of the matter is that Ilkay has performed exceptionally well in crucial games for City this season. He was instrumental in the 4-1 demolition of Spurs at the Etihad, grabbing a goal and an assist. Away at Napoli in the Champions League; Arsenal in the Carabao Cup final – Ilkay assisted goals in both of those. Big games require players with talent and the personality and drive to match that and Gündogan is certainly one of them. No matter how many times he gets knocked down he rebounds and performs to an exceptional level. There's a reason that Pep is so eager to include him in his big game plans: he oozes class on the ball and works tirelessly for the team.
Having a player of this calibre readily available to slot in anywhere in the midfield at a moments notice has been invaluable this season. For any other team losing someone like David Silva for games at a time could have derailed their season but thanks to Silky Ilkay we never looked like faltering.
Bernardo Silva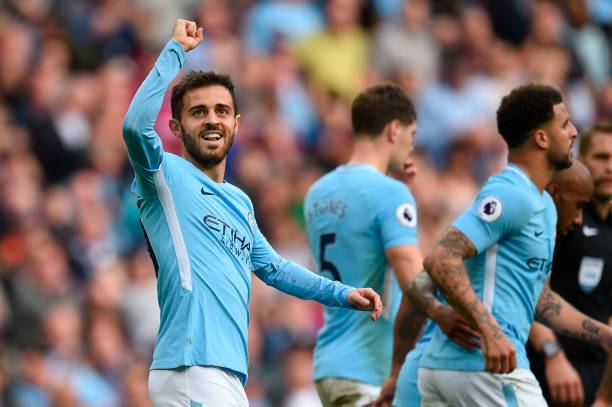 An important part of Guardiola's belief is to have two world-class players in every single position. When Bernardo Silva signed from Monaco in the summer, I didn't expect him to provide such strong competition for the flying Raheem Sterling this season. Despite not getting a lot of game time during the beginning of the season, Bernardo developed at a comfortable pace before demonstrating his incredible capabilities in the latter half of the year.
Much like Leroy Sané's introduction to life at City, Bernardo's settlement was managed to perfection by Guardiola. Often given bit-part roles towards the end of games, Bernardo's game time increased as the season wore on, evidencing some fantastic displays on the right-hand side of City's attack. The diminutive winger impressed throughout, providing a taster of what to expect next season.
Bernardo's off-the-pitch manner aided City's wonderful team spirit this season, with several players and staff noting his infectious warmth and positivity. Often the butt of many changing room jokes this season, he has become a vital member of the squad as evidenced through his role in the now famous title-winning celebrations at The Railway pub in Hale.
Bernardo's ability to control almost every single pass fired into him with such grace is a sight to behold, stopping the ball dead with almost cushion-like feet. His ability to retain possession is some of the best I have ever seen, often deployed towards the latter stages of games in order to keep the ball and close the game out. His highlight of the season will live long in the memory of Blues across the world as he spent three precious minutes winning consecutive throw-ins at the expensive of Ashley Young away at Old Trafford to win the derby. None more hilarious than Bernardo running the ball into the centre of the pitch, before U-turning and running right back to the corner to win another throw.
Amongst the team camaraderie and hilarity at Old Trafford, Bernardo has developed into a fantastic player under Pep's tutelage and will provide stern competition next season for a place in the team. His excellent displays away at Arsenal and at home to Chelsea provide a fantastic glimpse of what is to come. His ability as a squad player this year has helped the team through tough patches, giving Sterling a well-earned rest at times and putting in some excellent performances for the team. Definitely an unsung hero, but also a star in the making.