Form is temporary, class is permanent
Following three defeats on the bounce, a trip down south to Wembley to face high-flying Spurs is never easy. It started off quite the opposite. City dominated in possession, passing combinations and exploiting key areas that all contributed to putting the Blues 2-0 to the good within the opening 25 minutes. A prime example of class shining through tonight was Kevin De Bruyne. The Belgian had found form hard to come by within the trio of losses but was without a doubt back to his best tonight with a technical masterclass as witnessed through passes only made by the best in the trade. What better example than the nonchalant flick of the ankle to set Raheem Sterling on his way.
Guardiola's willingness to change tactics proves dividends
Pep Guardiola has been touted as tactically stubborn of late, notably in the Champions League first leg at Anfield, for a reluctance to alter formation and personnel. This proved costly as Liverpool picked City apart with a first change coming just before the hour mark. Too little, too late. However, this wasn't to be the case today. As Spurs upped their game with a surge of pressure for the last five minutes of the first half, Guardiola steadied the ship for the second half. When City couldn't materialise another breakthrough, he opted to substitute Leroy Sané for Nicolas Otamendi resulting in a 3-1-4-2 as seen in the second leg against Liverpool. This change in formation narrowed City's options in attack, but ultimately made them much more direct with De Bruyne and David Silva sliding through Jesus and Sterling on multiple occasions. Most of the chances weren't capitalised on, but Sterling was the first to react from a rebound to distance City from Spurs in the tie.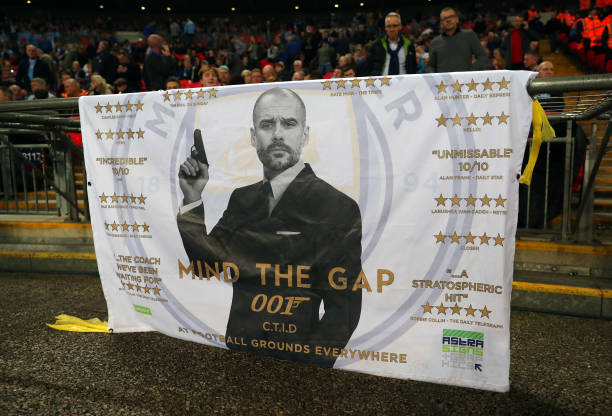 Silky Ilkay steps up to the plate and offers food for thought
Fernandinho's seventh booking of the season meant he had to sit this one out, meaning Guardiola had not got much choice but to field Gundogan in the holding midfield role. It may have been perceived as a risk with Spurs' attacking trio most effective in the space between him and City's back-four. That wasn't to be the case. Gundogan positioned himself adequately to prevent balls from being played in behind into 'the hole', where Dele Alli featured prominently. The German also dictated the play from deep, helping transition the ball from defence to midfield with ease with numerous balls out wide to the full-backs or into the channels, not to mention getting on the scoresheet. Now he's proven himself in a defensive role, could he be the go-to option if Fernandinho is out or needs resting? Or, is a proven, specialist holding midfielder still required? I still feel the latter, but Gundogan is more than capable to perform a competent job in this role too.
And now you're going to believe us…
That win tonight almost seals it. If Manchester United do lose at Old Trafford to West Brom tomorrow, although highly unlikely, that would seal the deal for the Premier League title. The more likely procedure, and more satisfying for City fans alike, would be to win the League by beating Swansea City next Sunday. Whatever the way, the inevitable is closing in.