For the third big match in a row, Manchester City saw decisions go against them and in favour of the other team, and even the more ardent of VAR skeptics among the fan base may now be changing their tune.
After game-changing results cost the Blues dearly against Liverpool at Anfield last week, then in the Manchester derby, a referee Pep Guardiola publicly had doubts about, Matheu Lahoz, and his assistants, again failed to follow the laws of football at the Etihad on Tuesday night.
With City 1-0 up and having the momentum, Lahoz, who would send Guardiola off at half-time for criticising him, blew the whistle as his assistant Pau Devis flagged for offside when Leroy Sané scored what should have been City's second goal after James Milner had played the ball forward.
In his article for the Daily Mail, former referee Graham Poll had sympathy for City.
"Manchester City have been victims of poor refereeing decisions in three consecutive games which have defined their season," Poll wrote.
"On Tuesday night at the Etihad it was a combination of Spanish referee Antonio Mateu Lahoz and his assistant, Pau Devis, who made the error which had a massive impact on this game.
"City started well and got the early goal they needed and then just before half time Leroy Sané scored the vital second.
"The assistant flagged for offside but the ball had been played forward by Liverpool's James Milner. I could understand the assistant thinking Gabriel Jesus had played the ball but from his position Lahoz should have over-ruled him and allowed the goal."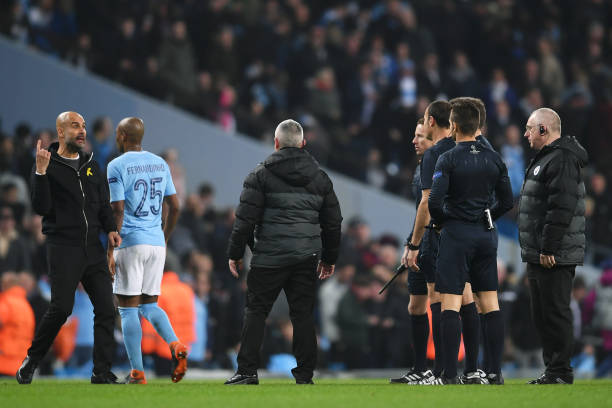 Poll also understood Guardiola's reaction to Spanish referee Lahoz, but believes the irate Catalan should have tried to keep his cool.
"Where he didn't hesitate was in banishing Pep Guardiola to the stands for his protests at half time. Guardiola should know better as he needed to stay calm and lead his team by example.
"However, after the run of poor decisions he has suffered I could understand his frustration boiling over. City weren't the same without him on the touchline."
Bernardo Silva last night called for VAR and undoubtedly City will be one of the beneficiaries of the technology as a disproportionate number of poor decisions continue to impact them.
–

The City Store is offering up to 70% off outerwear – buy online now!