It's been a pretty horrendous week for City by the close-to-perfect standards set by Pep Guardiola and his side. A woeful showing at Anfield was followed by a dismal derby defeat, which saw City surrender not only a two-goal lead, but also the chance to wrap the Premier League title up in a record time. Both defeats hurt the majority of us at the core, perhaps for different reasons. The loss to Liverpool meant that our chances of advancing in Europe's most prestigious knockout competition were probably over. On the other hand, the loss to United gutted most Blues for a different reason: the dream of winning England's biggest prize against the side we all love to hate had been missed. However, the most concerning aspect of this week from my perspective hasn't actually been the football at all – it's been City's fans.
City's loss to United on Saturday meant that the title wouldn't be won on April 7th; instead, it meant that the title would likely be wrapped up on either April 22nd or April 29th. Obviously, it could take even longer than that, but you'd be forgiven for making the assumption that City will finalise things eventually. What City's loss to United didn't mean is that the season has been a failure; unfortunately, the mood on various platforms of social media following Saturday's defeat often represented that very message. Even in the ground during the match, there was talk of 'a lack of forgiveness for both Pep and the players for blowing it'. I spoke to one fan in particular who suggested that Raheem Sterling couldn't score goals (he has 21 this season) and that he should be sold. Admittedly, I thought that the emotion of the day had simply got to some people, but even after a period of time away from my mobile phone screen, I returned to find the same dramatic cries of 'the season is ruined'.
I grew up in Manchester during a time when United were dominating the English game. Pick whichever cliché you like: one of the only Blues in my class, picked on after every derby defeat etc. They were all true for me, as I'm sure they were for many of you too. However, the feeling that our entire season should rest on one game against United irked me somewhat. Here we are, playing arguably the best football in the club's prestigious history, and a defeat to Manchester United to leave us only 13 points clear ruins it all? Not for me.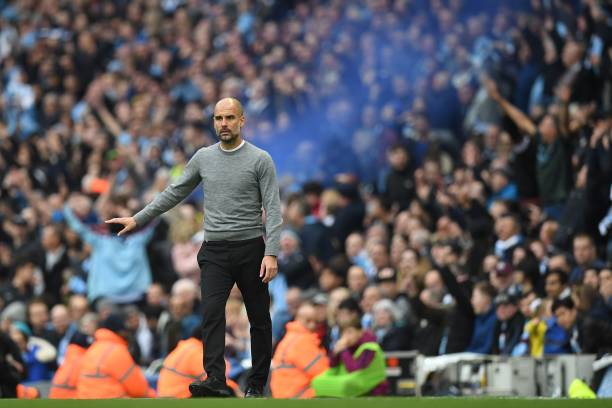 I believe that Saturday's derby was overhyped, if a derby can be such a thing. All of the usual rules apply: winning the derby is a fantastic feeling, it's another three points in the league etc. However, due to our flawless league performances this year, the added flavour to Saturday's game was obviously a spicy one. The problem though, was that a lot of City's fans became so engrossed in the idea of shoving years of taunting back down United throats, that they forgot to consider the alternative: we could lose. For some, the monumental importance placed on this one derby made the come-down from a defeat too hard to take, which led to cries of failure or a lack of forgiveness. It's a little bit like an all-you-can-eat buffet; you turn up, there's an array of things to enjoy, but you put all of your hope into the chicken wings; you eat 20 of them, before realising they were actually a little bit disappointing; you try to enjoy all of the other tasty things on show, but you're too full – you went too hard on the chicken wings.
A win against United on Saturday would've been an unbelievably satisfying cherry on the cake. What it would not have been though, was the cake itself. The cake itself takes its shape in the form of an unbelievable league campaign in which City have dominated every side in the division. The cake is wins against Liverpool, Chelsea (home and away), Arsenal (home and away), Tottenham and United. We didn't quite manage to put the cherry on the top, but to suggest that the cherry spoils the whole thing is lunacy. Guardiola's side have emerged this season as being one of the sides of a generation, touted by some as the best to ever grace the Premier League. I refuse to believe that one derby defeat ruins all of that.
Of course, we wanted our day. We wanted to win the title against our fiercest adversary. I understand the emotion, I felt it too. What I feel is most important though, is remembering to appreciate this fantastic side for what it is and what it will soon be. Don't let one or two bad days at the office turn your heads away from what is a truly special group of players and an unbelievable manager to boot. Sit back and enjoy the ride, because it won't last forever.
Whether City pull off the miraculous task of overcoming the 3-0 defeat to Liverpool or not, the season has been a progressive one, that in all likelihood will end with two trophies (only the third time it's been done in our history). We've suffered a ton of derby defeats in recent times, Saturday was simply another. We've won only four top-flight titles in 138 years, we have the chance to make it five, so enjoy the weeks to come and remember to show your appreciation to this incredible side. We fight 'til the end and we're in the best shape imaginable for another season next year of ups, downs and hopefully some more silverware. The future is blue.