VS
Venue: Etihad Stadium
Date: 7 April 2018
Referee: Martin Atkinson
Kick off: 17:30
UK TV:
Well Blues, here we are.
31 games. 27 wins. 88 goals. 84 points. It all comes down to this.
One more win, and it's ours. All ours. The ultimate prize in English football.
Manchester City. Premier League Champions. Sounds good, doesn't it?
Here's some more sweet music for your ears: Earliest title-winning date. Most points. Most wins. Most home wins. Most away wins. Most goals. Most away goals. Highest goal difference. Most points clear at the top. We're on course to break ALL of those records.
Talk about winning it in style.
But the euphoria doesn't end there. Saturday, 7th April 2018 could be a historic day. It could be the day where we get them back – rub their noses in it while we bask in our unbridled glory.
A win over Manchester United, of all teams, will do it. A win over our bitterest rivals will seal the deal. A win over the team, and the fans, who have teased, tormented and taunted us relentlessly for years and years and years, will make us Champions. What a fitting way it would be to end one of the best seasons in Premier League history.
It's so beautifully set up. Three more points, and the Reds will have front-row seats to our celebrations. Our wild, crazy, completely over-the-top celebrations – because why not?
City? Top dogs? Not in my lifetime.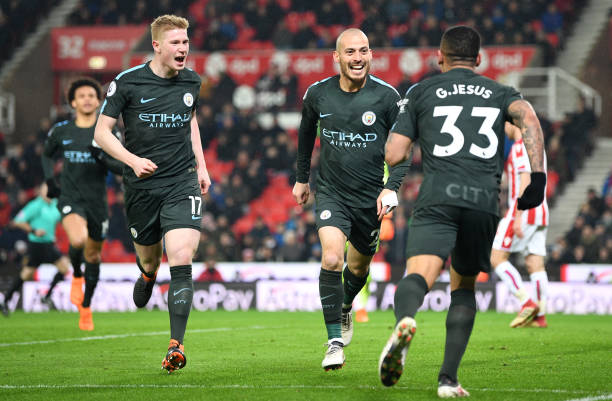 The much-debated line-up
Of course, as always, the other team in Manchester will be aiming to ruin our fun. I can't imagine there are too many Reds hoping that a victory at the Etihad on Saturday will be the start of their title charge – they are, after all, 16 points behind us. But they'll be up for it. They'll want to win it just as badly as us. It's a Manchester derby – you should expect nothing else.
That's why I think City will go for it – none of this resting our players to prioritise Tuesday's Champions League second leg. Even though Pep has admitted to having "one eye" on the European clash, I don't think we'll be witnessing a Phil Foden derby masterclass come Saturday.
Instead, in my eyes at least, the Anfield capitulation highlighted the desperate need to revert to more familiar tactics. The lack of a natural right winger against Liverpool, where Gundogan was brought in for Sterling, meant the ball was continually spread to Leroy Sané on the left, who, without an attacking full-back for support, struggled to make an impact. The right side was barely utilised as Gundogan preferred to linger centrally with the creative midfielders, meaning that not only did Kevin De Bruyne and David Silva have less wide runs to pick out, but also less time and space on the ball in the middle. The players looked confused.
So, in short, I'm expecting Pep to operate with two wide players this time round, like we have done virtually all season. Bernardo Silva was conveniently left on the bench for the full 90 minutes at Anfield.
I'm also expecting a reshuffled back-four, with Danilo and Stones to come in. Apart from that, I would be surprised to see anything other than all-guns-blazing. Maybe Aguero will be back to lead the line. He does like a derby, doesn't he?
The opposition
In terms of our opponents, it's more-or-less full strength – and they certainly won't be resting any players. What for? Mourinho will, as usual, look to frustrate. I'll reserve all bus related comments for after the game.
Prediction
With all this in mind, it should be a cracker. Mourinho is well capable of doing a job on us, but I just feel, with a point to prove after Wednesday's game, and with the sheer magnitude of the opportunity that lies in front of us, that a rip-roaring City will triumph on a glorious day. 2-0.
To win the league against your fiercest rivals – it's a scenario that any set of football fans can only dream of finding themselves in. Yet here we are Blues. Let's not waste it. It's party time.