So, this is it. A win for Manchester City on Saturday secures the Premier League title. However, it would not just be win, not just three points – it would be a symbolic victory – City's opponents are city neighbors Manchester United. This is far more than Pep v Jose, or the top two in England competing – this, for the fans, is everything. To win the title against Manchester United, for City fans, would symbolize a 'changing of the guard' – it would symbolize that City are not here just for a few years via 'oil money', but they are here to stay.
Anyway, a game has to be played. Leading the United team is a man that Pep Guardiola knows very well, Jose Mourinho. The reverse fixture at Old Trafford was a message to the rest of the country that City are miles better than their city counterparts, however United adopt a stubborn game-plan that can devastate any big team on it's day.
Let's have a look inside the opposition…
PREDICTED LINE-UP
When asked "Do you have the players to hurt City?" in Friday afternoon's press conference, Jose Mourinho answered "Yes we have". In response to a question about whether Liverpool's mid-week performance gave him ideas of how to approach City, the ever-chatty Mourinho said "No."
So, what is the best way to approach City? Evidently, it is not to sit back and absorb pressure, it is to attack and press in numbers. However, I don't see a Mourinho side doing the latter in an away fixture.
Therefore, I feel that United will field a more defensively minded midfielder in Ander Herrera at expense of the in-form Jesse Lingard, or Juan Mata, perhaps.
He has a number of options in defence, however I feel that Bailly and Jones is the pairing Mourinho has the most faith in.
In attack, Romelu Lukaku will hope to continue his form in the middle of Alexis and Rashford.
Presuming Herrera will start, Pogba will have the license to roam and cause City problems – the French midfielder missed the encounter at Old Trafford earlier in the season due to suspension.
PLAYER TO WATCH
The only Manchester United player that has really stood out for me on a regular basis this season is David De Gea, however the player I have picked as the 'man to watch' is Alexis Sanchez.
City fans will try to deny it, but every City fan I know wanted Alexis. They would watch his performances for the Gunners over the Christmas period drooling at the thought of him in a City shirt. However, it wasn't to be. Whether it was Pep rejecting Alexis or the other way round is irrelevant, Alexis signed for the red half of Manchester.
Fast-forward a few months, the Chilean has not found his feet at Old Trafford – with a couple of notable poor performances. Yet, we know what Alexis is capable of.
On his day, he is a devastating player. The low centre of gravity, the eye for goal, his tenacity – when he finds his feet again, he can be a menace to any team.
The pessimist in me tells me that if anyone is to score a late winner to crush our hopes of a Derby Day title win it is Alexis.
City defenders will have to be on their game to stop the Chilean forward.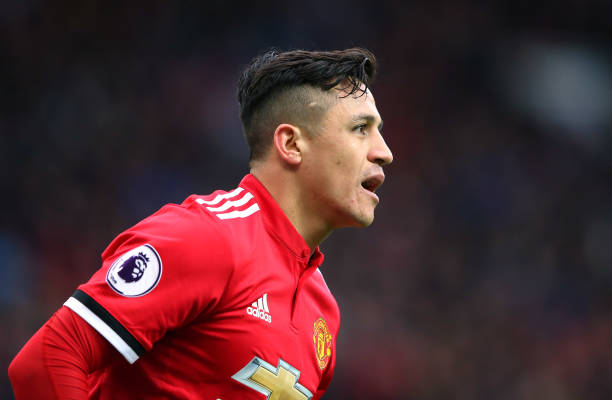 A VIEW FROM THE OPPOSITION
Ahead of Saturday's clash, I spoke to Jordan Clarke who is a big voice on Manchester United Twitter and occasional football writer, to ask for their thoughts on United's season, how it feels watching City walk the league, as well as their predictions for Saturday's game…
Is it that City have been miles better this season, or is it more that United have been off the pace?
Jordan: Personally, I think Pep Guardiola's style of football being displayed in the Premier League, despite everyone insisting it wasn't possible last year, has rightly set City in a league of their own and therefore everyone below them looks to have underachieved this season. In United's case, they have, looking at the table, been the second best side in the country. However, that counts for nothing when you are that far behind the best.
In terms of picking up results and having more stability, Mourinho has progressed with us this season. The problem is he has done so in a manner which hasn't been easy in the eye. He has also made quite obvious mistakes that has seen us fall even further behind. However, I don't think this United team can combat a City side in such incredible form and it's better to credit Guardiola than to crucify the remaining 19 managers.
How painful would it be to see City win the title on Saturday?
Jordan: Honestly, it's not the worst thing in the world. I obviously don't want it to happen, but the guard of honour was my biggest fear. It creates iconic pictures, videos that go viral, whereas City have to win the league somewhere and with the derby being at the Etihad, there's not much pressure on United anyway. If the clash with at Old Trafford then it's a different story, but most United fans won't put themselves through the pain of watching Vincent Kompany lift the trophy once again after the final whistle, so I'm not stressing too much.
Which United player is most likely to spoil the party?
Jordan: I think it would have to be Marcus Rashford, if United did surpass my expectations and delay the inevitable. Rashford's big game record, including his goal at the Etihad under Louis van Gaal, is something I wouldn't be surprised to see continue on Saturday. Provided he starts, his eagerness to make an impact in the biggest games should (hopefully) have an effect and he was the only one to finish past Ederson in the first league meeting this season, so my best bet would be the 20-year-old.
What do United have to do differently next season to challenge City?
Jordan: For next season, I don't believe the attacking options need bolstering, provided United's current ones don't all have disaster seasons individually. We have been linked with Gareth Bale, and whilst he would be a welcome addition, if his signing causes means it is bye bye for Anthony Martial, I'd rather say thanks, but no thanks.
For me, heavy investments into the midfield and defence are needed. Our first choice full-backs, Valencia and Young, were both here under Sir Alex Ferguson, and as wingers too. They tend to halt attacks or build-up by going backwards and in midfield, the loss of Michael Carrick, the likely departure of Marouane Fellaini (at last) and Herrera's poor form this season suggests at least two midfielders are needed. In central defence, neither Smalling or Jones can be trusted for long enough, and the departure of one at least is likely.
A top class signing, such as Umtiti or Alderweireld would be huge, though the former is unlikely. I don't think City will be as impressive as this season going into next year, but they will still be huge challengers. So to build a side capable of competing, I think Mourinho needs four players at a minimum, a left-back, two central midfielders and a world class central defender. So to conclude, we're still quite a way from catching your lot.
If United go on to win the FA Cup, has this season been a success?
Jordan: Any season with silverware and a top four finish has to be considered as a success in some aspects given United are still a club attempting to return to the days of old. It provides Champions League football whilst also showing potential new signings that we still win silverware. On the other hand, we don't want to become Arsenal, and cover underachievement by cup wins. The Sevilla defeat was an embarrassment and one United fans have only just got over, so with a memory like that still in mind, it's hard to label this as a season to remember. But ultimately, I think the success of this season will be determined by the outcome of the next. If we can go onto bigger things next season, then you'd have to say this season was a step towards that, but failure to win the biggest trophies once more will mean it was another season of mediocrity covered up by a piece of silverware.