Manchester City assists king Kevin De Bruyne believes he would deserve to be named Player of the Year, but believes it is hard to compare his talent to that of Mohamed Salah, the Belgian's main competition for the award.
De Bruyne has been in stunning form this season and hit 20 assists in all competitions against Everton at the weekend, while he also has 11 goals and a huge number of chances created for his teammates.
Salah, who has 37 goals in all competitions, is a worthy candidate for the crowd, but even De Bruyne doesn't think it's possible to compare two such different players.
"You cannot compare – it is impossible. So how do the players choose? Everybody has his own opinion. It depends on what people are looking for in a player," said De Bruyne.
"Salah has a remarkable goalscoring run, and he plays very well like an inside forward type of role, for me. This season he has been incredible.
"To compare us, I don't know. With the statistics how are we going to compare ourselves? It's totally different, I played (against Everton) like a defensive midfielder, how you can compare me to an inside forward? I have no idea.
"He has been outstanding, his record speaks for itself. It's just the way it goes. Luckily I don't have to do that."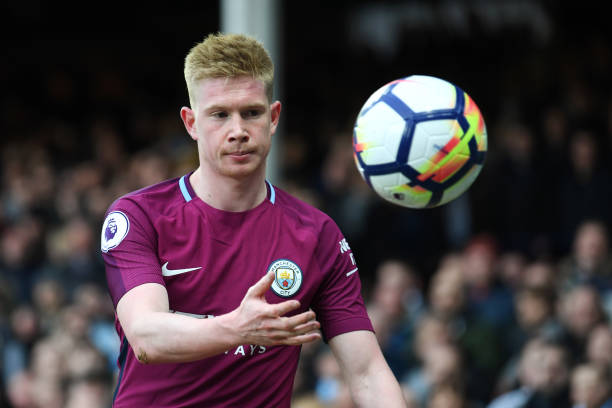 The 26-year-old believes he would be a worthy winner and also feels it would be recognition of this record-breaking Manchester City side which is a derby day win away from clinching the Premier League title.
"Well, if I get it, it would be nice I think for the team and for me. In one way I believe I deserve it, because I have been very consistent in my form," the midfielder said.
"I am very happy with myself, I am very pleased with how I have played, I didn't expect to be this good this season, to be honest.
"I think there is almost no game where my standard has dropped, so I have been very constant, and I am very happy with myself. To maintain the level the amount of games I have played, the amount of minutes, I am very pleased with that."
The votes have been cast and now we wait to see who is named PFA Players' Player of the Year. De Bruyne is the marginal favourite ahead of Liverpool ace Salah, while Raheem Sterling is odds on to win the PFA Young Player of the Year, with his Manchester City teammate Leroy Sané second favourite.
–

Manchester City Retro Shirts for just £20 – buy online now!