Pep Guardiola has declared his "love" of Manchester City and his enjoyment of working for the Premier League champions-elect.
"I want to win the Premier League," Guardiola told the press after Saturday's win at Everton. "I love Manchester City, I am a Barcelona fan, I grew up there, my heart is there, but now I am part of this club, I love to work here."
"Of course, I want to win against United at home, but three days before United we have Liverpool, and three days after we have the second leg.
"I understand completely the people are happy and the enthusiasm to win the league at home against them.
"I'm not going to say: 'Don't be happy, don't dream to win the league.' I won't say that because our opponents would say the same if it was the opposite."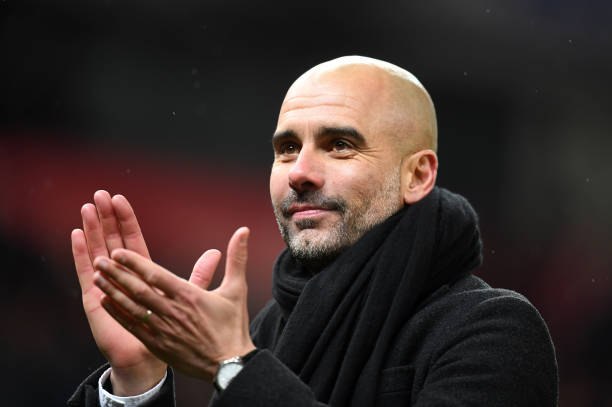 City are up against Liverpool next in the first leg of their Champions League quarter-final double header, and Guardiola cast doubt on Sergio Aguero's availability as he continues to recover from a knee problem.
"We will see. Still he didn't train," Guardiola said. "Hopefully he is much better. We will see and in these situations it is day by day. I hope he can help us. Maybe not in the beginning but maybe the bench.
"After that we have Manchester United and after that you have Liverpool in the second leg. Maybe you have to change the system in the second leg and have six strikers to win the game and we need Aguero and Gabriel Jesus and Lukas Nmecha and everybody."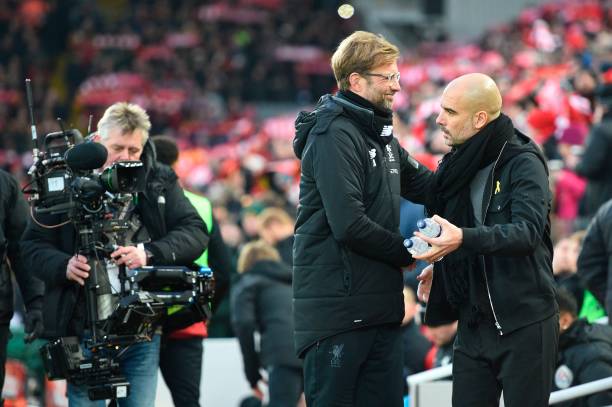 Liverpool are the only side to beat City in the league this season, winning a seven-goal thriller at Anfield in mid-January, and Guardiola made it clear how highly he rates Jurgen Klopp's side.
"Not just Salah. But Sadio Mane and Roberto Firmino, all three, they are almost unstoppable," Pep remarked. "They are fantastic, fantastic players and the way Liverpool plays is so complicated for us. They are an extraordinary team.
"We know that. They are so quick, they are so good and it is tough, but it is quarter-final of Champions League so we cannot expect in that level, something is going to be easy.
"To score goals away is so important and we are going to try to score goals but we cannot deny three people running up front plus Alex Oxlade-Chamberlain in the middle and set-pieces with Virgil van Dijk.
"We play against ourselves and say 'that is the target, we have to overcome'. If we are able, ok, semi-finals. If we are not able, congratulations Liverpool and next season we will be back stronger but we are going to try."
–

The City Store is offering up to 70% off outerwear – buy online now!