Once again, Manchester City have seemingly dropped a transfer that looked almost certain to happen. It's not quite Alexis Sanchez: The Re-Happening, but City have gone varying degrees of cold on Fred depending on who you listen to. In some reports City have pulled the plug, in others United have taken pole position, in others City have already turned their attention to other players. Whatever the case, it makes for interesting discussion on who City will look for in that crucial defensive-minded midfielder role. 
So, who will it be? I've compiled a list of some options and put them into different categories based on their ability and my perceptions on how likely City are to get them. Like with our forwards list, we'll begin with 'dream' players, who are on the elite level but are unlikely to move. After this, we'll look more at 'realistic' at players who are still great players but are more likely to move, perhaps due to links in the media. After this we shall again visit some 'rising stars' category, a self-explanatory category. Finally, we'll look at some 'über-wildcard' options. The forwards list helped revive some Balotelli-hype, and it's always interesting to think outside the box.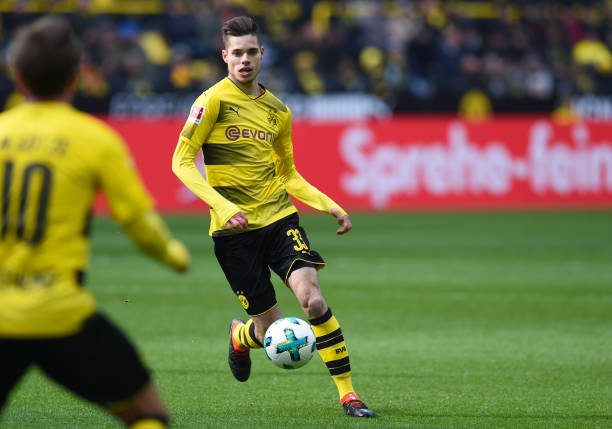 Dream
Julian Weigl (Borussia Dortmund, age 22)
Ever since he broke through at Dortmund, links between City and the German have constantly been made. Though he is having a poor season, perhaps largely to the tumult at Dortmund, he is still the jewel of the club in my eyes. He's in the dream section since Dortmund are incredibly shrewd negotiators.
Thiago Alcântara (Bayern Munich, age 26)
Since joining Pep at Bayern, he's won four Bundesliga titles, but has this season suffered from some injury woes. The arrival of Leon Goreztka has made the centre of midfield a little packed for the Bavarian outfit.
Sergio Busquets (Barcelona, age 29)
The best defensive midfielder in the world, ever since Pep instilled Sergi in the heart of the midfield of a side considered amongst the greatest ever. People say he wouldn't fit the English game, but those people said Pep would never domicile England. He'll never sign for City, but it's okay to dream.
Marco Verratti (Paris Saint-Germain, age 25)
In terms of value for money, Marco Verratti is probably the best signing Paris Saint-Germain have ever made. He seems to have it all. There are questions over his temperament and the fact he plays in the French League – both remedied by a move to a bigger club. Given City and Paris' political stand-off, it will almost certainly never happen.
David Alaba (Bayern Munich, age 25)
David Alaba isn't a natural central midfielder, but he certainly can feature there. I don't think Alaba is the dream central midfielder, but the very fact he has the capacity to play there, as well as left-back and centre-back means he is perhaps the perfect signing. Alaba has recently hinted at being open to a new challenge, believing he is ready 'to take the next step' in his career.
Honourable mentions: Arturo Vidal (Bayern Munich, age 30), Radja Nainggolan (Roma, age 29), Javi Martinez (Bayern Munich, age 29), Saúl Ñíguez (Atleti, age 23)
Realistic
Sergej Milinković-Savić (Lazio, age 23)
Sergej has scored nine Serie A goals so far this season, dramatically increasing his output. Questions may be raised over his defensive ability, and if he was signed he'd fit better into the role Gündoğan has frequented at times this season. However, at 23 years old, Milinković-Savić has the potential to be moulded into anything.
Emre Can (Liverpool, age 24)
Emre Can has become more and more important to Liverpool over the years. However, Liverpool have got Naby Keïta coming in this summer. Moreover, with his contract running out this summer amid interest from many of the big clubs, not least Juventus, there may be an opportunity for City to swoop in and pick up an excellent player on a free transfer.
Jorginho (Napoli, age 26)
Brilliant both defensively and offensively, Jorginho is an integral part of Sarri-ball. His standing tackle, his vision and technique when breaking the lines with vertical through balls and his coolness on the ball really allow him to stand out as a midfielder. I think he walks into most teams in the world.
Leandro Paredes (Zenit, age 23)
When Roberto Mancini led Zenit to sign a collection of Argentines last summer, the pinnacle of these being Leandro Paredes for a fee of £20.7m, some wondered if it was a waste. But Paredes has been in good form this season and looks set to go to the World Cup. Paredes has recently been linked with Juventus and Real Madrid.
Honourable mentions: Jean-Michaël Seri (Nice, age 26), Fabinho (Monaco, age 24), Piotr Zieliński (Napoli, age 23), Steven N'Zonzi (Sevilla, age 29), Mousa Dembélé (Tottenham, age 30), Carles Soler (Valencia, age 21)
Rising Stars
Vincent Koziello (Köln, age 22)
Koziello signed for then rock-bottom Köln this January from Nice for £2.7m. However, one has to watch Koziello to understand the hype around the graceful 22-year-old. His passing is excellent, and I would not be surprised if, regardless of what happens to Köln, he is picked up in the summer by a bigger German club.
Tanguy Ndombele (Amiens/Lyon, age 21)
Tanguy Ndombele's loan to Lyon has an option to buy for just £7m at the end of the season. Something in particular that impresses me about Ndombele is his ability to seemingly be able to do things as he's running that other players can do only while walking, indicating an unbelievable technical ability.
Renato Sanches (Bayern Munich/Swansea, age 20)
Though his move to Bayern has not yet worked out, and even less so his move to Swansea, it would be honestly foolish to write off Sanches. He has obvious ability – I think he requires a few years back in Portugal, in almost Kevin De Bruyne-esque fashion, given that like De Bruyne, has the ability to become a top player.
Leander Dendocker (Anderlecht, age 22)
Dendocker has been linked with a host of clubs over the past year, especially since his performances against Manchester United in last year's Europa League quarter-finals. Belgium manager Roberto Martinez has earmarked him for a role in his World Cup squad for this summer, and it could be time for Leander to announce himself on the biggest stage of all.
Amadou Diawara (Napoli, age 20)
Diawara's cool demeanour on the pitch, as well as being able to distribute both long and short mark him out as a future star. We saw his ability first in the Napoli game against City in October, where Diawara is quoted as saying Yaya Touré is his idol. Could Amadou be tempted to follow in his idol's footsteps and join City?
Lewis Cook (Bournemouth, age 21)
Lewis Cook is a European under-17 champion, as well as captaining the England under-20 team to the 2017 under-20 World Cup, forming somewhat of a partnership with our very own Phil Foden. Whether Pep would take a punt on an untested talent like Cook is another question, though.
Honourable mentions: Manuel Locatelli (Milan, age 20), Franck Kessié (Milan, age 21), Lucas Tousart (Lyon, age 20), Donny van de Beek (Ajax, age 20), Harry Winks (Tottenham, age 22), Lorenzo Pellegrini (Roma, age 21), Wilfred Ndidi (Leicester, age 21)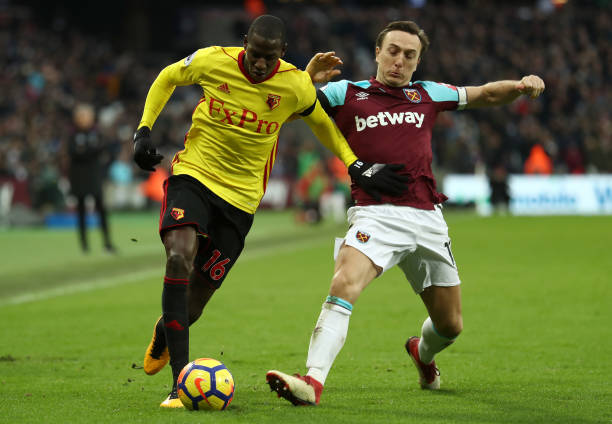 Über-Wildcard
Abdoulaye Doucouré (Watford, age 25)
Despite Watford's massive drop in form as the season has progressed, Doucouré's form has been largely ever present at the heart of Hornet's midfield, his technical ability and passing a particular highlight. His defensive ability still has some question marks surrounding it, but watching Doucouré this year gives one the feeling that he stands out as a potential Champions League player.
Aaron Ramsey (Arsenal, age 27)
This season he has played his best football in a deeper role, still managing to play a key role in the attacking build-up as Fernandinho has demonstrated this season is even necessary for a player in his role. His ball retention skills are fit for a Pep Guardiola side, though like several on this list, one wonders about his tackling ability.
Fred (Shakhtar, age 25)
Should the most obvious option really be a wildcard? Nothing that has happened so far has made me think the move is completely off, but the signs make me believe that it most probably is, given how these things have played out before. The City Watch transfer podcast episode featuring Manuel Veth sold me on Fred, and the deal seemed perfect. We'll have to see how this one plays out.
John Stones (City, age 23)
I feel sorry for John Stones. Personally, I believe he will pull through this little quagmire, but I also believe that his skillset premeditates an ability to play in defensive midfield. His passing set and confidence on the ball may allow Pep to mould Stones into a higher-sitting role, especially since a lot of his problems seem to be from him being the last man.
Ilkay Gündoğan (City, age 27)
When Fernandinho went off injured in the second half of the League Cup final, Ilkay Gündoğan stepped up. Signed for the deeper role, he has mostly played in a secondary striker role this season until Fernandinho's injury. He was exemplary in this position in the big games against Arsenal and Chelsea, despite questions about his durability and defensive ability.