In a recent interview with DirecTV Sport, Manchester City manager Pep Guardiola made a comment about his future which made a lot of fans excited. The Catalan said, "I do not rule out continuing to lead in 10 years. It will depend how I feel and if they want me," a subtle reference to the fact that he may be set for a long spell at the Etihad.
Guardiola is currently in the second year of a three-year contract and there are already rumours of his agent arriving in Manchester to discuss a possible extension. The Catalan has been quick to deny it, but it is vital for the club to get another managerial contract signed if they want a legacy forming.
It is clear to see that Pep's style of football has been fully installed into the City squad this season after a first season which saw many criticise Guardiola's management style, and the progress has gotten City fans excited as to what the future holds.
Already with one piece of silverware under his belt and the chance of adding two more trophies, City fans are eager to see what the future holds with a relatively young squad.
Guardiola's managerial stints at Barcelona and then Bayern Munich only amounted to four and three-year stints. Both clubs already being European football giants, there was already some form of philosophy in place while City is in a different position.
Ten years after Sheikh Mansour took over the club, the full effects of his heavy investment are taking shape. Multiple pieces of silverware have been won, but, now City have to become a team remembered for its football as well as trophies.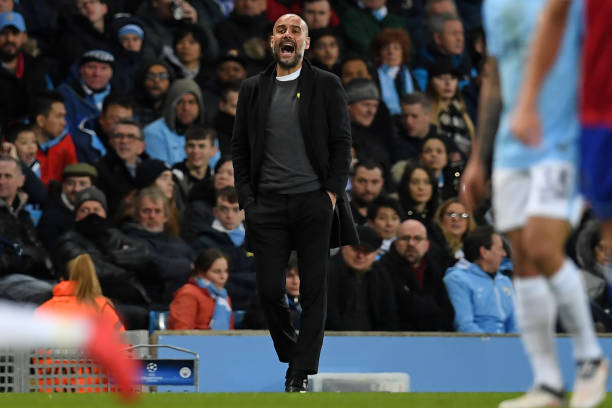 Guardiola is largely behind that and is the right man to take the club forward.
The Catalan is someone who will not stop until he is satisfied with what he is seeing on the football pitch and when it comes to City, he seems crazier on the touchline than ever before.
With his high tempo style of football, it would be expected that the players would start to tire, but, up until February City were still in contention for four competitions before being knocked out of the FA Cup by Wigan.
A new fitness and nutrition regime has been brought into the club and it looks like the CFA has now become Guardiola HQ.
Judging by the groundwork that is being laid by Guardiola and his staff, it could be pointing to a long-term plan and a contract extension.
Domestically, the club are performing well, winning various pieces of local silverware and hopefully making it three Premier League titles soon, but the European stage is where the Abu Dhabi owners now want success in an attempt to become a global footballing superpower.
The Champions League is the biggest prize in club football and winning multiple titles over the next few years would put City well on the way to becoming that superpower. The Catalan won the competition twice with Barcelona and is certainly the right man to bring European glory to the Etihad.
Guardiola has the potential to be City's equivalent to Manchester United's Sir Alex Ferguson in terms of changing the club and bringing sustained success, but the tenure will not be as long as the Scotsman.
If Pep signs a contract extension, regardless of length, City will begin to assert their dominance on a European stage, but it is the legacy and regime he will leave behind that will have a long-lasting effect on the club.