It looked certain to happen this summer, however, it looks as if Manchester City may withdraw from negotiations regarding the transfer of Shakhtar Donetsk's defensive midfielder Fred.
This comes after numerous reports that City and the Brazilian's club were unable to come to an agreement over the transfer of the player.
City could not come to an agreement with Shakhtar for Fred and he could now join United. City are now expected to turn their attention to others, including Julian Weigl of Borussia Dortmund. [@hirstclass]

— City Watch (@City_Watch) March 13, 2018
From this holding midfield position which Pep Guardiola deems Fred to specialise in, there are three current options for the boss to choose from.
Fernandinho and Yaya Touré have been the most natural protectors of the backline under Guardiola's tutelage, but they both will be 33 and 35 respectively before the season comes to a close. Touré is also set to leave at the end of the season with just three months remaining on his contract, so a younger option is certainly mandatory.
The other option is Ilkay Gündogan, however, the German is most proficient in as one of the 'free 8s' rather than playing the deepest in a midfield trio, so City must look for a new player for this role.
With that being said, let's take a look at five alternatives to Fred that City could sign this summer.
Manuel Locatelli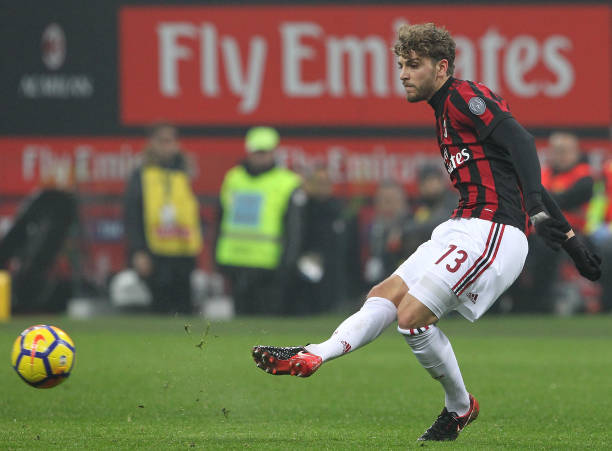 Standing at 6'1, Locatelli could be seen to be more of a traditional holding midfielder, and with some of his statistics, this side to his game can be observed through his tough tackling and ball-winning capabilities. Within AC Milan's Europa League campaign, in five appearances, the Italian averaged 3.3 tackles and 1.6 interceptions per game reflecting that not only will he frequently win the ball back, he can also read the game very well too.
The 20-year-old doesn't lack a touch of the modern game either, with his ability on the ball very respectable. Locatelli excels in ball retention using varying manoeuvres to get himself out of problematic situations and thriving from these too- reflected by 80% of his take-ons being successful. This will stand him in good stead with Guardiola who could combine his technical adequacies and defensive capabilities to develop a player of high potential.
Julian Weigl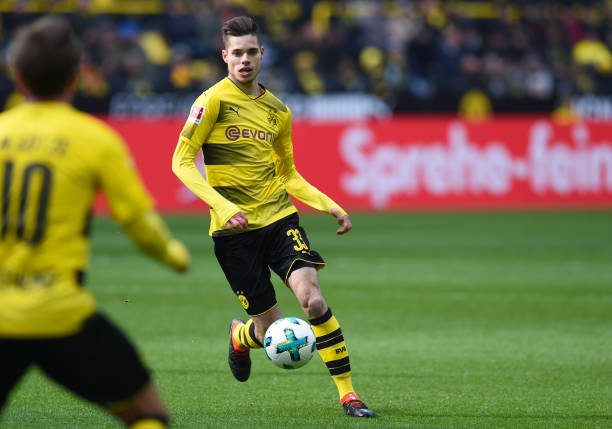 It was rumoured that City were putting an end to the pursuit of Fred for this man, and maybe it wouldn't be such a bad idea. The Blues have been a long-time admirer of Weigl during his time at Borussia Dortmund for his ability to receive the ball in the '6' role. When the two centre-halves split and even under intense pressure he makes the right move, whether that be a simple pass or a turn of the body, or the ball for that matter that takes a pressing opponent out of the equation. From this position, Weigl is in his element on the ball where he will often choose the perfect pass of varying distances, as witnessed by his average of pass completions being 86.3%.
At 22 years of age, Weigl still must develop, more so physically than technically – but in terms of his style of play, he and Guardiola seem close to a perfect match. At a slight 72kg, he will have to get used to the physical presence of other opponents he may face in the Premier League to avoid losing possession easily, but his tactical expertise and ability to read the game should allow him to often be one step ahead in these situations.
Tanguy Ndombele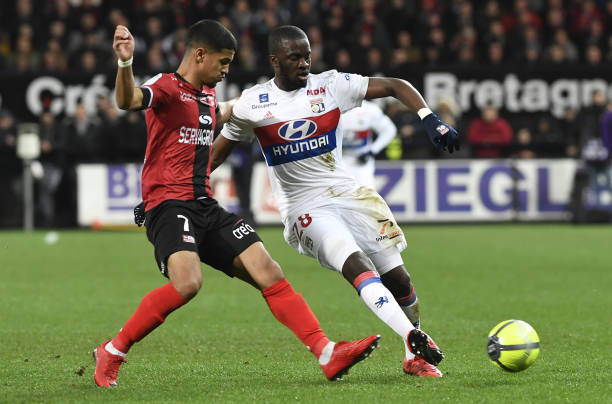 There is no doubt that Ndombele will have a bright future ahead. At 21 years of age, the Frenchman has taken Ligue 1 by storm performing consistently for Lyon, on loan from SC Amiens. His ball retention is his finest attribute due to three key aspects of his game.
His technical ability that is nothing short of outstanding, often using his quick feet to be adept in any situation and stride out of it with the ball with a visionary eye for a pass too. To hold players off, he also uses his strength which is another asset to his game to keep possession of the ball, this would be vital in the Premier League when competing against other midfielders with a slight stature. Tactically, he is very aware of his teammates and oppositions whereabouts meaning he is rarely dispossessed.
To truly fit in the Premier League, Guardiola may need to tame his desire to drive forward with the ball constantly despite his confidence in possession. If he is tackled, teams who play on the counter-attack could very quickly turn over possession and have a chance to score, which is often capitalised on in England.
Jorginho
Jorginho is the second Italian to make the list, but at the age of 26, he is much more of a mature player in comparison to other names mentioned, now entering his prime. A key part of Maurizio Sarri's Napoli revolution, his play style would be no different in a Guardiola system with both managers highly complimentary of each other and their similar approaches to football.
In possession, he is one of the best in his role. His ability to dictate a game is highly underrated. He often sees a pass before many others spotting a teammate's movement and finding them with pinpoint precision. He also has an incredible range of passing at his disposal which is more often than not accurate, with a completion rate of 89.1% in all competitions. Unlike many of the other players mentioned, Sarri's influence has meant he presses opponents like he would in a Guardiola side showing a distinct desire to dispossess an opponent which is certainly desired by the City boss.
Averaging just 1.9 tackles a game may not seem many, but this is because he will not commit to a tackle without reason, seemingly always waiting for the right moment to pounce and not giving away needless fouls. Having such a wise footballing mind would mean he could integrate into Guardiola's side perfectly.
Sergej Milinković-Savić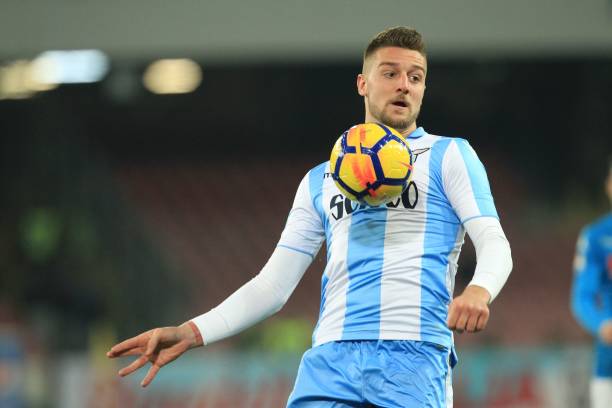 The final alternative is another starlet who is having their best season in 2017/18 named Milinkovic-Savic. He is at an age of 23 now where he is beginning to display his potential to be a world-beater, and under the helm of Guardiola, he could be adapted to do so.
From the role of a box-to-box midfielder this season, he has 11 goals and four assists, clearly showing his prowess in an attacking sense. But his talents don't stop there, which is why a repositioning could make him the complete midfielder in a deeper, holding role. At 6'3, he is hard to seize the ball from with a robust frame which would allow him to flourish when protecting the backline. He is also giant in the air, winning 53.51% of aerial duels so he should find no problems when adjusting to oppositions use of the long-ball in the English game.
It is not only in the air he impresses, as on the ground he excels in technical tricks and flicks whilst dancing and prancing round opponents at times certainly catching the eye. However, this can be his downfall at times as he isn't all that effective in possession. So, Guardiola would have to tone this element of his game down to suit his ideology of dominance with the ball whilst working to the Serbian's strengths. This would help establish his idealised holding midfielder that can be a more than suitable alternative to Fred.
*Statistics sourced from WhoScored and Squawka