Girona's ascension to the Europa League qualification places in La Liga has been nothing short of remarkable. At the start of the season, in the words of the club's hierarchy, 'establishing themselves in La Liga' was their primary objective. Thirty games later and the Catalan club sit comfortably in seventh with top flight survival in the bag and every chance of out muscling their closest rivals Sevilla and Villarreal for European qualification.
After the City Football Group acquired part ownership of the club in the summer of 2017, Girona's fellow competitors may have been dismissive of their new-found wealth and resources but certainly feared just what could happen with the CFG on Girona's side. Not only did the Mancunian and Catalan partnership quickly lead to off the field improvements with both Girona's stadium expanded to exceed 10,000 spectators as well as plans to construct a state of the art training complex dubbed a 'mini CFA' but a wave of young and fringe players swapped Manchester for Cataluña in quick succession.
Yet without watching Girona this season, it is very easy to simply attribute the City Football Group's involvement with the club to their surprising success in La Liga. This simply isn't true. Instead Girona and their stubborn man at the helm Pablo Machín have stuck to their word and rewarded the stars who propelled them to promotion in the first place and they haven't let the club down. Aside from former Middlesbrough players Bernardo and Cristhian Stuani, Girona's starting XI is almost the same week on week, a mirror image of their Spanish side therefore giving little opportunity for most of the City players out there on loan.
So, has it been complete disdain in Spain for City's class of 2017/18 on loan in Girona or has been a beneficial agreement for both?
Pablo Maffeo
After helping the club to promotion last season during a previous loan spell, it was perhaps no surprise that manager Machín quickly turned to Maffeo last summer and even without an official partnership, it's highly likely that the local lad would've re-joined if he were to go out anywhere on loan. Of all of City's loanees, the young right back has both excelled and progressed the most, thanks to regular playing time in a position which has seen him pit his wits against the likes of Cristiano Ronaldo, Antoine Griezmann and Lionel Messi. Maffeo's man-marking of the latter in the first new Catalan derby earned the youngster rave reviews across the continent – for those that didn't see it think of his performance in last season's Carabao Cup and double it, he was exceptional at marking Messi out of the game. And since the Autumn Maffeo has taken this good form into the rest of the season proving he is more than cut out for a career in top flight football. Whether that is in Spain or in England meanwhile remains to be seen but if City are lucky for a good, young understudy for Kyle Walker then Maffeo is the perfect candidate without question.
Aleix Garcia
After breaking into Manchester City's starting XI last season with cameos against Manchester United in the Carabao Cup as well a goal scoring appearance against Swansea City in the same competition, there were high hopes for Aleix Garcia who many believed had the potential to one day step into the shoes vacated by an aging Fernandinho. At Girona, his opportunities have proved few and far between and the former Villarreal man has merely had to make do with appearances from the substitutes bench. Given that Girona set up with a flat back three (or five depending on the opposition), they then call upon three midfielders to sit just in front of them, but with Machín sticking to the reliable three musketeers of Borja Garcia, Granell and Pons, it's been hard for Aleix to break his way into the starting XI. Swapping for fellow Garcia Borja has been a regular substitution for Girona on around 65-70 minutes but Aleix perhaps stood out most following an injury to Pons in early 2018, seamlessly slotting into the Girona midfield which only makes you wonder, what could've been if he had been awarded more playing time…
Douglas Luiz
In many ways, the forgotten man, Douglas Luiz has sadly made little to no impact at Girona this season. Before he has even signed for Manchester City, Luiz was always heavily linked with an instant move to Girona but after being officially announced as a City for signing for a fee of just under £11m his potential was already being talked up both at home and in Spain. Despite the potential which his price tag would suggest, his appearances at Girona have been few and far between, managing just under 300 first team minutes in La Liga and only three appearances in domestic cup competitions. With fourteen of Douglas's fifteen appearances coming from the bench, the Brazilian has had little opportunity to impress but most notably earlier in the season he did appear to offer something different to Girona's usual midfielders. Given that Luiz has signed on a five-year contract, it may be that City see the Brazilian as one for the long term and a loan move elsewhere next season may be much more worthwhile.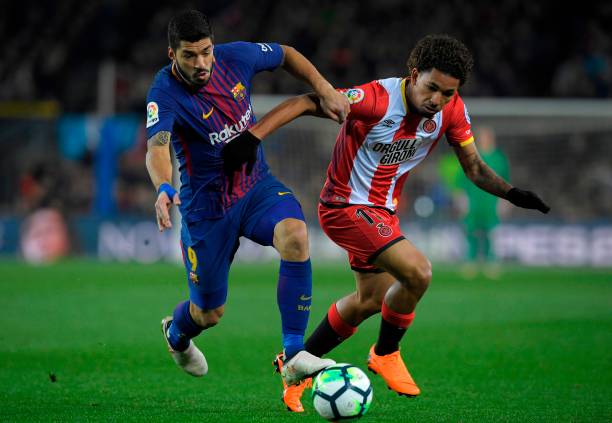 Marlos Moreno
After signing for Girona, club sporting director Quique Cárcel spoke at great lengths praising Marlos Moreno's talents and seemed enthusiastic about what the promising Colombian could offer Girona for the season ahead. Not only would Moreno offer Girona a different approach when they wished to change their system and attack with their wingers but Cárcel suggested that they had seen enough potential in Moreno to suggest that he could 'revolutionise games with his extreme pace'. Meanwhile six months later from his official presentation in August 2017, similar murmurings of unrest as experienced during Moreno's last loan spell at Deportivo la Coruña were already beginning to grow and before long, speculation started to mount about a January move elsewhere. Making only three cup appearances as well as the whopping accumulation of 28 minutes in La Liga, Moreno was never going to be missed by Girona and after Brazilian side Flamengo came calling, it was a no brainer for both City and Girona to allow Moreno to further his development elsewhere.
Larry Kayode
The last of the players on City's books to join Girona was Nigerian forward Larry Kayode who quickly swapped Austria Wien for Girona following a brief stop at City to sign the paperwork to complete the deal. With an impressive goal scoring record in Austria, Girona supporters had very high hopes for Kayode after joining the club but with both Portu and Cristhian Stuani starting the season in such fine form, new boy Kayode initially found it incredibly difficult to break into Machin's immediate first team plans. After being gifted two rare starting appearances for Girona after impressing from the bench and most notably earning Girona a surprise point against Sevilla in October, Kayode did very little in both games and before long he found himself back on the Girona bench and his development ultimately stunted once again. Therefore, when a potential move away to Champions League-competing Shakhtar Donetsk came calling, it was perhaps in City's best interests to allow Kayode to move elsewhere and recapture the goal scoring form which made him such an attractive signing in the first place.