It had to happen, didn't it? Many City fans made the reasonable suggestion that they didn't want to face Barcelona or Bayern Munich, but many more made the case that the team we really wouldn't fare well against was the team just down the M62. The only team to have beaten us in league so far this season, the team almost set up to face a Pep Guardiola side by a manager who has won six of his twelve games against teams managed by Pep Guardiola. This is coupled with City's obvious recent poor history at Anfield and against Liverpool in general, though City did win the early season encounter by five goals to nil.
Liverpool have an illustrious European history, winning the Champions League in the 2004/05 in unforgettable style, having won five European titles in total. Three goals down at half-time to an AC Milan team featuring Maldini, Seedorf, Kaka and Shevchenko. Three goals in fifteen minutes led to a penalty shootout in which Jerzy Dudek wrote himself into Liverpool history, the night becoming the pinnacle of the careers of players like Carragher and Gerrard.
This season though, Liverpool are famed for their lightening front three. Mohamed Salah on the right, who signed for Liverpool in what seems like a cut-price £40m over the summer, has scored 33 goals in all competitions and has been the ostensible star man. In the first half of the game at the Etihad he was excellent before being hooked off at half-time for seemingly no particular reason. On the left, Sadio Mané has played his best football in the Champions League this season, scoring six goals in six games. It seems to me though that Roberto Firmino is the man who brings it all together. Though second to Gabriel Jesus in the national team, Firmino is one of the rare strikers in the world who has the ability to be selfless whilst getting goals, he is an excellent weaver of play, allowing Salah in particular to flourish.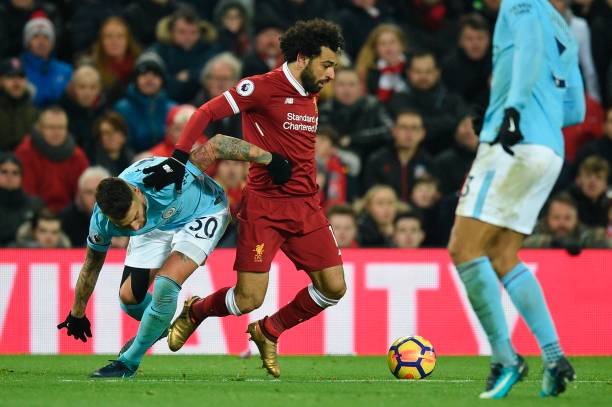 Though it would be simplistic to describe Liverpool as a three-man team, the Liverpool squad depreciates in quality as you look elsewhere. In net they have the pick between one of two questionable goalkeepers, and their defence, despite the addition of Virgil Van Dijk, has been shaky to the point that they've conceded fourteen more goals than City this season. As their recent showing at Old Trafford proves, their defence is often let down by individual mistakes at a higher rate than ours. With Naby Keïta coming in over the summer, a midfielder I hold in incredibly high regard, should Klopp elect to play with a midfield three of Milner, Oxlade-Chamberlain and Emre Can, the presence of David Silva could prove decisive. Silva did not play in the 4-3 loss at Anfield in January, and City's best ever player may help overrun a potentially fragile midfield in both legs, especially at the Etihad.
Despite the pessimistic attitude of many City fans, the fact City will play the second leg at home for me is pivotal. Had City have had to gone to Anfield defending a lead, I fear with the almost fortress-atmosphere Anfield has developed over the years, in addition to Klopp's 'heavy metal' football which has proved successful against Pep recently, we may have been more prone to crumble. But the Etihad has a penchant for coming alive in big games like this, whether you'd see it admitted or not.
We should not be drawn into irrational, metaphysical lamentations about how Liverpool are going to beat us simply because they beat us in January and City's Premier League record at Anfield and that it'd be 'typical City'. Thinking about the game in January, City gifted Liverpool three goals in fifteen minutes. Moreover, two of the goals scored by Liverpool were basically wonder goals, and the other two came from a fatal mistake each by Stones and Ederson. It would be foolish to say they did not deserve to win, but I still believe that that particular game could've ended any score.
We lost the game in that fifteen-minute spell, just as our 5-0 was somewhat down to Sadio Mané fly-kicking Ederson in the face. David Silva will be playing, a renewed Vincent Kompany will be fit and ready. City have lots of reasons to be confident in this tie, and I don't believe it is unreasonable to say we drew the third-weakest team out of the seven available. This is the best chance City have ever had to win the Champions League, and to do so we must overcome what we had previously believed undoable. And, for the record, I think we will progress.