Judgement day is fast approaching in Manchester, a day of reckoning – the day many fans thought may never happen.
To be fair games like these don't in fact happen often – even across other major European leagues. You'd have to go as far back as Arsenal's Invincibles winning at White Hart Lane for a like-for-like scenario in England. So when Vincent Kompany said games like these were a "once in a life-time opportunity", he really meant it huh?
Quick maths: Manchester City need only maintain their 16-point lead a the top of table at the end of game week 31 to have a chance of clinching the title against United the following week. There are nine different possible scenarios based on the results of City's visit to Everton and Manchester United's match with Swansea in which the title can be won at the Manchester Derby. However, Pep's boys in blue cannot seal it against Everton so the possibility of clinching the title against their derby rivals rests entirely in their hands.
I had the privilege of finding out what this day of reckoning might mean to Manchester United fans so here's what some of them confined to me.
Of course it's unpalatable to be the team that City could confirm the title against but Manchester United fans have had it far worse down the years. In 2012, for instance, the title decider at the Etihad was a sickener to lose for many reasons. United had a chance to edge closer to the title themselves, yet Sir Alex Ferguson's team selection and tactics for a big game were so wrong, so conservative that the narrow loss felt even worse than it could have done. (See, even Fergie got it wrong from time to time).
It's not as if winning against City this time would amount to much other than delaying the inevitable and putting the champagne on ice for a week. United fans and the rest of the world have known the title is over for months now, so any confirmation of it will in all likelihood be a dig in the ribs rather than a smash in the face like 2012. Having seen City win the title with the last kick of the season or thereabouts that year, not to mention once seeing United get relegated after a match against City, Pep Guardiola clinching it will hurt, but nowhere near as much as those darker moments. United have had to give a guard of honour before, to Chelsea, so being inferior isn't an alien concept. Yes, it'll highlight the sheer gulf in class between the two teams currently, but in reality it could be a lot worse. It could have been Liverpool.
The thought fills me with nauseating dread, as you probably can well imagine.
Two family members are City fans (recent affiliation, funny that) so I can't imagine the horror should this occur. All communication will be cut off!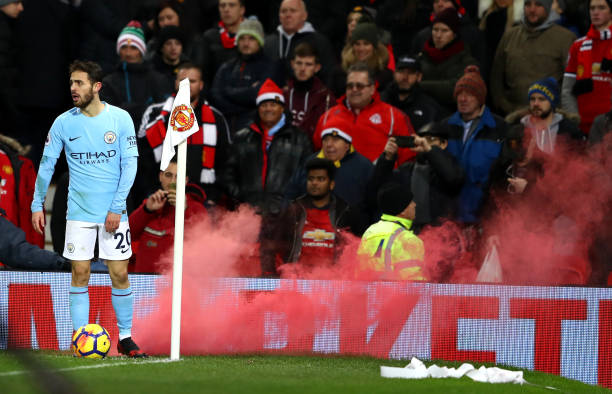 In a post-Aguerooo world or even a world in which I saw City put six past United at Old Trafford, I might have learned to take something like this in my stride … but no. It's not really another thing, is it? You could lose to Sevilla and be hating football for weeks, but it'll be mostly forgotten (if not exactly forgiven – sorry Jose) by next season. But this? No, it'll haunt me forever. And others too I suspect.
Somehow I think the gods will be kind and not let it happen. Maybe it'll be sooner, or later. Then again the gods made me watch 180 minutes of that Sevilla game – and for what? As for the question of whether a guard of honour would be worse, I don't think so. Football is all about #respect these days so it'll be comparatively soft. Softer. Still horrible. Less importantly, but still very importantly, United have a pleasing history with guards of honour: there's the Arsenal players applauding a grinning Van Persie and his teammates, of course, but there's also this attached. Who's City's equivalent of Dong Fangzhou? Play him please.
I think it will happen and obviously it's going to be painful to see, but City deserve to be as far ahead as they are. The football they've played this season has been amazing but I'm just praying we beat you at the Etihad and you have to wait another week to win it!
If City win the league against us? Honestly mate, I couldn't give a shit. I hope you enjoy yourselves and have a great day if it happens, but it doesn't mean a lot in the grand scheme of things. I reckon we'll beat you anyway.
It's already sort of happened before. In 2012 we lost it that night when Kompany scored. At least it's not self-inflicted this season and we've pretty much known you were winning it since December.
Firstly I hope it doesn't happen, but what a season you've had. I don't want to downplay it but others have been so on and off which doesn't take away the fact how good you've been. Probably the best Man City team I've seen in my lifetime and I can appreciate a solid side. Hope we the others side perform to a higher level next season. A well deserved title.