One of the hallmarks of Manchester City's recent history is an impressive record of not letting star players go, meaning those who leave the club are almost always on a downwards trajectory. It's fair to argue that perhaps only Carlos Tevez, Adrien Rabiot and Jerome Boateng have left the club since 2008 and gone onto better things. Even in their cases, caveats can be made explaining their departures.
Despite becoming the club's youngest ever goal-scorer on his debut in the final minutes of the third-round FA Cup win over Watford in January 2013, it is a fairly astounding statistic that Marcos 'Rony' Lopes played only five senior competitive games for Manchester City, featuring only in the cup competitions. He would then spend three successive seasons out on loan to Lille, first from City and then from AS Monaco, who bought him for a fee of around £9million in August 2015. Seemingly not a terrible fee for the pre-Pogba, pre-Neymar world for a player who hadn't played a single league minute for the club.
It was his third loan to Les Dogues that made an impression. Starting twenty-two Ligue 1 games, mostly out on the right, Rony hit four goals and four assists, but his ratings through the season hit higher and more consistent heights. It was this, combined with the fact Monaco lost the soul of their title winning squad over the summer, which allowed Rony to return to Monaco and begin to settle in for the 2017/18 season.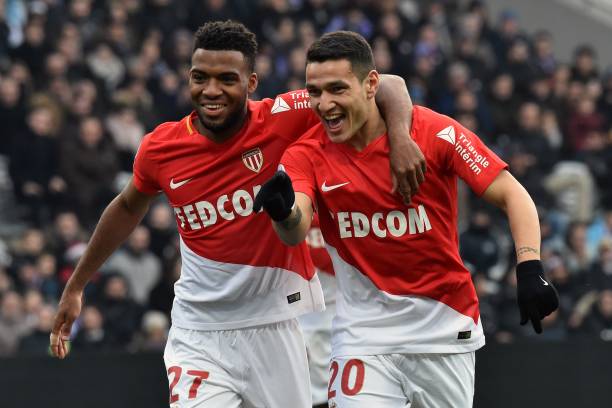 In September he scored his first goal for Monaco, and has since sealed his place in the Monaco starting eleven, playing more minutes than any other attacking player for the club so far this season. It has been the past two months in particular in which Rony has been starting to shine in his own right, not unlike the upturn in form of the man he replaced, Bernardo Silva. Rony has even managed to earn his first cap for Portugal, playing nine minutes in their draw with the United States.
Since his goal in Monaco's 3-1 home win against Metz on the 21st of January, Rony has hit five goals in six Ligue 1 games, meaning eight goals so far in the league as well as four assists. None of these goals were more important than a last-minute winner which saw ten-man Monaco come from 2-0 down to beat fellow giants Lyon 3-2, leaving Monaco best of the rest after Paris Saint-Germain. He is beginning to add numbers to his game, all the while showcasing the talent base we saw in his sparse senior appearances in blue, rooted heavily in a supreme technical ability.
This two-month spell in over almost three years since we sold the Portuguese winger is not nearly enough for me to imply that City have made a mistake in selling him. That would be verging on ludicrous. This season has seen the blossoming of Raheem Sterling into one of the best right-wingers in world football, and Bernardo Silva has begun to excel in the role in Raheem's absence over the past weeks. But Rony is only 22 years old, and I think he is only just beginning to fulfil his potential. Playing consistently with top-class players like Thomas Lemar, Radamel Falcao and Keita Baldé Diao, in a fluid system, Rony will only go onwards and upwards from here.
In a few years Rony may well be regarded as one who got away, or at least, one who got away for a significantly lower fee than we could've got for him. Despite his sole appearance for the Portuguese national side, it would be strange to rule him out of contention for this summer's World Cup, a competition in which stars are always born. We should watch Rony's progress in the principality, and maybe even Portugal, with bated breath.