Manchester City saw off Chelsea at the Etihad to take another step towards the Premier League title.
Bernardo Silva's goal, less than forty seconds into the second half, was the difference as Antonio Conte's side disappointed with a meek performance made even worse by City's relentless energy.
Here's what I learned from the latest big victory in Pep's season…
The Best Team in the Land…
Despite what the Sky Sports commentary might've suggested, Chelsea are no pushovers. The Premier League champions have gone toe-to-toe with Barcelona, Atletico Madrid, Liverpool and Tottenham without losing this season, and boast some of the best attacking talent in the league in Eden Hazard and Willian. And yet they were made to look very ordinary by a Manchester City team that are making a habit of easing past their top-six rivals. This was just the latest of eight Premier League games so far this season between Pep's side and one of Chelsea, Manchester United, Liverpool, Arsenal and Tottenham. In those eight matches, City boast seven wins, twenty-two goals and four clean sheets. There can be no overstating just how far ahead of the rest of the Premier League this team have been all season.
…And All The World?
The big question now, with the league almost wrapped up, is how far City can go in Europe. While they demolish the rest of the country, teams such as Barcelona, Bayern Munich and Real Madrid should be looking over their shoulders, wondering how they would fare if they were to meet Pep's side in the next rounds of the UEFA Champions League. We can't know for sure what will happen until we watch it, but it's hard not to think that City have what it takes to take on the very best. With David Silva, Kevin De Bruyne, Sergio Aguero and Leroy Sané in sparkling form, Pep has the arsenal to pose a threat to any defense in the world. Let's not forget that they've just made a team who recently held Barcelona to a draw look very ordinary indeed.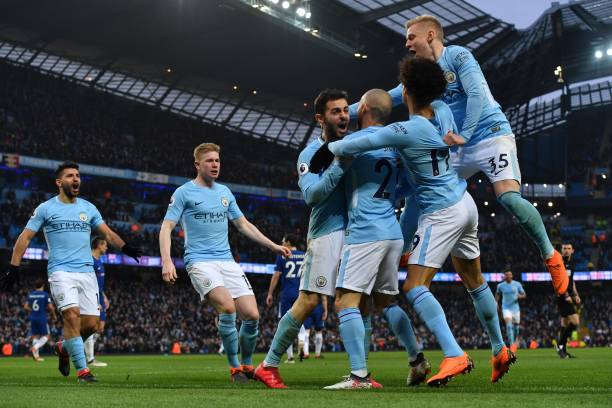 QuickSilva
It was the moment that elated the Etihad crowd, broke Chelsea hearts and gave me a very good headline for this paragraph. Bernardo Silva scored the all-important goal for Manchester City against Chelsea today, bundling David Silva's brilliant cross over the line just thirty-five seconds into the second half. Chelsea had barely woken up when the net rippled, and City were already celebrating before Eden Hazard noticed anything was wrong. Speaking of Bernardo, the Portuguese international is turning into a useful big-game player, with goals against Liverpool, Arsenal and Chelsea in the last two months. But apparently Brian from Watford says he's a flop so he'll be off to Newcastle for £10m in the summer. Oh well.
A Long-Standing Question Answered
Ilkay Gundogan made 174 passes today. One-hundred-and-seventy-four. That's a record for the most completed passes by a single player in a single Premier League game. And that mind-boggling stat only tells one side of the story of his performance today. For a long time City fans have wondered what would happen if we lost the long-standing Fernandinho to injury and today we got our answer. Gundogan has covered brilliantly for the Brazilian since he went off injured in the Carabao Cup final, and looked assured again against Chelsea with a performance that probably made Cesc Fabregas think he was looking in some kind of mirror that shows you the past. He's not had the easiest time since joining City in 2016, but this was a performance to remember – and a record-breaking one at that.