Manchester City were at their scintillating best on Thursday night to thrash Arsenal in London for the second time in five days. Goals from Bernardo Silva, David Silva and Leroy Sané saw City home and dry within barely half an hour before Ederson saved a Pierre-Emerick Aubameyang penalty in the second half. The result sees City move sixteen points clear at the top of the Premier League once again, with just ten games left to play.
Here's what I learned from what could be a historic night at the Emirates…
Sané Steals the Show
We can only start with Leroy Sané, who enjoyed a triumphant return to form against the Gunners. He humiliated Hector Bellerín for what must be the seventy-second time now, breezing past the Spaniard with immaculate poise and control like a ballet dancer on steroids. The first goal came from Sané's incredible run from deep, beating four Arsenal players easily before squaring for Bernardo Silva. It was Sané who found Aguero with a clever low ball to allow the Argentine set up David Silva's goal. Finally, Sané himself got on the scoresheet to finish Arsenal off when he tapped in Kyle Walker's cross. At times, the Emirates faithful couldn't tell if it was windy or they were just feeling the breeze generated by Sané's cartoonishly dazzling pace.
Silva Scores Again
Of course, it wouldn't be fair not to give credit to the other two goalscorers – and fortunately for me I can talk about both of them with one sub-heading. The opening goal was created well by Sané, sure, but we can't take anything away from the genius of Bernardo Silva's finish. The Portuguese international drifted in from out wide looking like a casual observer before taking a touch and curling a beautiful strike past the helpless Petr Cech. The second of the game was arguably even better, and it was David Silva this time who popped up in the box to bag his seventh of the season, and second in just a few days. The two oft-compared technicians aren't traditional goalscorers but both got the chance to show off their shooting skills tonight, and impressed- much to Arsenal's detriment.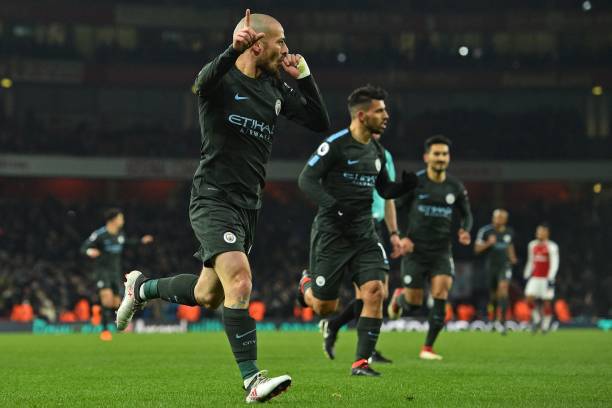 Ederson Makes a Statement
He may not face an average of over ten shots per game, but that hasn't stopped Ederson from establishing himself as one of the best goalkeepers in world football this season. The Brazilian, rested on Sunday evening, was at his very best at the Emirates, coming out bravely to clear up every loose ball he could get his hands (or feet… or head) on. The highlight of his performance, though, was the superb save he made from Aubameyang's spot-kick in the second half. Arsenal's new Gabonese striker stepped up looking to get his second goal for the club. Gunners fans watched intently, waiting for the net to bulge and the inevitable boost in PEA's confidence to help lead a resurgence. Ederson didn't care. He knew exactly where the striker would aim, and no way was he letting that clean sheet slip. What a hero.
Kompany Keeps it Clean
Speaking of clean sheets, City's in this game can be largely attributed to the continued dominance of Vincent Kompany. Everything that can be said about the Belgian's performance in the Carabao Cup final last weekend has been said already. Against Arsenal, though, the captain was excellent again, giving his inside forward Danny Welbeck almost nothing all game and making some very final tackles that helped inspire his defense to a fantastic display. The longer we can keep Kompany fit the happier I will be.
While we're talking about defenders, I would like to give special mentions to both full-backs, who bombed up and down the pitch relentlessly (that's an assist each in the last five days now), and Oleks Zinchenko, who impressed me with his late cameo both on and off the ball.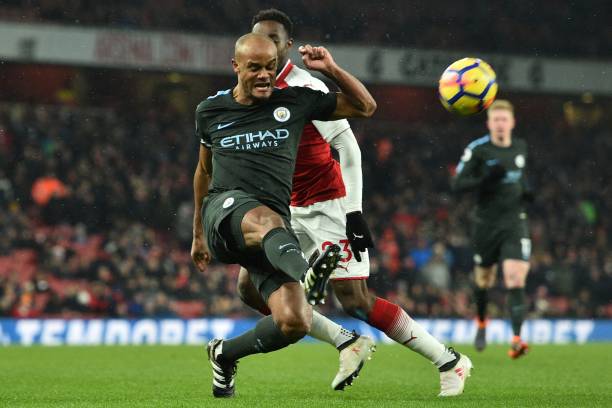 Aguero Adding Assists
Everyone loves a vintage Sergio Aguero performance, and this one was no different. City's 199-goal striker led from the front tonight with some fantastic pressing and energy, but it was his on-the-ball work that really deserves highlighting tonight. He assisted the second goal with a lovely touch from Sané's cross before sliding a perfectly-timed pass into David Silva, and was a major asset in the third as he powered out of defense before releasing the ball precisely. Even though he didn't score today, Aguero was still a vital player for City, and that should terrify the rest of the Premier League- not to mention the seven other teams still standing when the next round of the UEFA Champions League is drawn later this month…