"21 Grammys, superstar family, we the new Jacksons and I'm all about that action" stated Kanye West on his track, 'Highlights', as he released his seventh studio album with his stock higher than ever, his clothing brand the name on everyone's lips and his wife's family continuing to assert their dominance over 21st century media.
While Kylie Jenner might able to slash Snapchat's stock by $1.3bn with a single tweet, City won't be waiting for similarly great achievements to act like the Jacksons of the modern day Premier League. There's a cool air of arrogance about the club these days, a swagger and insolence unseen in previous eras under Sheikh Mansour. Pep Guardiola has his team playing like the Chicago Bulls in the 90's and he wants every single of them to know it – and act like it.
From bringing confetti to Old Trafford, to singing 'Park The Bus' chants and instigating a mass brawl with the United team and staff; to Sergio Aguero offering out Wigan fans and stewards post-game. It's easy to conclude that there's a big dog aura forming around the team and you can't help but feel this is all being orchestrated from The Mister himself.
There's something unfamiliar about Guardiola and the players this season. It's not even March and we've already seen numerous scuffles between Pep and other coaches, players, the FA and even journalists. The mighty Pep Guardiola seems so… irritable all of a sudden. Might there be something bigger at play?
Guardiola has lost his temper frequently this season, involving himself in run-of-the-mill confrontations with opposition players and coaches. His weird debacle with Nathan Redmond stands out, as does his strange reaction to Fabian Delph's red card against Wigan in the tunnel at half-time. And how about his personal crusade against his perceived lack of willingness from English referees to protect his players or his insistence on wearing his yellow ribbon in support of Catalonian independence – despite repeated FA warnings and now a charge?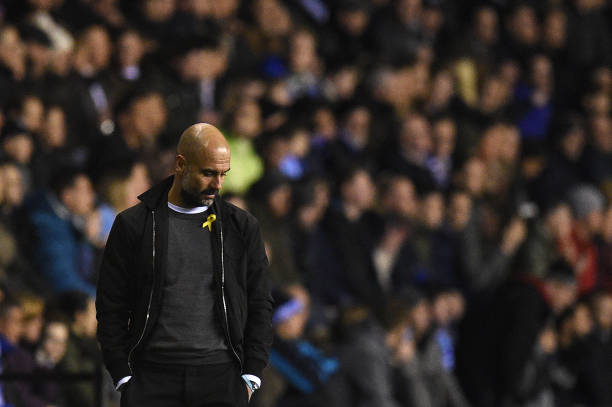 Guardiola seems desperate to make statements, political statements, statements based on ethics and principles – any kind of statement.
Now I'm not doubting his personal commitment for Catalonians to protect their democratic institutions – not for one second. But why take out one bird with one stone when you can take out two?
Might Pep be attempting to build what we like to call in England a siege mentality. Us versus the world, me and you versus them. Guardiola is very aware we aren't amongst the most popular teams in England so why not stoke it up a notch or two instead of trying to curb the insurmountable? It's a pretty standard tactic for some coaches, notably Jose Mourinho during his time at Chelsea and Real Madrid but it is something the hierarchy at Manchester City have swayed from, notably because it is not how the owners back in Abu Dhabi want to operate this football club.
Mourinho's end at both clubs was tied to the fact that he could no longer blame anyone else: the referees, the fixture list – and eventually turned on his own players that his siege mentality was built around to protect. In the end, Mourinho described his players as dressing room 'moles' in Madrid and insinuated at a lack of desire during his second term at Chelsea. Unsurprisingly, he soon found himself out of the door on both occasions.
A siege mentality has its positives but clearly it doesn't win a lot of outside support and the consequences can be devastating if it fails. The difference is, however, that Guardiola is vindicated by his results on the pitch and will probably call it a day before he has milk lobbed at him by a rookie goalkeeper.