Manchester City are in 'pole position' ahead of neighbours Manchester United in the race to sign Lazio midfielder Sergej Milinković-Savić, according to Premium Sport HD in Italy.
#premiumsport#Lazio, asta milionaria per #MilinkovicSavic: #City in pole davanti a #Mou. https://t.co/CWRNZtI4w6

— PremiumSportHD (@PremiumSportHD) February 26, 2018
The 22-year-old Serb has emerged as Serie A's most sought-after midfielder this season after some impressive displays for Lazio, and in addition to Manchester City and Manchester United, Real Madrid, PSG, Juventus and Napoli are all showing interest in securing his services.
It is described as an 'wild millionaire international auction' for Milinković-Savić by Premium Sport HD, but they reckon it is Pep Guardiola's City who have the lead, partly because of the income they can expect from winning the Premier League and, potentially, the Champions League.
Manchester United boss Jose Mourinho is 'crazy' about Milinković-Savić and the Italian TV channel even believes that United would be ready to get rid of Paul Pogba to create an opening for the Lazio star.
At the moment, PSG and Real Madrid are less inclined to get involved, but changes on their benches, with both Unai Emery and Zinedine Zidane under pressure, could quickly change that.
And in Italy, the top two sides, Juventus and Napoli, dream of adding Milinković-Savić to their ranks, but their best chance would be if the player doesn't want to leave Italy.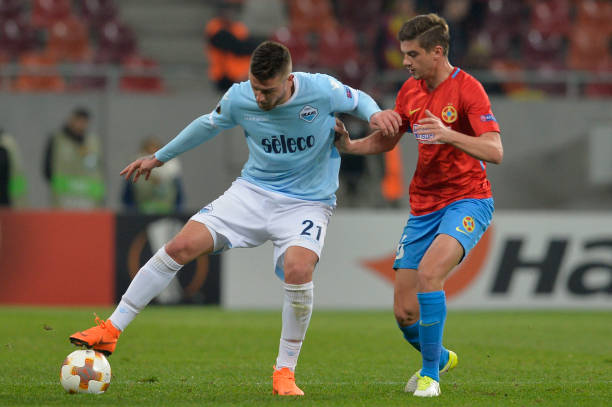 Milinković-Savić will not come cheap, with Lazio hoping to fetch a minimum of €90million (£79.3million) for him, and will hope an auction will drive that beyond the €100million mark.
City need a midfielder with Yaya Touré on the way out, but most signs point to that being Shakhtar Donetsk's 24-year-old, Fred.
If Guardiola identifies Milinković-Savić as a must-have player, it's possible City could go for the player before a rival club gets him, with Fernandinho getting no younger, plus Milinković-Savić has the us3eful ability to play in various midfield roles making him an alternative option to David Silva, Kevin De Bruyne and Ilkay Gündoğan further up the pitch.
–

Manchester City are the 2017/18 Carabao Cup winners!

Celebrate Pep Guardiola's first piece of silverware in England by picking up some Carabao Cup Winners merchandise!