Sergio Agüero receives the ball just in front of the Bournemouth backline deep into added time. He manages to open up his body and play the ball into Raheem Sterling, who's one touch pass reaches Kevin De Bruyne. He plays the ball back into Sterling on the edge of the Bournemouth box, who once again plays a first time pass out to Danilo who is about three yards from the by-line on the right-hand side of the pitch. Danilo's immediate cross back with his laces is slightly behind Sterling, but he manages to take a touch on the penalty spot which gives him a little time on the ball to compose himself in the face of the on-rushing defenders. He shoots, there's a deflection, the ball lands in the far corner of the goal.
Certainly in the Western education system, children are introduced to the study of history through the study of 'big events'. Wars, assassinations, conquests and conspiracies to name but a few. As the study becomes more serious, students are encouraged to direct their attentions away from a narrative history littered from big event to big event to a history which seeks to understand various currents, themes and topics which span for years and years, investigating ideas of causality and extrapolating meanings from various frames of interpretation.
Yet, the history of big events should not be necessarily thrown out. Some historians, not least William Sewell, have been able to imagine a reworking of events into the mature study of history. Through his work, our understandings of 'big events' are altered, allowing us to view them as transformative to structures alongside the aforementioned currents and themes which are underwriting the very course of human history – whilst being able to investigate the event on a deeper level than just 'that happened, it started the revolution/war/other', and other such reductive analyses.
Like human history, football is littered with big events. And like the study of history, as a child we are primarily exposed to football through its big events. They stick out in our mind when we see them, we even remember the ones that predate our births. I was three years old when Paul Dickov netted that last-gasp equaliser in the Second Division play-off final, but I remember it as if I was there, it is part of my identity as a City fan.
Sewell states that even though big events happen every day, the majority of events are somehow reabsorbed into the pre-existing structures one way or another. The events that are not can be constructed into revolutionary events by the historian years after they have passed, perhaps acting as precursors to big events, manifestations of historical trends. Think the Storming of the Bastille, the Reichstag Fire, the Assassination of Franz Ferdinand. Goals happen in every football game, but some goals mean more than others, despite the seemingly insanity of that sentence. Some goals can be retrospectively seen as more important despite the majority of goals being worth the sum total of one goal.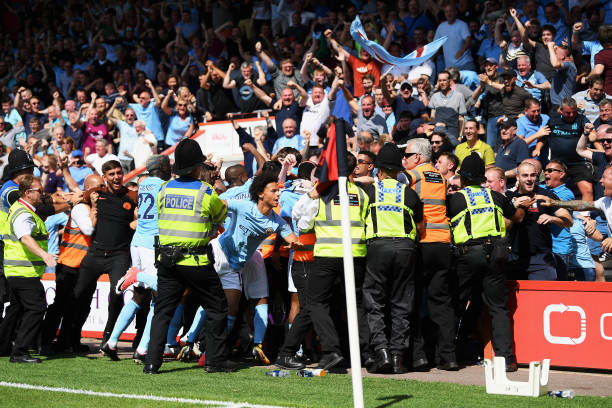 I believe that we can retrospectively regard Raheem Sterling's 97th minute winner against Bournemouth at the Vitality Stadium as a revolutionary goal, a goal worth more than other goals. In the week in which his stunning miss against Burnley was perhaps the nadir in the failure to secure all three points, earning Sterling some wildly undeserved criticism which ignores the season he is having for long disproved tropes about his general play. He cannot finish, despite scoring nineteen goals already this season. He does not have footballing intelligence, despite the majority of his goals being right place right time thanks to his smart positioning and late runs. He does not have the mentality, despite the fact he's scored several late winners this season under incredible pressure.
We have to ask ourselves a simple question. Where would we be without that goal back in August? It gave us momentum before the first international break. The previous week we'd had an unfortunate draw with Everton, I say unfortunate because we played with ten men for more than half of the game. Without Raheem's goal, we'd have drawn two and won one of our first three. Statistically that reduces our current lead at the head of the table to a mere eleven points. Yet I don't think it is ridiculous to say that we would not have had the seventeen consecutive wins after that Bournemouth game. I have no empirical evidence of course, I cannot say for certain that City wouldn't have then beaten Liverpool at the Etihad two weeks later, I cannot say that City would not have beaten more or less every opponent they faced between then and now. And it is true there has been other standout moments, like Sterling's late winner against Southampton, and there have been other consistent themes, like the incredible and consistent form of Kevin De Bruyne, Nicolas Otamendi et al. But I think there is enough evidence to suggest that the fighting spirit that the goal demonstrated, the never-say-die attitude which has now been reproduced several times by City in several different games, means that the goal Raheem scored against Bournemouth is worth more than the one goal it represents on the scoreboard and must be seen as such when we look back on this season.
Sewell writes that the importance of these events can be seen in the tangible and abstract repercussions. In this case, the tangible effects are City's subsequent win-streak and our hegemony over this Premier League season. The abstract aftershocks are the cementation of Raheem Sterling as an elite-level player who has the ability to win any game he plays in, as well as City's aura of dominance. It remains to be seen whether City's seemingly title winning season will deviate from the last two, in that we will make a better effort to retain the title next year, but if we do, you could cite our era of dominance which began on one afternoon on the south coast in August 2017, a game which culminated with a goal which was more than a goal.